"Y'all ready? Let's go," King said, before launching into a lengthy series of tweets that detailed the Aug. 9, 2014, scene where Wilson killed Brown. "Minutes after Darren Wilson murdered Mike Brown, a very, very effective cover-up plan began to protect Wilson and shame Mike Brown."
King focused on a detail cited by St. Louis County Police Chief Jon Belmar—who claimed Brown was 35 feet away from Wilson's vehicle at the time of death, and therefore presented a reasonable threat to the officer's life—to cast significant doubt on the official police account. According to King's assessment, Brown was 148 feet away from Wilson's vehicle, distance that challenged the officer's claim that the killing was justified. (King based his theory on images of Canfield Drive, where Brown died, comparing measurements from Google Maps and those taken by his on-the-ground contacts in Ferguson against figures reported in the media and provided by law enforcement.)
Although the U.S. Department of Justice determined that Wilson should not face criminal charges in its report released March 5, 2015, it said Brown ran 180 feet away from Wilson's SUV, based on blood spatter at the scene. Still, the DOJ concluded that Brown turned around and charged Wilson, and that the 12 shots he fired at the unarmed teen were not "objectively unreasonable."
"The rabbit hole of lies they have spun is amazing," King wrote. "But they cannot make up their own facts. Follow me for a minute. It's real."
Follow me for a minute. it's real.
King burst into the national spotlight in August 2014, after relentlessly tweeting criticisms of Ferguson police and the systemic injustice against people of color in America.
Daily Kos hired King as a justice writer in October 2014, and he joined Daily News a year later. There was no doubt that his work as a citizen journalist was impressive, and that his online following was growing. King's first post for the political blog shot to the top of its "recommended" list before King had even been introduced, according to Daily Kos editors. He was talking, and people were listening.
But JT30 told NTRSCTN that instead of mobilizing members to end police brutality, King mostly used the group to promote himself, regularly asking them to share articles he wrote for Daily Kos and Daily News.
"The message that was sent to me, and others, was the only activism and work that was valuable to [King] was his own," said Jasamine Pettie, a former Texas state director and civil engineer who was serving in the U.S. Air Force when she joined Justice Together. "We're kind of disposable."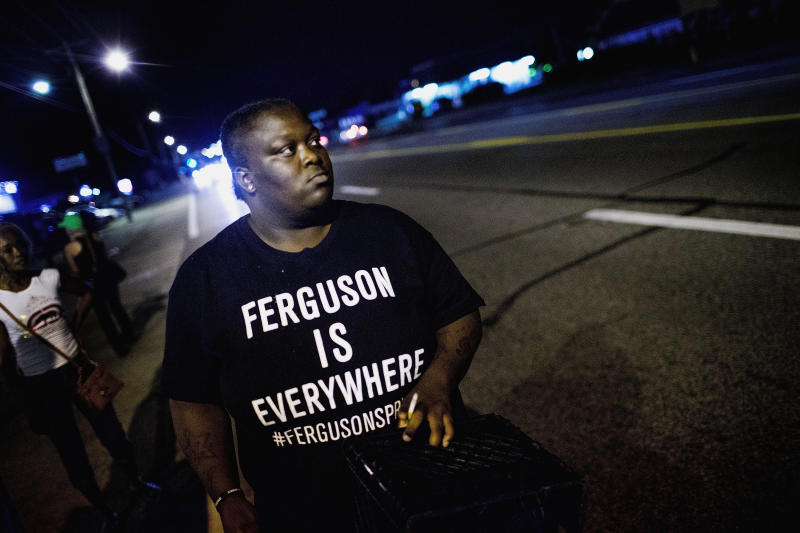 Other members had similar criticisms of King. 
"He seemed to constantly aggrandize himself and his work," said another former Justice Together member who spoke to NTRSCTN under condition of anonymity, citing professional reasons. "[King] consistently made references to his grad-school career, his writing career, overcoming the challenges of parenting kids from pre-K to high school in the midst of all this social-justice activism he was doing—it went on and on."
Similarly, Brandale Randolph, a former Massachusetts state director and executive director of nonprofit organization Project: Poverty, was blunt about his experience with King during his time at Justice Together. "Essentially, Justice Together was about [King]. It wasn't about stopping police brutality," he told NTRSCTN.
Randolph viewed King as a "narcissist" who only wanted to increase his Twitter followers, rather than effect genuine change.
"You rarely saw him tell us to tweet links to a post written by anyone other than him," he said, referring to writers like New Republic's Jamil Smith and Slate's Jamelle Bouie. "Everything that he tweets almost is about him, leading to his articles."
After the dissolution of Justice Together but before JT30 published its open letter, Crystal Miller, a former Virginia state director, elaborated on members' major issues with King via Twitter:
This past week, we asked for an accounting of the funds raised for #JusticeTogether and how the funds were being spent. ... However, Directors never accused King… we merely asked for an accounting, because many of us had donated a lot of time and money. Nevertheless, King assured us that he valued our commitment to the coalition and told us to trust the process and wait for the next step. The very next day [Nov. 6, 2015], instead of honoring his fiduciary duty, King shut down all communication among the State Directors. … The worst part is that @ShaunKing embodied the very system we were fighting: lack of transparency, zero accountability, delay tactics…