Booty-Lifting for the Snapchat: The Social Hustle of Dr. Miami
One Fetty Wap-loving plastic surgeon from South Beach is changing the modern concept of the doctor, one social media post at a time. Complex Original
Image via Complex Original It's about 6 p.m. on a weeknight in Dr. Miami's Bal Harbour office. He's preparing for his last surgery of the day, what he calls a "full mommy makeover"—a breast augmentation, tummy tuck and Brazilian butt lift. Inside the operating room a team comprised of an anesthesiologist, a surgical assistant and recovery nurse are preparing the patient, who flew in just for the procedure. As Dr. Miami enters the room to begin, two more staff members join him—his assistant and his social media manager—wearing surgical masks and hair caps and toting iPhones, ready to document the surgery for Snapchat. At this point, Fetty Wap's "Trap Queen" would usually be blaring from the speakers in the room, but not tonight—Dr. Miami's an Orthodox Jew, and we're in the middle of the "Three Weeks," a time of mourning. A photographer seated next to a computer, where an assistant is answering emails, blurts out, "What's that smell?" There's definitely something in the air, a cross between the spinning drill of a dentist, barbecuing meat, and plastic that's just been lit on fire. "It's burning flesh! You've never barbecued chicken before?" Dr. Miami says, his smile hidden by his mask. The recovery nurse adds, "You get used to it." 
Maybe not the smell, but fans of Dr. Miami, whose real name is Dr. Michael Salzhauer, have gotten used to the blood and guts he shares daily on Snapchat. "It's a risky thing," he says of the decision to broadcast real-time Snapchats of his patients' surgeries. "We're the first to ever have a dialogue with our audience this way, as far as I know…we definitely touched a nerve."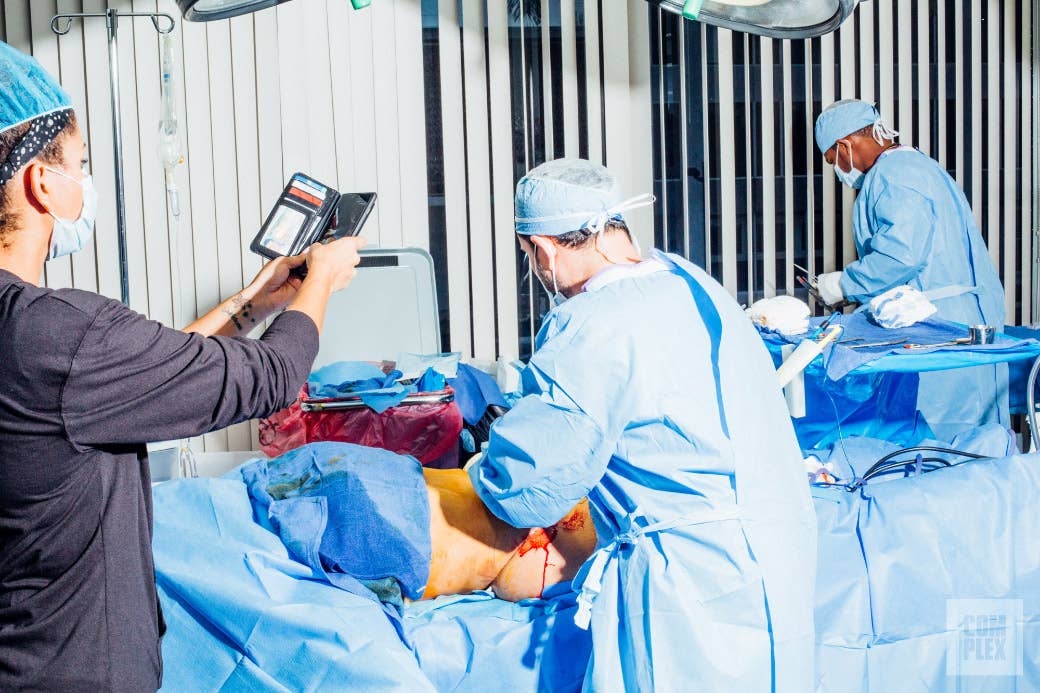 It's something Salzhauer's used to, and while some might find him gimmicky or in bad taste, those closest to him think otherwise. I actually caught CRNA (certified registered nurse anesthetist) Barry Miller scribbling "Genius?" onto an empty box that once held breast implants. He's worked with the doctor for over a decade and vividly remembers the YouTube video he commissioned for "Jewcan Sam (A Nose Job Love Song)," which led to an investigation by the American Society of Plastic Surgeons, the successful iPhone app he created so people can see the results of their surgery before actually going under the knife, and the children's book he released in 2008, My Beautiful Mommy. Miller also recalls flying to New York with Salzhauer for an appearance on Today, and the media frenzy that ensued: "We met with every single reporter." 
Maybe part of the brilliance Miller speaks of is Dr. Miami's tenacity, his ability to make shit happen. When he woke up this past February to find his Instagram account of 89,500 followers suspended—a moment he calls heartbreaking—he set out to build it from scratch all over again. "He's a force. He makes the impossible possible," says Rosy Zion, his sister-in-law-turned-office-manager, who's helped him run the business, Bal Harbour Plastic Surgery Associates, since his wife, Eva, decided to be a stay-at-home mother to the couple's five children seven years ago. The impossible, in this case, was rebuilding his digital fan base. Heeding his 15-year-old daughter's advice, Salzhauer created a Snapchat account and by the end of that first day he'd reached 2,000 views. To date, the doctor has amassed a following of 194,000 on @therealdrmiami Instagram, 97,200 on @drmiamiland Snapchat, and 21,000 on @therealdrmiami Twitter.
That's an impressive feat of marketing by any measure, especially when you consider Salzhauer's 60-hour work weeks, which include about 20 surgeries weekly, daily consultations and numerous photo ops with fans and hopeful patients who stop by his Bal Harbour office to say hello.
Mothers with their daughters are among the most seen. "It doesn't bother me," says Dr. Miami of the attention he's received since throttling his marketing efforts. His wife agrees. "Are you kidding me? He goes after it! He goes out just to get the attention." In March he hired Brittany Benson, a former college athlete and PR major, to oversee his accounts. He decided to beef up his efforts one day when a patient came in and said his Instagram account was really boring. "She just walked in, insulted me, didn't even book with me—she just left." For two weeks he mulled over her advice and slowly heeded her suggestions: he began posting pictures of his patients, focused on before-and-after shots and most incendiary, started live broadcasting his surgeries on Snapchat. Within a month of his new marketing strategy, Dr. Miami had amassed 90,000 followers. By June, he stopped issuing appointments and started seeing the first 10 people who walked in, four days a week. "It's just now getting really good because of the social media stuff. It's reaching a critical mass. We just have a lot of fun," says Dr. Salzhauer.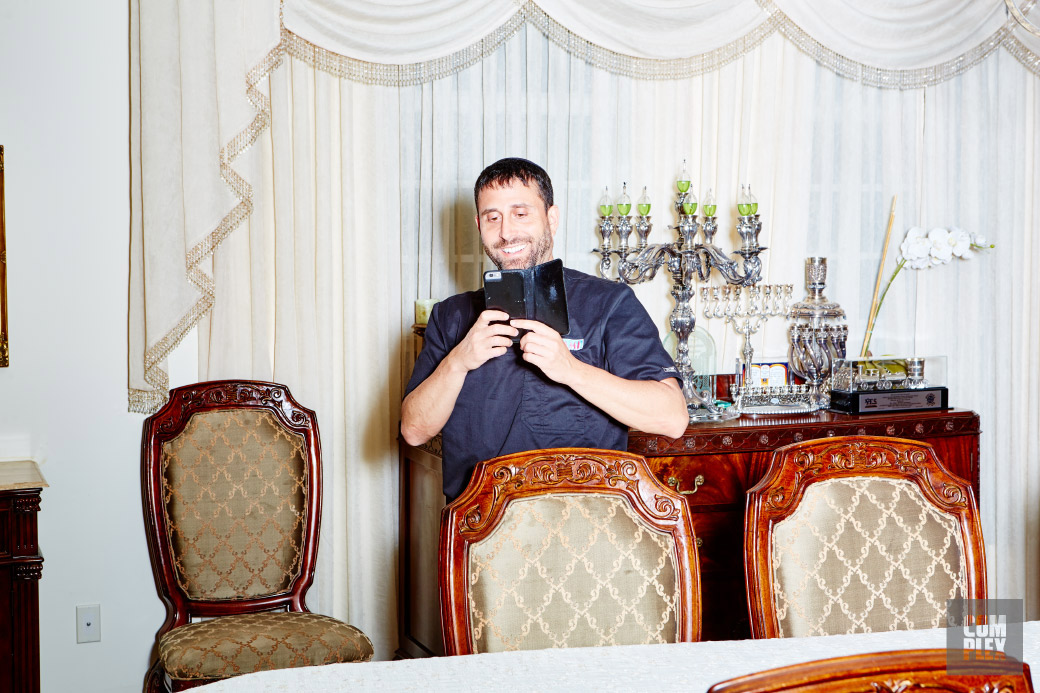 You'd think that as the number of Snapchat followers rose, the number of actual patients would fall, but as it turns out, Dr. Miami's brand of fun is actually what a lot of people are looking for from their plastic surgeon. "I'm very open to what I'm doing and I watch his Snapchat all the time—I think it's awesome—so I love to watch myself as I [do] other people," says Elizabeth Cruz, a patient from New Jersey who flew in for a tummy tuck and Brazilian butt lift. Tangie Larkin, who also had her surgery filmed for Snapchat, thinks the process of sharing her experience has been more educational than entertaining. "I felt that people needed to see the story, the real process of having plastic surgery. So many people are afraid because they don't know all the steps," she says. After her mommy makeover aired on Snapchat, she says many of her friends approached Dr. Salzhauer for their own procedures. "That's the power of Snapchat: someone my age, in their early 30s, can see how great their booty is going to look when he's finished." More than just Larkin's inner circle has been motivated by the promise of a tight ass.
Benson and assistant Ashley Belance are having a blast too, in spite of the long hours. "It's literally a full-time job to answer Instagram direct messages," says an energetic Benson, who along with Dr. Salzhauer, answers every single Snapchat reply (the account receives about 200,000 views a day) and tweet, including after hours and on weekends when fans from as far as Australia submit questions and requests for shoutouts, which the team sends out every night at the close of business—no matter when that happens to be. "It's kind of like trying to take a drink out of a fire hydrant, that's how busy the social media is," says Salzhauer. Song requests have come to form a large part of the social deluge, with Fetty Wap taking top billing on the in-surgery soundtrack, thanks to a fan who suggested the doctor listen to "Trap Queen." 
"I want to bring [Fetty Wap] into my trap and introduce
him to my trap queens."
—Dr. Miami
"The first time I heard [it] I said 'Play that again!' because I'm the kind of person that kills songs," he admits. "I'll listen to the same song over and over until it's embedded in my head. It drives Barry [the anesthesiologist] nuts." Salzhauer's love for Fetty Wap has turned into a full-blown

obsession. Not only are his songs on repeat in the operating room, but for the rapper's 25th birthday, Dr. Salzhauer posted a YouTube video of himself playing the piano and singing a heartfelt rendition of "Trap Queen." "I want to bring him into my trap and introduce him to my trap queens," says Dr. Salzhauer, who believes the two share a kinship. "I don't know what he's like right this second but for some reason I feel like he's a good guy." 
The two almost met a few months ago—but Dr. Salzhauer was on carpool duty and had to make a split decision, for which the consequences he said would've been worse if he abandoned his kids to meet a fast-rising rapper. "I know that when the timing is right, me and Fetty are going to meet and it's going to be so beautiful." Until then, he stays close to his idol like any die-hard fan would—by dressing like him. A few weeks ago, when Friday surgery wrapped uncharacteristically early, Dr. Salzhauzer and his squad went to an upscale Miami mall to buy a pair of jeans the artist raps about in his songs. "I kept singing one of the lyrics, 'I got Robins on my jeans and wings on every pair,' but I have no idea what those are." He asked his patient coordinator, Jovanna Echevarria, and fortunately she knew the exact jeans Fetty was talking about, and also where to get them. So he did, along with a pair of Giuseppe Zanotti sneakers that brought the grand total of the purchase to $1738—coincidentally a number that Fetty Wap frequently bellows out in his songs, a reference to 1738 Remy Martin, "the finest liquor in the urban district." 
A love for attention is about where the similarities end between Salzhauer and Fetty Wap, mostly because he's an Orthodox Jewish doctor who doesn't really like partying, watching TV or listening to music (outside of the operating room, of course). "My whole life—my kids and my family—is very different than my work life," says Dr. Salzhauzer. Every night at about 9 p.m. when Dr. Salzhauer arrives home, he'll pack sandwiches for the following day (his wife drops off a home-cooked dinner to the office every night) and then sit down with his wife to watch the day's Snapchat "episode." "He'll ask for my feedback and I'll guide him on some level, and say 'you can do this, you can't do that," says his wife. One of those "you can't do that" bad ideas was when he and Zion thought to go to Lincoln Road (an outdoor mall in South Beach) dressed as a king and a prophet. Foreseeing the potential outrage, Eva suggested they go as angels instead. "They both feed into each other's stupidity and then they'll come home and ask me what I think and I say 'no,'" she says. Salzhauer, like a guilty puppy, concurs: "It was a bad idea… sometimes we have [them] and she talks me out of them." 
That's not to say his wife has a problem with him spending his free time on social media. In fact, she finds it amusing. "I think it's funny, I laugh, [even though] it's not my style," Eva says, attempting to explain the dynamics of their relationship. "I'm a very a quiet, private person and he's been the opposite since the day we met." She understands Dr. Miami, knows that once in awhile he's going to need to exorcise some creative energy, lock himself up in a bathroom and answer questions on Periscope for two hours. "I know he needs it. He was always the big, loud, attention-getting person," Eva says, noting how social media has given him the opportunity to explore his creativity.
A byproduct of Dr. Miami's social ubiquity, which might not occur to first-time Snapchat viewers entranced by the blood of the gluteus maximus and the silicon of a butt implant, is that it's actually transforming the idea of the doctor-patient relationship and showing what really transpires between the two parties. "I'm out there showing what goes on behind the scenes, instead of a buttoned up, paternalistic [scenario] of 'I'm the doctor, you're the patient,'" says Dr. Salzhauer. While it makes good fodder for social media, his antics and often-wacky behavior actually carry a message: You can be an adult and still have fun. "A lot of kids see nothing but an endless road of dreariness ahead of them, and I think I do stupid things because of that." His advice to them is: delay gratification.
This fall, Dr. Salzhauer is launching Dr. Miami clubs across the country geared toward students interested in a career in medicine. The idea is for the groups to meet once a month, talk about the Snapchat and how to further their careers in a mutually supportive environment. Already he's received hundreds of requests from fans wanting to be the first in their city or school to start an official club, so he set up an email account for those interested in registering and will be sending out starter kits filled with items such as breast implants (the spirit boob!) and Dr. Miami gear. "I have a love for what I do—I don't do any return on investment on it," says Dr. Salzhauer, who describes himself as a good doctor but not a good businessman. "What I do here comes from the heart. If I had no mortgage, I would do it all for free." 
Salzhauer also gifts surgeries regularly, such as the tummy tuck he performed on a mother of three after she wrote him on Twitter. Through "Operation Chuppah" he performs free rhinoplasty on Jewish men or women so long as they provide a letter from their rabbi or matchmaker. The cause is somewhat of a self-fulfilling prophecy for the doctor, who as a young resident was told by a Rebbe that matchmaking would be in his future. "During my surgical residency I had a little bit of an existential crisis: maybe plastic surgery wasn't a good idea," explains Dr. Salzhauer of his decision to visit the head of the Hasidic dynasty. "And [the Rebbe] told me in Yiddish, you're going to bring peace into peoples' homes and you're going to make 'matches.' And it kind of blew me away a little bit."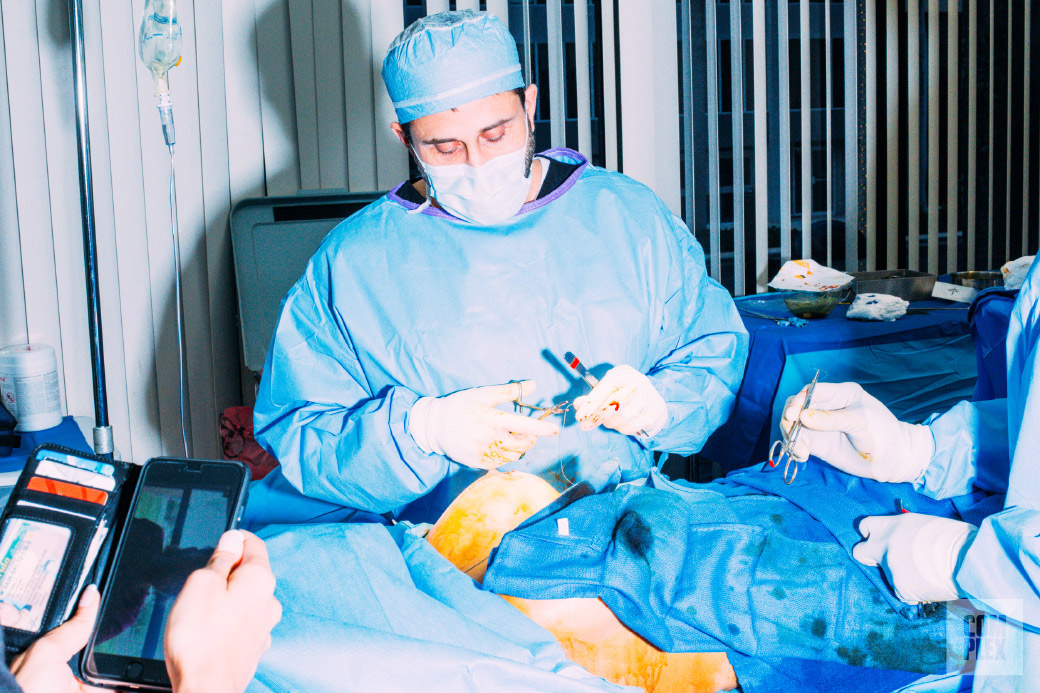 From seeking guidance to leading a new generation of would-be doctors into the medical field, Dr. Salzhauer is also looking to turn his social media game into a full-blown franchise. There's now a dedicated member of his staff whose job it is to seek franchising opportunities in other cities. Dr. Salzhauer plans to vet them and once approved, he or she will be allowed to open a Dr. Miami practice, which Zion says could start happening in as soon as six months. Before that though, coinciding with the launch of the Dr. Miami clubs, she and Dr. Salzhauer are opening a BootyQ (pronounced "boutique") down the street from his Bal Harbour office. The space is designed to be a place where patients can hang out, get their makeup done, drink coffee and stock up on Dr. Miami merchandise.
While Zion handles the build-out of the new store, Salzhauer is downstairs in the operating room again. Marketing has become a very time-consuming part of the job but he's managing the confluence of social and surgery just fine. "I think I have a genetic problem, a switch that is in an 'on' position all the time." He hasn't had a sip of coffee—he never drinks it, yet he's always functioning at a consistent 10, switching between singing along to the music blasting through the O.R. and explaining certain procedures and incisions for his audience on Snapchat. "They call me Mr. No Chill," he jokingly says in between incisions, a chuckle coming through his mask on a remarkably quiet day in surgery, with the Jewish holiday keeping Fetty Wap out of the office speakers. "Like every religious person that lives in this society, you have to be able to synthesize, which is becoming increasingly difficult to do with the Internet." And just like that, he's switched from Dr. Miami back to Dr. Salzhauer.