When people tell celebrities that they're their "No. 1 fan," it usually doesn't lead to much of a response. That's because everyone tells celebrities that they're their "No. 1 fan," which makes the idea of anyone actually being someone's "No. 1 fan" impossible.
With that in mind, Russell Wilson very well could have said, "Oh yeah?" and walked away when a random fan came up to him at TCF Bank Stadium yesterday (it appears as though the fan is employed there) and told him that she is his girlfriend Ciara's No. 1 fan. Wilson had just taken part in an intense playoff game against the Vikings—a game that was later named the third-coldest NFL game ever—so we really wouldn't have blamed him for doing it. But after the fan told Wilson about her love for Ci-Ci, the fan claims Wilson picked up his phone, FaceTimed Ciara, and then let her talk to the singer for a few moments before snapping a photo with Wilson and (FaceTime) Ciara.
Either Wilson was absolutely ecstatic about the way the Seahawks won—or this fan just so happened to catch Wilson at the exact moment he was about to call Ciara anyway. Regardless of the reason, this girl had one hell of a story to tell on Instagram today. She put up the photo above and posted these comments on her page throughout the day: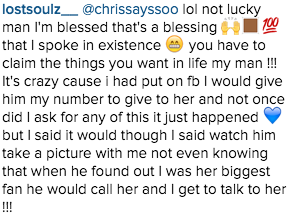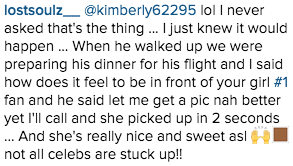 This was a nice move on Wilson's part. But he does realize that he's going to have fans coming up to him all the time now asking to talk to Ciara, right?
Send all complaints, compliments, and tips to sportstips@complex.com.
[via Black Sports Online]