America's real pastime is finally back.
Our collective addiction to the impossibly violent pickup truck-sponsored concussion circus known as the NFL is on par with anything a heroin addict experiences when going through withdrawal. It has to be. Why else would we accept any of it? Why else would we back an organization that floods stores with pink merchandise for a month to support breast cancer, yet allows less than 10 percent of the revenue to actually go towards cancer research? Why would we watch a game where every single week somebody loses consciousness from a head injury during a game, when we know full well those injuries often later lead to abuse and suicide? Why else would be put up with Roger Goodell making $44 million dollars a year? We wouldn't if we weren't addicted to the product.
Yet, after seven long months without a real hit of the good stuff, it's still safe to say many of us can't fucking WAIT to fall back off the wagon.
Through all the concussions, domestic abuse, and the daily evil that passes for "business as usual" in the National Football League—there are still Sundays. There's still one day a week where we as awful, awful supporters of the NFL can sit and enjoy the game itself without being bombarded by all the hype and negativity that surrounds it. Watching world-class football from 1 p.m. until 11 p.m. is still bliss, and until the natural reaction to seeing your favorite defensive lineman sack-dance around the writhing corpse of an opposing quarterback is no longer to jump to our feet in celebration, we'll keep watching.
We're not bad people. We just love this game.
So to prepare you for the next several months of touchdowns, torn ACLs, and terrible discoveries about the personal lives of people you support, we present the Complex Sports 2015 NFL Season Preview. Scroll through to catch up on what's new for each team this season, what games will win you money, what embarrassing proclamations your team's fans have made, and who the most interesting humans are in the league today.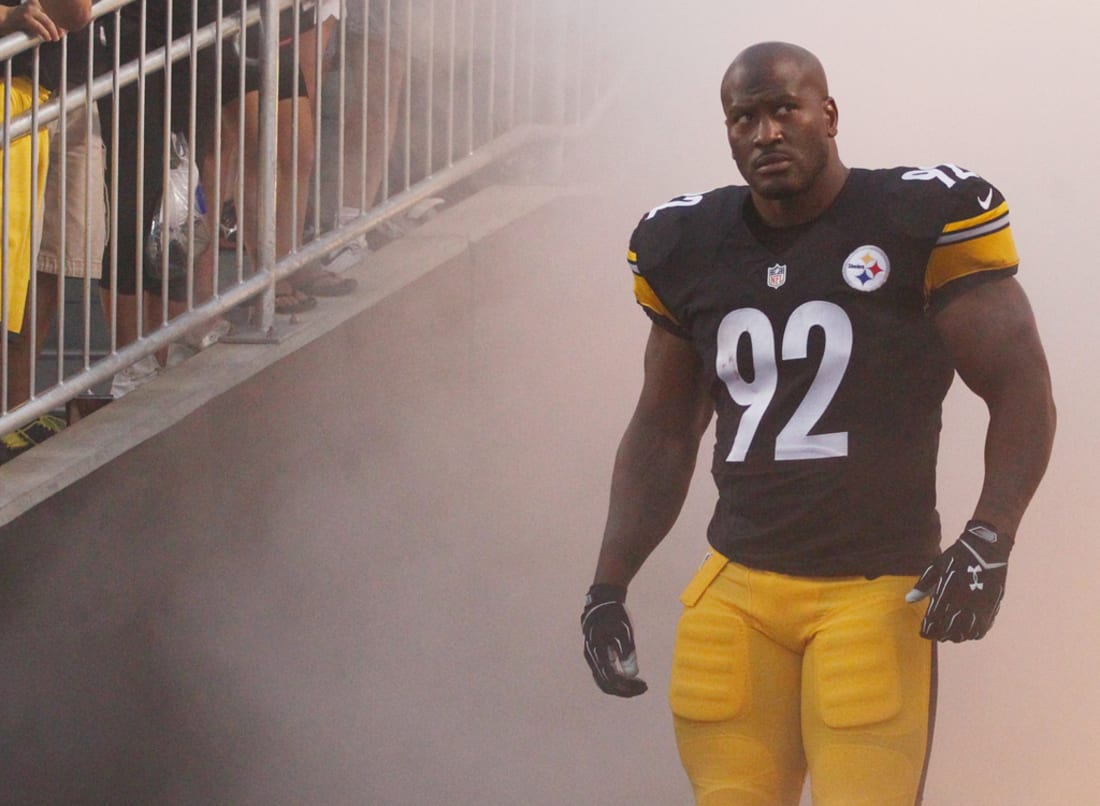 BALTIMORE RAVENS
Interesting human: OL John Urschel more than defies the "dumb jock" stereotype. After graduating from Penn State with a master's in mathematics, he published his thesis ("A Cascadic Multigrid Algorithm for Computing the Fiedler Vector of Graph Laplacians") and later presented his findings to the NSA. Urschel also claims that he doesn't play for the money. So why risk injury and trauma (he suffered a concussion in August) to that brilliant brain of his? His answer is simple: "I love hitting people."
Vegas O/U: 9.5
Sunday to make some money: Oct. 11, Browns at  Ravens (-7)
Deserves a follow: FS Will Hill III, (@WillThrill25)
Our favorite celebrity Ravens fan: Carmelo Anthony
One overly optimistic fan's take on the Ravens:
Just set my appointment for my Baltimore Ravens 2016 Super Bowl champions tattoo

— Benjamin Richards (@benji_rich) August 13, 2015
Bottom line: There's a lot of talk about the Ravens winning this (very competitive) division. Because he couldn't get Jay Cutler to stop throwing touchdowns, new offensive coordinator and supposed QB whisperer Marc Trestman is in place to help Joe Flacco throw for 4,000 yards for the first time in his eight-year career. Yet, with rookie wideout Breshad Perriman's health a big question mark, veteran WR and Napoleon Complex personified Steve Smith Sr. is left as Flacco's No. 1 option. Injuries like these could leave the Ravens offense significantly less potent than they'd hoped. —Melissa Persaud (@melissaamrita​)
---
CINCINNATI BENGALS
Interesting human: This should be Devon Still. We all wanted it to be Devon Still. But Still and his daughter's inspirational story are unfortunately no longer with the team. So we're giving it to Andy Dalton. No, Andy Dalton didn't get a face tattoo and or write a slam poem tribute to Ta-Nehisi Coates during the offseason. He gets this honor because he's so damn plain that it's interesting. Andy Dalton's mediocrity and vanilla essence are so extreme that it somehow pushed him so hard on the swing that he looped over the bar and became interesting. He is a meme. His last Instagram post is a collage of quotes from The Office? You're too perfect, Andy Dalton. 
Vegas O/U: 8.5
Sunday to make some money: Dec. 13, Steelers at Bengals (-1) 
Deserves a follow: WR Mohamed Sanu Sr. (@Mo_12_Sanu)
Our favorite celebrity Bengals fan: George Clooney
One overly optimistic fan's take on the Bengals:
I will bet my first child's left hand that Andy Daulton wins AT LEAST 1 Super Bowl.

— Bert Macklin (@Ianmurray7) September 5, 2014
Bottom line: Marvin Lewis will never not be the coach of the Bengals. After we're all dead and gone, and the players are all dead and gone, and the No. 1 sport in the country is a rough-touch football alternative run by Vince McMahon, Lewis' bones will be rested in a chair, somehow still coaching the Bengals. But that isn't necessarily a bad thing. With four straight playoff berths, he has proven he can get to the NFL's knockout round. The problem is he just keeps getting knocked out. Expect the Bengals to be very good this season. Expect Jeremy Hill to run amok and Cincinnati to look like one of the most balanced teams in the league. Then expect them to lose in their first playoff game. —Maurice Peebles (@tallmaurice)
---
CLEVELAND BROWNS
Interesting human: Like this could be anyone but Johnny Manziel. He's gone through rehab and retired the money dance, and while 36-year-old journeyman Josh McCown has been named the starter, Manziel remains the most intriguing QB on the Browns roster—if not in the entire NFL. Assuming Manziel is no longer rolling bills in bathrooms, it seems a safe bet that he'll get his shot sooner rather than later. And assuming he's spent as much time working on his passing game as he has his golf game, maybe the legend of Johnny Football will grow.
Vegas O/U: 6 
Sunday to make some money: Sept. 20, Titans at Browns (-4.5)
Deserves a follow: CB Joe Haden (@joehaden23)
Our favorite celebrity Browns fan: LeBron James...or is it the Cowboys? Mr. Two Teams has made it no secret that he's down with the Dallas star, but ever since coming back to Cleveland (and befriending Johnny Manziel) King James has more publicly held it down for the Dawg Pound.
One overly optimistic fan's take on the Browns:
Bottom line: The Browns haven't had a winning season since 2007, and the optimism of last year's 7-4 start was shattered as they lost their next five to finish 7-9, last in the AFC North. With receiver Josh Gordon set to miss yet another season due to a drug suspension and McCown as the starting quarterback, this doesn't look to be the Browns' season either. Hey, at least they have new uniforms. —Russ Bengtson (@russbengtson)
---
PITTSBURGH STEELERS
Interesting human: The Steelers have a history when it comes to taking star college quarterbacks and turning them into all-purpose players in the NFL. Both Kordell Stewart and Antwaan Randle-El proved to be productive for the team in the past. And now, the Steelers are hoping they've found another guy in that same mold in Tyler Murphy. He didn't have a 180-yard, two-touchdown game in the preseason or anything, but the former Boston College QB did enough to earn a spot on the 53-man roster and could very well slide into the same role that Stewart and Randle-El used to occupy.
Vegas O/U: 8.5
Sunday to make some money: Oct 18, Cardinals at Steelers (-2.5)
Deserves a follow: WR Antonio Brown (@AntonioBrown84)
Our favorite celebrity Steelers fan: Wiz Khalifa 
One overly optimistic fan's take on the Steelers:
Bottom line: The Steelers' offense shouldn't have any problem putting points on the scoreboard this fall. Even with Le'Veon Bell and Martavis Bryant serving suspensions at the beginning of the season, Ben Roethlisberger will have plenty of weapons to use. However, the defense underwent a huge change earlier this year when longtime defensive coordinator Dick LeBeau resigned. There's a sudden youth movement taking place on that side of the ball for the Steelers, and it could result in the offense needing to try to score as many points as possible in order to win games. Should be weird for Steelers fans to watch that. ​—Chris Yuscavage (@CYuscavage​)
---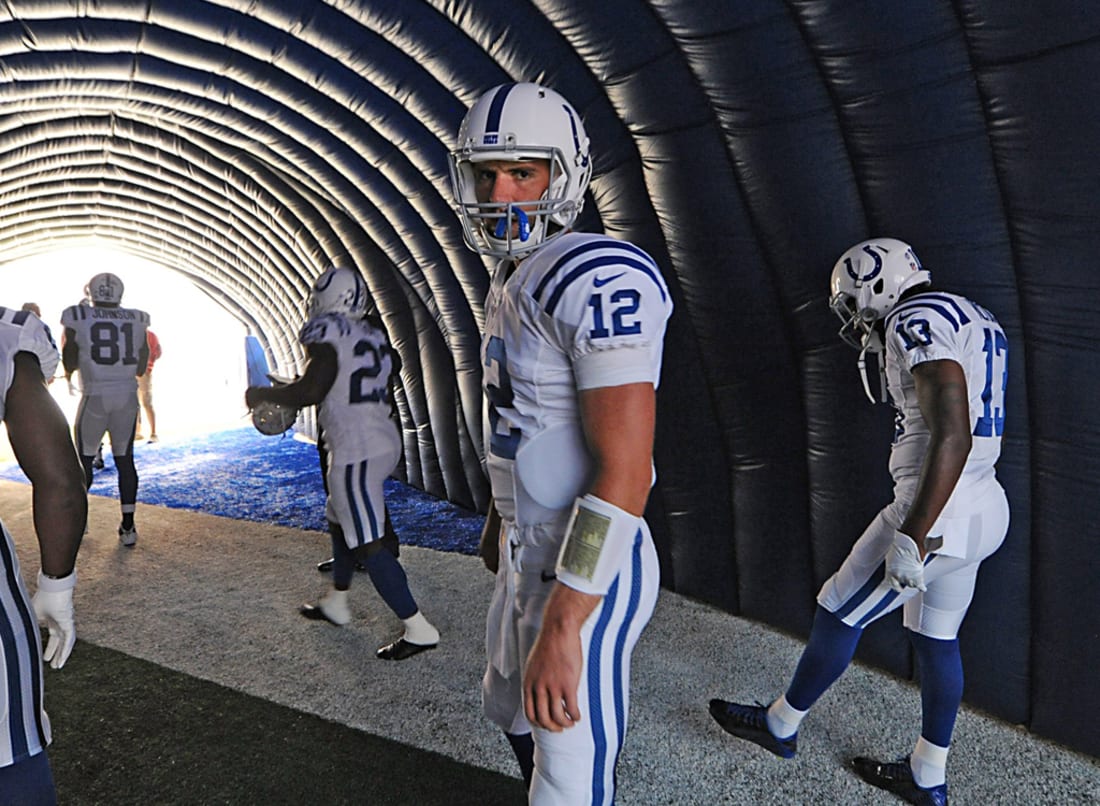 HOUSTON TEXANS
Interesting human: With Hard Knocks shining a spotlight on all things Texans, it's no surprise that Basic America has grown to love J.J. Watt even more than last season when he (yet again) won Defensive Player of the Year. And now that the HBO docu-series is over we know that Watt is not only amazing on the field, but that he is and/or enjoys appearing amazing off the field. The guy has a bed in the equipment room. "On the field, when you step on the field, you're the baddest fucker on the planet," Watt said on the show. "And together we're the baddest fucking team on the planet. And that's the way we're going to attack every fucking day. I don't care who walks into our building. I don't care whose building we walk into. We're the baddest fucker out there." Arian Foster may be a non-religious vegan, but he doesn't give quotes like that.
Vegas O/U: 8.5
Sunday to make some money: Sept. 27, Buccaneers at Texans (-6.5)
Deserves a follow: RB Arian Foster (@ArianFoster)
Our favorite celebrity Texans fan: Hilary Duff
One overly optimistic fan's take on the Texans:
Rockets made the playoffs. The Astros SHOULD make the playoffs. Texans, you're up.

— Bob Dobalina (@outonthepatio) August 27, 2015
Bottom line: If Brian Hoyer can prove himself as their new starting QB, the Texans might actually have a chance. Yes, the Colts are still the favorites in the AFC South, but this isn't entirely new territory for Hoyer. Adjustments should come more naturally now that he is reunited with coach Bill O'Brien, who worked with Hoyer while in New England. However, if Hoyer chokes, Houston may have a problem. And with Arian Foster's health issues the Texans offense could be on shaky ground. Defensively they're stout, but this team will need to find a way to put up points. —Melissa Persaud (@melissaamrita)
---
INDIANAPOLIS COLTS
Interesting human: Everyone likes an underdog so everyone should root for David Parry. He was told he was too small to play for a big-time college program and because of this his only scholarship offers came from FCS schools. Eventually walking-on at Stanford, Parry worked himself into a fifth-round draft pick in May and the Colts starting tackle this summer. "People haven't thought highly of me my whole career, but that's prepared me to this point," Parry told ESPN. "That's why I play with a chip on my shoulder." Now that he's responsible for protecting Andrew Luck, people are definitely thinking differently.
Vegas O/U: 11
Monday to make some money: Nov. 2, Colts (-1) at Panthers
Deserves a follow: P Pat McAfee (@PatMcAfeeShow​)
Our favorite celebrity Colts fan: David Letterman
One overly optimistic fan's take on the Colts:
Note to AFC South Arthur Jones being out for the season doesn't really help you in any way, Andrew Luck is still breathing. #Coltsnation

— ColtsSociety: BBN (@ShawnWard31) September 2, 2015
Bottom line: This season there isn't much reason to doubt that the Colts will yet again finish first in the division. With the addition of veterans like WR Andre Johnson and RB Frank Gore, Luck will have no shortage of old dependable weapons. The Colts should start the season strong being that their first four games are against the Bills, Jets, Titans, and Jaguars, and that they play in one of the weakest divisions in football. They're one of the best teams in the AFC for a reason and are a legit Super Bowl contender. Offensively they're stacked, and if the offensive line can keep Luck out of the hospital, they might find themselves in Super Bowl 50. —Melissa Persaud (@melissaamrita​)
---
JACKSONVILLE JAGUARS
Interesting human: Sen'derrick Marks spent his off-season rehabbing from a torn ACL, getting married, and helping a sick teenager forget about her trials for one night. As part of the Dreams Come True of Jacksonville program, Marks befriended 18-year-old Khameyea Jennings who had been battling liver cancer and asked the teen to prom. Picking her up in his Lamborghini, Marks gave Jennings a tiara and the two received a loud ovation when the defensive tackle escorted her inside. Cruelly, Jennings passed away just 19 days later. During an interview, Marks was left wondering why football players are so revered. "There's a whole world going on outside that a lot of people in this business don't know about," Marks said. "They're so stuck in this business because it gives you so many perks, so much fame and glorifies you so much. What the hell are we glorified for?"
Vegas O/U: 5.5
Thursday to make some money: Nov. 19, Titans at Jaguars (-1.5)
Deserves a follow: TE Marcedes Lewis (@marcedeslewis89​)
Our favorite celebrity Jaguars fan: Gene Hackman (supposedly)
One overly optimistic fan's take on the Jaguars:
Somewhere in a parallel universe, the raiders will play the Jaguars for the Super Bowl

— M⃟O⃟H⃟A⃟M⃟M⃟A⃟D⃟ (@M_AlnaimiXVII) August 31, 2015
Bottom line: Another year, another losing record. The fortunes of the Jaguars won't be changing in 2015 after suffering their fourth-straight losing season in 2014. On the bright side, if Blake Bortles can avoid a sophomore slump and show more signs of being a competent quarterback, the Jaguars won't have to waste another high draft pick on a signal caller and can use the coveted asset to address basically every other position on the field. —Adam Caparell (@AdamCaparell)
---
TENNESSEE TITANS
Interesting human: We're not gonna lie to you: It's hard to find an interesting player on the Titans. Their rookie quarterback Marcus Mariota is a robot that was pieced together by Chip Kelly in an Oregon lab, and Tennessee has five (five!) nondescript tight ends on their team. That—coupled with the Titans' lack of a run game—leads us to believe Mariota is going to spend his rookie season running for his life before hitting one of his many TEs for an occasional five-yard pass. But every now and then, we hope he'll look for Dorial Green-Beckham, a guy who has been described by, well, everyone as "the next Randy Moss." That's a lofty expectation, but if he can keep himself out of trouble off the field (in the words of Stephen A. Smith: "Stay OFF the WEEEEEEED!"), he might be able to make some noise on it this season. Hey, it happened for that other "Beckham" guy last season, right?
Vegas O/U: 6
Sunday to make some money: Nov. 29, Raiders at Titans (-2)
Deserves a follow: CB Brandon Harris (@HarrisNOFLYZONE​)
Our favorite celebrity Titans fan: Faith Hill 
One overly optimistic fan's take on the Titans:
Titans gone win the Super Bowl and the Lakers gonna win the finals in the same year

— Neezy (@Iam_NickNeezy) September 3, 2015
Bottom line: If Mariota ends up being the star that everyone thinks he will be, this season will likely be the "Hey, remember when he went 1-15 in his first year?" season that everybody references when he leads Tennessee to the postseason in five years. This team just doesn't have enough star power on it at the moment. And did we mention that almost 10 percent of their team is made up of tight ends?! This season has "rebuilding year" written all over it. ​—Chris Yuscavage (@CYuscavage​)
---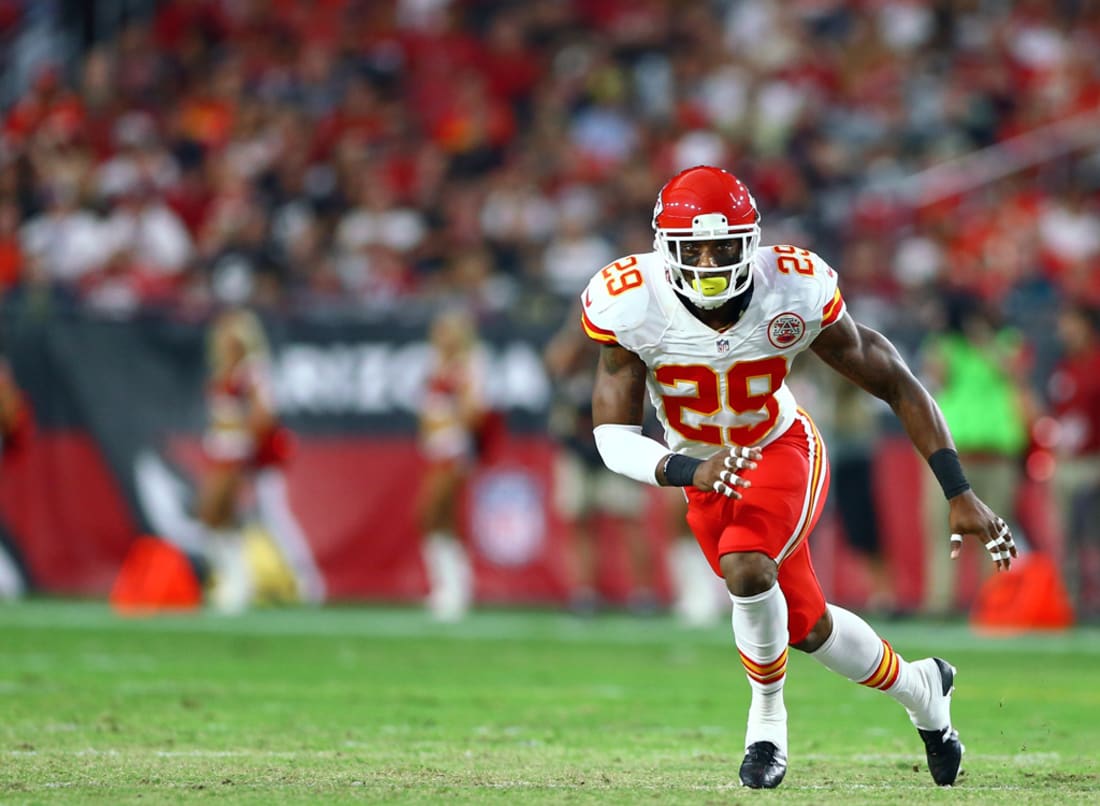 DENVER BRONCOS
Interesting human: Depending on who you ask, Shane Ray might be the steal of the draft. The Broncos first round selection dropped all the way to No. 23 after an April citation for marijuana scared some teams away. And while the pass rusher gave Broncos fans a sneak peak at the havoc he can wreak in the backfield during the preseason, his post-sack dance could use a little work. That's why the rookie has been consulting with veterans Von Miller and DeMarcus Ware to refine his routine. Basically, the dance was some kind of Pee Wee Herman punctuated with a fist pump combo and, according to Miller, it's a work in progress. "I give him a 5 for that," Miller told 247sports.com. "I would have made it look better."
Vegas O/U: 10.5
Sunday to make some money: Oct. 18, Broncos -4.5 at Browns
Deserves a follow: PR Emmanuel Sanders (@esanders_10​)
Our favorite celebrity Broncos fan: Jessica Biel
One overly optimistic fan's take on the Broncos:
I'm drinking a little Irish whiskey and completely agree with THE @markschlereth MY @Broncos going 16-0. Don't argue unless you have bacon!

— CaptainBronco (@CaptainBronco) April 26, 2015
Bottom line: Peyton Manning. That who it's riding on. If the future Hall of Famer doesn't run out of gas like he did last season, then the Broncos again figure to be one of the best teams in the AFC and a legit Super Bowl contender. But after watching Manning throw ducks late last year and struggle to deal with the cold weather, can we really expect anything different at age 39? The dude can't even feel his fingers anymore. Sure, he was banged up and if he's healthy maybe things are different, but the Broncos are going to need to beef up before December so they can afford a few losses heading into the postseason. They're still the team to beat in the AFC West. But the clock is ticking on Manning. —Adam Caparell (@AdamCaparell)
---
KANSAS CITY CHIEFS
Interesting human: Travis Kelce is more than just the non-Gronk dominant white tight end who also wears No. 87 and isn't shy about dancing and showing his vibrant personality. Sure, there's the side that blasts "Hotline Bling" while deciding which of his 300 pairs of sneakers to wear, but there's also another side. The side that frequents children's hospitals unprovoked when he's not studying the more mental aspects of the game. Kelce recently told Complex he wants "to have the greatest season statistically that a tight end has ever had." We're looking forward to seeing it.
Vegas O/U: 8.5
Sunday to make some money: Oct. 4, Chiefs (+3) at Bengals
Deserves a follow: S Eric Berry (@Stuntman1429)
Our favorite celebrity Chiefs fan: Paul Rudd
One overly-optimistic fan's take on the Chiefs:
Bottom line: The Chiefs are overlooked by many in the NFL when it comes to possible Super Bowl contenders, but maybe that's a mistake. Maybe that's based on the fact that Kansas City doesn't have a sexy headline-grabbing quarterback and instead opted for Alex Smith aka Young Checkdown to run things under center. Where are the glaring holes? Pro Bowler Eric Berry is back after battling cancer, they have one of the best RBs in the league in Jamaal Charles, added a solid No. 1 receiver in Jeremy Maclin, and are coming off a season where their defense allowed the second fewest points per game. Why not KC? Peyton Manning and his fused neck can't dominate the division forever, right? —Maurice Peebles (@tallmaurice)
---
OAKLAND RAIDERS
Interesting human: Quick, name the highest paid Raider. Even die-hards would struggle to answer that one considering Oakland made its center—yes, its center—its most handsomely compensated player this past off-season. Rodney Hudson was brought in as a free agent to anchor the Oline and thanks in part to the 5-year, $44.5 million deal he signed, Oakland's offense is expected to be marginally better than the one that racked up the fewest yards in football last year.
Vegas O/U: 6
Sunday to make some money: Dec. 6, Chiefs at Raiders (+3.5)
Deserves a follow: LB Khalil Mack (@52Mack_​)
Our favorite celebrity Raiders fan: MC Hammer
One overly optimistic fan's take on the Raiders:
The Raiders are gonna win the AFC West dont @ me.

— Netflix and Phil. (@TheBlackCarlton) August 31, 2015
Bottom line: Basement dwellers in the AFC West the past three seasons, the Raiders will likely spend 2015 there as well. After an impressive rookie campaign, Derek Carr just might be a franchise quarterback, giving the Raiders a leg up on plenty of other organizations. But the playoffs are still a pipe dream and the Raiders figure to generate more headlines for their potential move to Los Angeles than anything they do on the field.  —Adam Caparell (@AdamCaparell)
---
SAN DIEGO CHARGERS
Interesting human: Danny Woodhead looks more like a Keanu Reeves character than a real, live NFL player, but the 5-foot-8, 30-year-old has been posting serious numbers (both rushing and receiving) since his days at Division II Chadron State. After a breakout first season with San Diego in 2013 saw him lead all running backs with six TD receptions, he missed most of the 2014 season with a broken fibula. Assuming he can regain his 2013 form, he adds a much-needed multipurpose threat to the San Diego offense. 
Vegas O/U: 8.5
Sunday to make some money: Oct. 4, Browns at Chargers (-6)
Deserves a follow: FS Eric Weddle (@weddlesbeard​)
Our favorite celebrity Chargers fan: Kendra Wilkinson
One overly optimistic fan's take on the Chargers:
Chargers winning the super bowl anyway so this Tom Brady shit don't matter

— Rene (@The_RAD) September 3, 2015
Bottom line: The Chargers went 9-7 last year and missed the playoffs by one game. That shouldn't happen again. Philip Rivers is back, complete with a new contract, and with Woodhead being added to a WR corps that includes Keenan Allen and Stevie Johnson along with the addition of rookie running back Melvin Gordon, the offense should be plenty potent. If their defense improves at all—which, quite frankly, shouldn't take much—they should be right back in AFC contention. —Russ Bengtson (@russbengtson)
---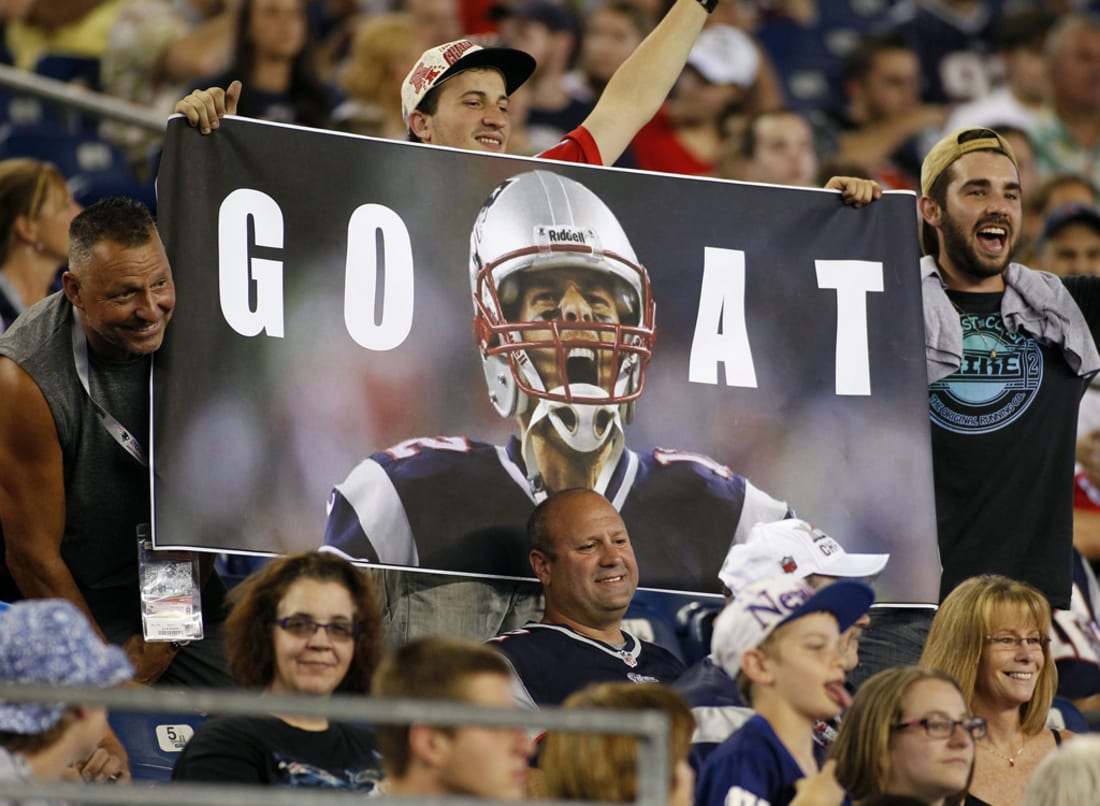 BUFFALO BILLS
Interesting human: It's too bad IK Enemkpali didn't make the final roster, because the guy who busted Geno Smith's jaw and was then picked up by Geno Smith's old coach Rex Ryan would have been the obvious choice as someone to keep an eye on (especially if you were a teammate who owed him money). Instead we'll go with 26-year-old Tyrod Taylor, who was named the Bills starting QB after seeing limited action (just 35 pass attempts) in four seasons as Joe Flacco's backup in Baltimore. Even if rumors of his commissioning a diamond mouthguard were tragically untrue, Taylor should add some shine to an offense that ranked 18th in passing and 26th in total yards last season.
Vegas O/U: 8.5
Sunday to make some money: Nov. 8, Dolphins at Bills (-2)
Deserves a follow: RB LeSean McCoy (@CutonDime25)
Our favorite celebrity Bills fan: Shooter McGavin
With Tyrod Taylor named starter this Buffalo Bills team reminds me of the 49ers that went to the Superbowl.

— The Honey Badger (@AlwaysN_Trouble) September 3, 2015
Bottom line: It's not clear which 49ers team @AlwaysN_Trouble is talking about, but it seems highly unlikely that the Bills—who went 9-7 last year and named a virtually untested NFL quarterback their starter—get into Super Bowl 50 without tickets. Then again, offense is never the hallmark of a Rex Ryan-coached team, and the Bills did rank fourth overall last season in total yards allowed. If Taylor can emerge as the multipurpose threat he was at Virginia Tech and LeSean McCoy is good to go come Week 1, that should be enough to get them into the playoffs. After that, who knows? —Russ Bengtson (@russbengtson)
---