Kevin Garnett, even at age 38, is still one of the most heated trash-talkers in the game. Over his 19 year NBA career, he's established himself as the sport's preeminent trash-talker, with his crowning achievement being the entire Carmelo Anthony "Honey Nut Cheerios" incident. Legendary moments from a legendary basketball shithead. 
In a feature on trash-talking with The Oklahoman, Thunder center Steven Adams named Garnett as one of the fiercest talkers in the game, explaining just how much a bit of KG's banter can weigh on a man. 
"KG and [Kendrick Perkins], those two are ridiculous," said Adams. "They make you question, like, why you are playing basketball and stuff. You're like 'Why am I doing this?' It's really weird, you get depressed."
Adams was asked whether or not Garnett has ever specifically targeted him—he hasn't, but teammate Serge Ibaka has received the brunt of KG's work: "He was talking to Serge once and I was like 'Woah, that's some stuff.' I cannot repeat it."
Although Adams has yet to be targeted, he's noticed that when KG talks to himself, he's named Adams under-his-breath before. "He's talking to himself, but he like makes you feel bad because he mentions you in it. You're like, 'What the hell? This is crazy?' I walk away so I don't hear it because then, I don't know, I'll get real sad."
Don't get sad Steven. Your pornstache is too great to let the haters keep you down. (Sidenote: How has Kevin Garnett NOT made fun of his pornstache yet?)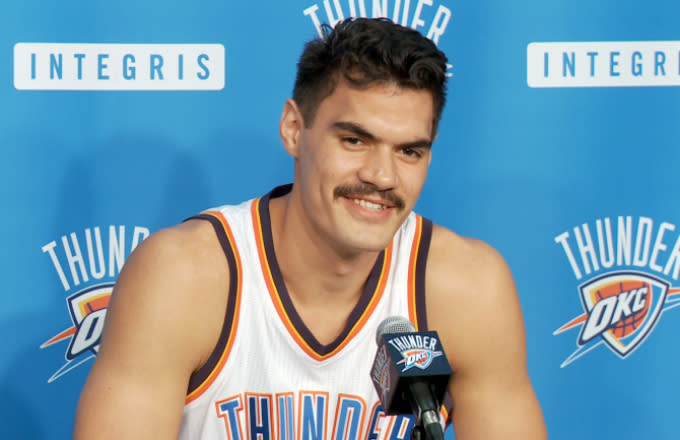 Send all complaints, compliments, and tips to sportstips@complex.com.
[via ProBasketballTalk]