Marchester City's speedy striker Sergio Aguero is expected to be a handful for the Manchester United defense when the two Premier League powerhouses square off in Sunday's highly anticipated Manchester Derby.
However Aguero's fellow Puma athlete Usain Bolt doesn't quite think he's ready. So to help out the star footballer, the world's fastest man offers him a speed lesson in this latest clip from Puma. Or perhaps Bolt, who's a loyal Manchester United fan, has an ulterior motive.
Check out the spot to see Bolt and Aguero hit the pitch together. You might even catch a glimpse of latest colorway of the Puma evoSPEED 1.2 FG cleats that were debuted by Aguero earlier in the week.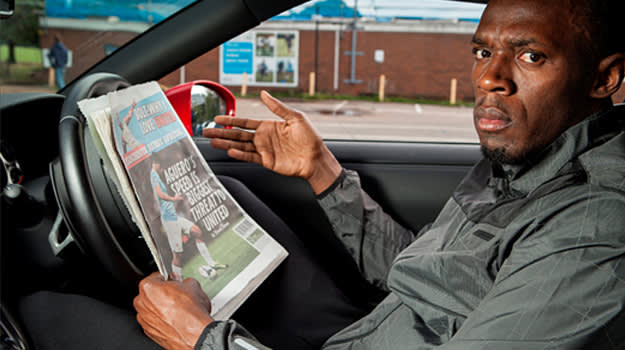 RELATED: Puma Unveils New Colorways for the evoSPEED and PowerCat Soccer Cleats
RELATED: Aguero Laces up in the Latest Puma evoSPEED 1 FG Cleat