A GOP staffer who inexplicably chose to chide the Obama daughters' reaction to their father's pardoning of Thanksgiving turkeys last week has resigned in the wake of the fallout. 
Last week, Sasha and Malia Obama offered this exasperated response to the ceremony because, well, that's what teenagers do.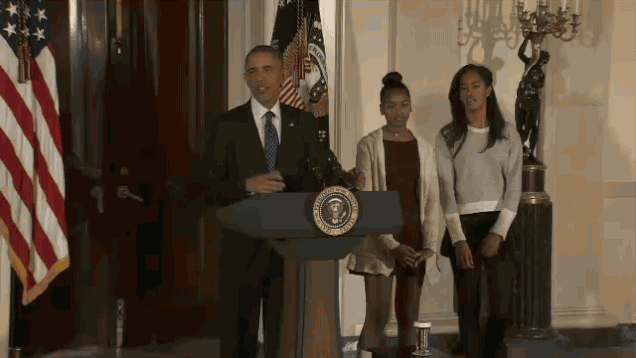 The only reason anyone gave half a shit is because they're the Obama daughters. Elizabeth Lauten, the soon-to-be-former communications director for  Tennessee Rep. Steven Fincher, unloaded a stream of verbal finger-wagging, urging the girls to "show a little class." From there, she proceeded to question President Obama's parenting skills, and alleged that the girls dressed like they deserved "[spots] at the bar." Keep in mind that they're 13 and 16.
Although Lauten deleted the tweet and issued a half-hearted apology, the damage was done. Life came at her rather fast, and her irresponsible comments cost her a job. 
Here are a few lessons for all: Don't make any faces at public events. Ever.  Also, don't insult teenagers on Twitter and pass it off as scolding. You might be forced to step down.
UPDATE: In an interesting twist, the Smoking Gun reports that Lauten knows a thing or too about inappropriate teenage behavior. She was apparently arrested on larceny charges at the age of 17:
Lauten, pictured above, was arrested in December 2000 for misdemeanor larceny, according to court records. Lauten, then 17, was collared for stealing from a Belk department store in her North Carolina hometown.

Because Lauten was a first-time offender, her case was handled via the District Court's deferred prosecution program, which resulted in the charge's eventual dismissal after the future scold stayed out of trouble for a prescribed period.
[via Gawker and The Smoking Gun]