Hip-hop lost one of its favorite sons in the early morning of Jan. 18, 2015. I remember the day vividly. It was a dark, gloomy, and wet Sunday morning in Jersey City, and as I always do before I get out of bed, I scrolled through Twitter. To my surprise, and everyone else's for that matter, I kept coming across "R.I.P. Yams" tweets. I didn't want to believe it. I went to check on my roommate who knew Yams before the fame, before the drug addiction, before pretty much everything. He sat at the edge of his bed, devastated, with tears in his eyes. Eastside Stevie was really gone.
One year later and it still feels like that gray Sunday morning whenever I hear his voice or see someone retweet one of his hilarious tweets. Friends and fans were aware of his battles with drug addiction, but his passing still came as a surprise. His positive energy touched so many people; Steven Rodriguez was much more than the music, he was hip-hop incarnate, an open mind unrelenting in his vision and unselfish with his love. All of those things were on full display last night at Terminal 5 in New York City for the first annual Yams Day. The city he gave so much to showed up in droves for their patron saint.
Steven Rodriguez was hip-hop incarnate, an open mind unrelenting in his vision and unselfish with his love.
I've never seen a longer line at a venue in my life—that shit wrapped around two blocks. It was a never-ending sea of people from all walks of life: street cats, fashion types, rap nerds, etc. Yams' reach has always been astounding to me. Here was this Latino kid from Harlem who was into high fashion and Southern hip-hop just as much as he loved Supreme and Max B, and used Tumblr as a tool to turn his friends into rap stars.
Last night, those same rap star friends returned the favor. Yesterday marked the first official Yams Day, and the A$AP Mob plans on making this tribute concert a thing for years to come. Before ending the show, Rocky vowed to have next year's celebration at a bigger venue. The place was packed, and the smell of piff filled the air as we ascended to heaven with each jam. The stage was beautifully put together, complete with projections of A$AP videos, fan art of Yams, and a Coogi Martin couch smack in the middle of the stage for each act to get their cozy boy on. Bodega Bamz and the Tan Boys set shit off, and then came the young up and comer Madeintyo, who's been making waves lately with his You Are Forgiven tape.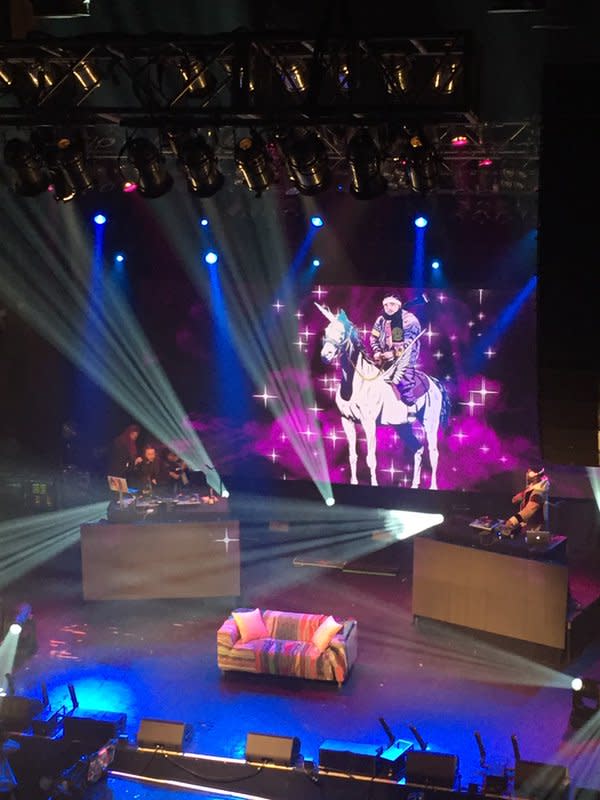 A who's who of Yams' favorite young rappers soon followed. Young Gleesh donned a white robe, ninja mask, and adidas slides, and came through to throw some water and get his stop on. RetcH, Da$H, Joey Fatts, Lil Uzi, and Flatbush Zombies all gave inspiring sets, too.
The crowd went especially wild for Joey Bada$$ and Action Bronson, but that was until the Mob took the stage. A$AP Twelvy, in his Evisu jeans, got the building hype as the Mob ran off a slew of hits and old favorites. They brought out French Montana, another Uptown New Yorker with an "out of town" sound. The crowd lost their minds when he performed "Off the Rip" and acknowledged how hard A$AP worked before breaking in the music industry. Ferg showed up with his signature energy and tore the roof off when he performed "Work," "Shabba," and his new joint "New Level." 
Finally, Rocky got into his set with the brand new "Yamborghini High" and "Peso." It was a heavenly experience when those two tracks hit the speakers. Both songs are bookends to Rocky's musical relationship with Yams: "Peso" was the song and video that pushed Rocky and the Mob into the conversation and established them as New York's latest cultural movement. Yams had the foresight and cultivated a lane that allows the Mob to be influential in both fashion and music.
But all of those moments paled in comparison to the moment Yams' mother took the stage. With her heavy Spanish accent, she announced that along with the Mob, she plans to start the Always Strive and Prosper Foundation to help those battling with addiction.
Even in death, Steven Rodriguez proves to be much more than just music. Last night was a special moment that will be hard to top, but here's to each and every Yams Day being better than the next. Always strive and prosper.