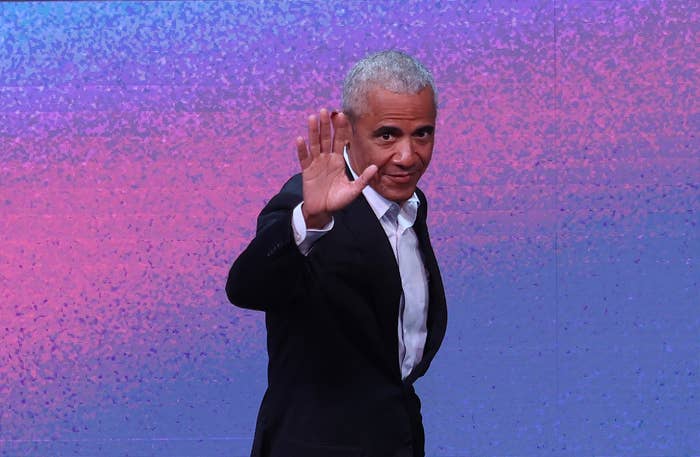 Barack Obama has proven countless times that he has exquisite taste in music.
He took to Twitter on Thursday to share what songs have been in his rotation during the warmer months. "Like I do every year, here are some songs I've been listening to this summer—a mix of old and new. Look forward to hearing what I've missed," the former president wrote.
Alongside classic artists like Ella Fitzgerald, the Rolling Stones, Stevie Wonder, and Aretha Franklin, the 61-year-old paired more recent tracks from Drake and J Hus ("Who Told You"), SZA ("Snooze"), Ice Spice and Nicki Minaj ("Princess Diana"), Janelle Monáe ("Only Have Eyes 42"), boygenius ("Not Strong Enough"), Jorja Smith ("Try Me"), and even Babyface Ray and Money Man ("Drums"), demonstrating once again that Obama has a pretty eclectic palate.
Barack Obama's annual playlists have become something of a pop culture event. In June, he commented on his yearly collections of songs, telling Hasan Minhaj that they do reflect his musical inclinations.
When Minhaj asked if Obama "really" listens to his playlists, the two-term POTUS responded, "I do."
"Listen, I am so glad that I had this opportunity," he continued. "People, they believe the books and the movies. But the playlists, they somehow think—and this is mostly coming from young people like you—somehow y'all think you invented rock 'n' roll, you invented hip-hop. And so the fact that my lists are, you know, pretty incredible, people seem to think, 'Well, he must have had some 20-year-old intern who was figuring out this latest cut.' No, man. It's on my iPad right now."
"Don't play with me," added. "I am very scrupulous about making sure that this is stuff that I actually like. I will confess that there are times on the playlists, on the music lists, where I will get suggestions. … But unless I'm actually listening to it, watching it, reading it—I won't put it on there."