While other tech companies blatantly try to jack features they made popular, Snapchat consistently tries to be on the cutting edge of development. Their Discover feature is one way they've set themselves apart from competitors like Instagram, with news outlets designing content exclusively for the Snapchat ecosystem.
The newest addition to their suite of features is the Custom Story option, which enhances the experience for people who like to share their daily adventures with their entire friends list, rather than just a few friends. It has the potential to be a game-changer for Snapchat if it's harnessed properly, and is another way they'll be able to set themselves apart from their peers—at least for now.
So what can you do with these new Custom Stories, and maybe the better question, why is Snapchat adding them now?
How do I collaborate on stories with my friends?
The feature added here is one fans of Snapchat have wanted for a long time: you can now collaborate on stories with your friends without having to exclusively run every addition through one person's phone.
Through a few simple button presses that don't differ whole lot from your usual Snapchat use, you can now create a story separate from the standard "My Story" feature. After you shoot your picture or video and move on to the send screen, you'll now see an option to create something brand new: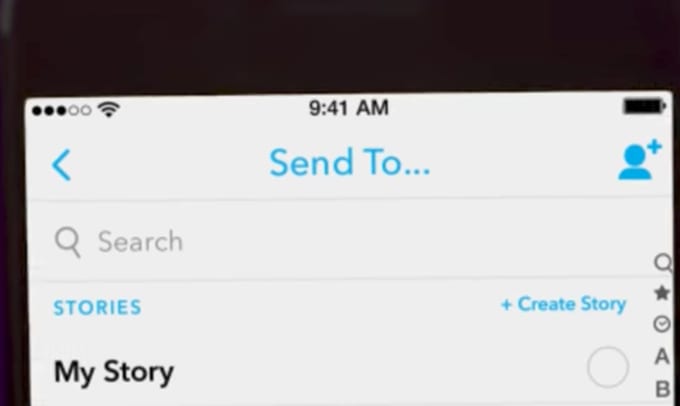 The next step is to name your custom story and answer a couple simple questions before things get started, including who you want to see it and who is allowed to add uploads to it: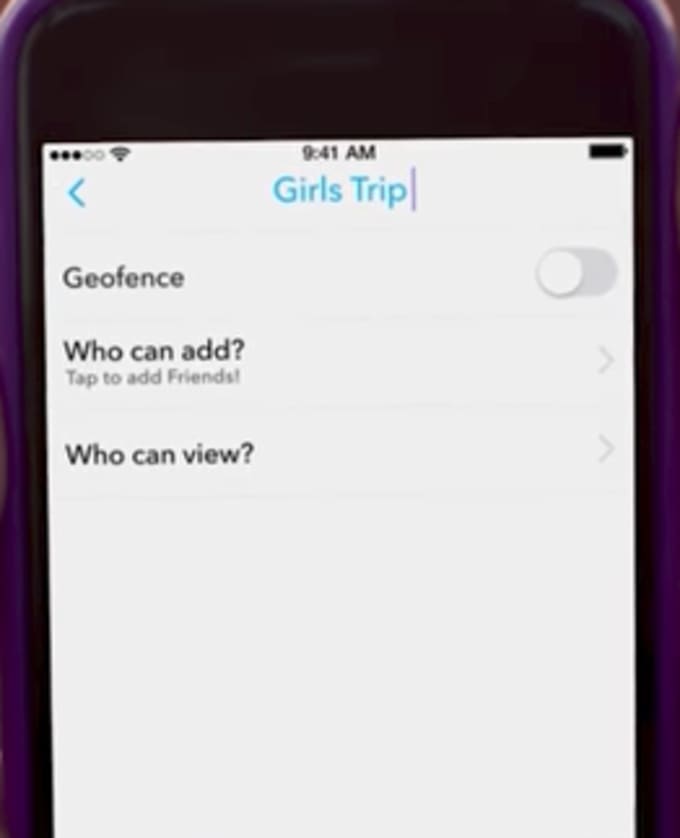 From there, you're off to the races. The friends who you granted access to will now be able to snap photos and videos and put them directly into the story from their own phone, and they'll be able to continually add new content to the story over time.
Do these stories act differently from normal Stories?
Although the collaborative effort will help set apart Custom Stories from their predecessors, functionally there will be very little difference for users. If you're a part of a Custom Story, you will see it pop up on your "Send To" screen as an option just like any other: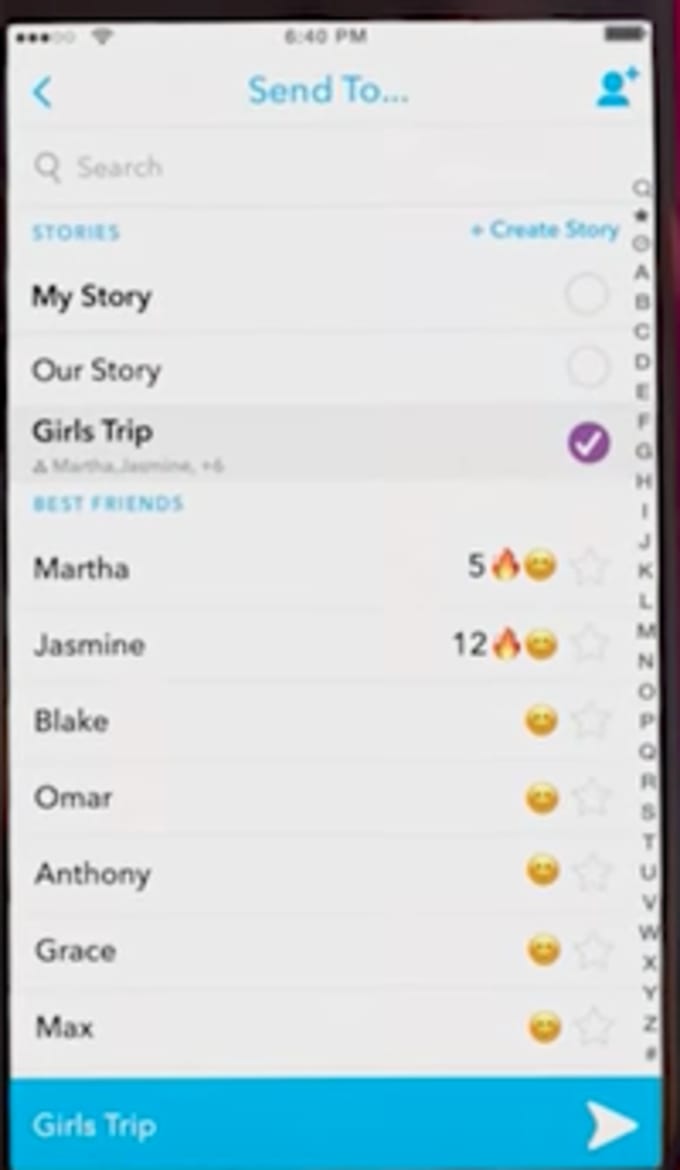 Though the audience can change depending on who the creator selects to share with, there's no real change in how long these stories last. Custom Stories eventually disappear just like a regular Snapchat Story, either following deletion by the creator or after 24 hours with no new contributions. 
Before you go too crazy with creating separate stories with your friends, though, there is a limit to how many custom stories you can have going at one time. Creators are only allowed to have three unique stories up at a time, while contributors can upload photos to as many of these stories as they would like, so long as they have access.
The new feature retaining the same characteristics of a "normal" Snapchat Story is a good thing. This will allow users to try out something new without being bogged down by a series of confusing steps to make it happen. 
How does this make your life better?
One of the downfalls of apps like Snapchat is that if everyone you're with is trying to cram shots into their own story, you end up spending a lot of time getting multiple pictures on separate phones to commemorate the same moment. Although apps like Snapchat and Instagram are meant to preserve moments as they're happening—whether it's a beautiful sunset or a video from your favorite concert—it can take a lot of effort to get a group's worth of pictures taken.
Without sounding like too much of a cranky old person, having to stand around and appease everyone's preferences and shot compositions can detract from the event itself. By centralizing the story and allowing friends to work together and at their own pace, Snapchat is freeing up time for you to actually experience what you're showing off to friends, rather than just documenting it.
For big events in your life, this is an invaluable resource. When you're attending a wedding with friends and loved ones, you will no longer have to worry about standing around for five minutes to make sure everyone got their own unique picture to share. These new hubs ensure one person doesn't have to spend the whole reception on their phone in order to get an accurate (and entertaining) depiction of the evening.
Even if it's coming indirectly, Snapchat is helping you spend less time on your phone while still showing off on their app. And that's a beautiful thing.
Why did Snapchat add this feature?
As a company filled with people who probably use the app themselves, Snapchat is absolutely interested in giving users as great of an experience as possible. But while it would be nice to view Snapchat as a team of benevolent people solely looking out for your best interests, there's also the financial reality behind every decision they make.
With other companies seeking to duplicate and enhance every new feature they introduce, Snapchat has a lot of incentive to stay ahead of the game. When they announced the new feature through their Twitter on Tuesday morning, one of the most common responses from users was to mock Instagram:
@Snapchat Can't wait for Instagram to copy this

— Parry, Ben Parry. (@iBenParry) May 23, 2017
@Snapchat .@instagram be like… pic.twitter.com/STQTjunBQv

— Burton Lewis Jr. (@b_boogey_xl) May 23, 2017
It's all fun and games for users, but this is a real problem for a company like Snapchat. With Instagram's addition of a story feature—and other duplications of Snapchat-first features—the moment-sharing app has taken a huge chunk of Snapchat's base. According to reports since Instagram's story feature was launched, views on Snapchat Stories reportedly dipped anywhere between 15 and 40 percent, and daily users of Instagram stories nearly caught up to Snapchat's entire app base.
To put it lightly, Snapchat has been getting crushed on the business side of things. They lost in the neighborhood of $6 billion in market value this May, just months after the company held their Initial Public Offering. Sudden tumbles in the stock market are sort of the norm for new tech companies like Snapchat, but the big loss basically took the company's value back to IPO-level value. Whether you're an investor, someone who works there, or just a person with a cell phone that likes their service, that isn't a good thing.
But the team behind Snapchat claims not be concerned, and Chief Executive Evan Spiegel has been defiant about their push for new features, even as companies like Instagram and Facebook seek to duplicate their innovations.
"If you want to be a creative company, you've got to get comfortable with and enjoy the fact that people are going to copy your product if you make great stuff," said Spiegel. "Just because Yahoo has a search box doesn't mean they're Google."
No one is going to confuse Snapchat for Google, so the onus is on them to continue innovating and staying one step ahead of their peers. The Custom Story feature is a start, but they'll need to keep the ball rolling if they want to avoid getting buried.