....amazing.
I think that if you're looking at the country-wide pool party scene, Vegas will always come out on top. Simply put, it's what they do, and they're great at it.  My opinion may be a little biased as an LA resident, but I think coming in a close second would have to be Southern California. From San Diego, to Los Angeles, to Palm Springs, and Santa Barbara, we've just got too many cities where the culture is built around day partying and the weather helps us embrace it most of the year.
So I think it's pretty safe to say that when you saw the Splash House announcement and said "Oh shit - three simultaneous pool parties for three days? That sounds fun," you weren't wrong. In fact, you should be pretty pissed you missed it.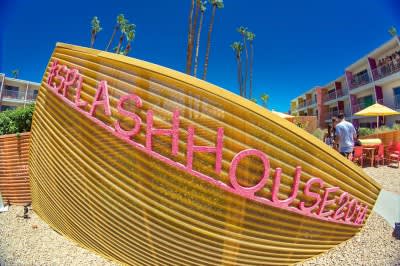 Let me break down the action for you a bit. The event is split into three host venues: The Saguaro, The Hacienda, and The Hardrock. All three have the quintessential, hip, desert-in-the-'70s vibe that people from around the country come to Palm Springs searching for and, more importantly, The Saguaro and The Hardrock are both hotels so you can literally wake up and stumble to the action if you want to. If you're sitting there right now thinking there's no way you could afford to get one of the hotel packages that they're offering up, just remember it's Palm Springs and there's plenty of options to keep your pockets happy and fat or accommodate your absurdly large crew (looking at you college bros).
As far as The Hacienda is concerned, this place is literally brand new. And when I say "literally brand new," I mean those psychos opened their doors on the first day of Splash House. In an unbelievable twist, apparently they hired some of the best staff in Palm Springs because they were running that place like a well-oiled machine, even when crowds got a little thick for acts like Claude VonStroke. Needless to say, the venue itself is a pool partygoer's wet dream (see what I did there?) with drink and brunch deals to pretty much seal the deal on your ass staying glued to a lounge chair there all day.
But since The Hacienda was the new kid on the block, it definitely wasn't the pool to go to if you were looking to get weird. I mean, if you're a LA local, a Palm Springs regular, or just did a little bit of research beforehand, you'd see that The Saguaro is legendary and if The Hardrock puts a hotel in Palm Springs then it's obviously going to be audaciously adorned inside and stocked with total A-team staff.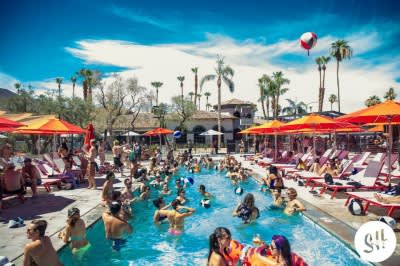 But no matter what spot you land at, you can make it to any of the other two venues quickly and easily. The shuttle service they had in place was not only quick, clean, and efficient, but I never waited more than 10 minutes for one to show up. This means you can probably make it to pieces of each conflicting set time you want to see more effectively than if you were walking end to end at a large scale music festival.
I'm not going to get into the line-up, because there's really no reason to. If you like this style of house-tropical-disco fusion, then you already know this was the best line up of the summer. Seriously, if there's a better line-up anywhere in the world then I have yet to see it. And then to be sitting by a pool drinking a cold-ass-$4-draft-beer the whole time? Come on. You did it, Splash House. You did it.
But what I WILL say is that the open format of the festival allows you to not only kick it with your favorite performers, but if you're involved in or in any way trying to be involved in the music industry then this is a networking dream. If someone has a good connect for water proof business cards then I need them.
So for all of you #sadboys out there who made it through this novel of a post and are still kicking yourself for not going to this session of Splash House, I've got news for you: