If you're anything like us, the following tweet from earlier this week definitely got you excited: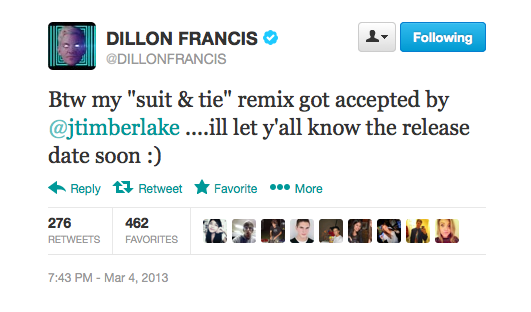 We had no idea what to expect, though. Dillon Francis remixing Justin Timberlake? Dillon's styles vary, and we half expected him to take it to the bigger electro house or moombahton lane, but Dillon went left, dropping a laidback trap version of Justin's latest. He chops up Justin's vocals perfectly, barely letting him get more than "my suit and tie" out once the track drops. Full-on trap excellence here, and truly surprising. We didn't realize that major labels would be signing cuts this leftfield, even for a trap track.
And truthfully, with as stylish as Dillon is, it made sense for Justin to snap up his version for this single. Score one for the good guys!
UPDATE Dillon had this to say about the release, via the SoundCloud description: "RELEASE DATE IS STILL TBA and dont start yelling at me because Jay-Z vox aren't in the remix because the Sony said that i wasnt allowed to.....anyways ENJOY"