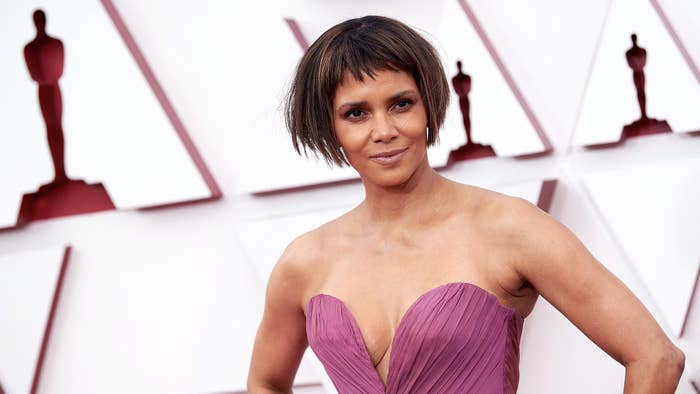 In HBO's award-winning biopic Introducing Dorothy Dandridge, it was important to recreate the Oscar scene. Dandridge was the first Black woman to be nominated for an Academy Award for Best Actress in a Drama for her title role in the Otto Preminger-directed Carmen Jones.

The 1954 film, which featured an all-Black cast including Harry Belafonte, Pearl Bailey, and Olga James—the studio and Preminger were considering Lena Horne and Eartha Kitt for the title role until Dandridge won them over with her sensual audition.

She didn't win the Oscar in 1955. But Halle Berry who played Dandridge and produced the biopic would win the Golden Globe for her portrayal of the iconic sepia-skinned actress.

Berry, a little over 47 years later, would make history herself by winning in the same category—becoming the first Black woman to do so for her 2002 film Monster's Ball. She dedicated her award to Dandridge that night.



Last week, in an interview with the New York Times, Berry said that it's "heartbreaking," that after 20 years since her historic win, she is still the only Black woman to have won the award.

This year's best actress nominees were: Jessica Chastain (The Eyes of Tammy Faye), Kristen Stewart (Spencer), Penélope Cruz (Madres paralelas), Olivia Colman (The Lost Daughter), and Nicole Kidman (Being the Ricardos)

Jessica Chastain took home the statue.

The Times alluded to Angela Bassett possibly being considered for the role that got Berry the Oscar. In 2002, Bassett told Newsweek that she declined the part because she "wasn't going to be a prostitute on film."

The sex scenes in Monster's Ball drew the most controversy for the film, which starred Berry as a waitress and Billy Bob Thornton as a corrections officer. As the two strike a romance, the stereotypes about Black women in reference to Hollywood's oversexualization might have been what Bassett referenced in her comments to Newsweek.

Earlier this month, a report from Hollywood's NAACP published by Deadline, said the "absence of Black control of media has rendered the community vulnerable to a host of debilitating impressions, ranging from negligent disregard to deliberate degradation."

Monster's Ball was directed and written by whites.

In 2020, according to the study, "91% of film studio CEOs were white and 82% were male; 93% of studio senior management teams were white and 80% were male; and that 86% of studio unit heads were white and 59% male."

Is it a lack of opportunity, or a lack of interest?

Black executives are said to play a key role in the development of how African-Americans are portrayed on film, per Deadline.

According to McKinsey and Company who conducted a study last year, Hollywood loses $10 billion annually by undervaluing and underfunding Black-led projects even though evidence suggests in some cases, they out-perform other projects.

The year she won, Berry wasn't prepared. It was an unwritten rule, she expressed, if you didn't win the Golden Globe, you wouldn't win the Oscar. That year, the Globe went to Sissy Spacek for In the Bedroom.

"So I'd pretty much resigned myself to believing, 'It's great to be here, but I'm not going to win.'"

Since Dandridge, Berry was in a list of seven other Black woman nominated for the category. That year, she beat Nicole Kidman (Moulin Rouge), Judi Dench (Iris), Sissy Spacek (In the Bedroom) and Renée Zellweger (Bridget Jones's Diary).

The cameras caught a sobbing Berry gathering her thoughts and running over the allotted time as she remembered those to thank in a list that included Diahann Carroll, Lena Horne, Vivica A. Fox, and Jada Pinkett-Smith. As she spoke, the lenses panned to a glimpse of Sidney Poitier in the balcony in a symbolic and fitting touch. He'd been honored in the same ceremony and was the first Black man to win an Oscar for best actor in a drama for Lilies of the Field in 1963.

Hattie McDaniel was the first Black woman to win an Oscar in any category for her iconic role as Mammie in Gone with the Wind in 1940. That ceremony was held at Cocoanut Grove nightclub, which was part of the Ambassador Hotel—and wouldn't become integrated until 1956. McDaniel wasn't allowed to sit at the Gone with the Wind table and was instead seated at a small table off to the side.

The night she won, Berry sat in between her white mother, and then-husband R&B singer Eric Benet. In part of her speech, she expressed aspirations for doors to be opened in Hollywood.

But it didn't happen that way.

Less than 6% of Hollywood films' writers, directors, and producers are Black.

"It didn't open the door," Berry said. "The fact that there's no one standing next to me is heartbreaking."

Recently, Berry produced and directed the Netflix production Bruised which is currently streaming and the idea of "Black tax," came back into play.

Per Deadline, Black Tax is a fee that Blacks in film and TV have to pay—a literal or metaphorical toll of sorts for what others take for granted. "This is an unfair burden that falls in the lap of Black talent or creatives who could otherwise be honing their craft and focusing on their own careers."