Category: Running (neutral)
Weight: 8.1 oz
Best for: Heel strikers, over-pronators and triathletes
Star feature: DuoMax Support System
I laced up these shoes with major trepidation. For one thing, they look like a pile of melted crayons. Not only are all 96 Crayola colors present in the shoelaces alone, printed on the toe box are both words and people. If I can run as fast as these shoes make my eyes dart back and forth, well, see you the 2016 Olympic Games.
Asics GEL series also hasn't held much promise for me since switching to a more lightweight adidas Adizero in the summer of 2012, but after taking these for a couple spins, I might be inclined to rekindle the flame. For one thing, the GEL-Noosa Tri 8 is delicate compared to most Asics models. Clocking in at just 8.1 ounces (more than one ounce less than the GEL-Kayano and the GEL-Cumulus), it feels snug and small on the foot, and its elastic laces cinch up for an airtight—and thus blisterproof—hold. That's intended. Designed for triathletes, it was built to both repel water and, upon getting soaked anyway, remain light and buoyant. A six-mile run in the rain proved this. It's also sturdy. Asics' DuoMax Support System promises stability through the mid-foot and delivers—but not too much for an underpronator. Meanwhile, as required for triathletes, the sole is extra grippy, making it a great option for any runner who welcomes inclement weather but not the slips and falls that come with it.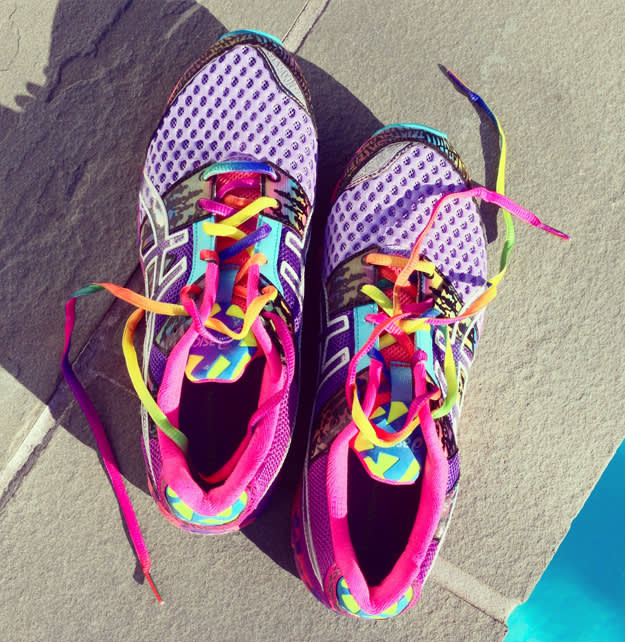 My only complaint is that the GEL-Noosa Tri 8 is designed specifically for heel strikers, a group that is diminishing as more runners swap their classic trainers for lightweight flats or barefoot shoes and embrace the more efficient mid-foot strike (or, as I prefer but do not recommend, the tip-toe strike). I didn't have a problem running on my forefoot or underpronating, but if worn regularly, might not hold up. And that sturdiness I love so much might wear down to a less desirable heavy feeling. I'll have to run in this pair much more to find out, and I intend to just that as long as polar vortexes wreak havoc on my local routes.
Lightweight yet solid, ideal for slick surfaces, accommodating to goofy strikes—the GEL-Noosa Tri 8 would be the perfect winter running shoe even without the SAD-proof neon pattern.
Cary Randolph Fuller is a writer based in New York City and a finisher of six marathons and one 50-mile ultramarathon. Follow her @CaryRandolph on Twitter and Instagram.