Earlier this month, it was announced that Under Armour would serve as the exclusive performance footwear and apparel supplier for the University of Notre Dame. Today, the brand and school have officially announced the new partnership at a press conference at the school's Indiana campus.
The 10-year agreement means that Under Armour will equip the university's men's and women's varsity athletic team for training and game-day appearances from head to toe. Take a look at the sneak peek of the men's basketball uniform provided by their instagram account, @NDmbb.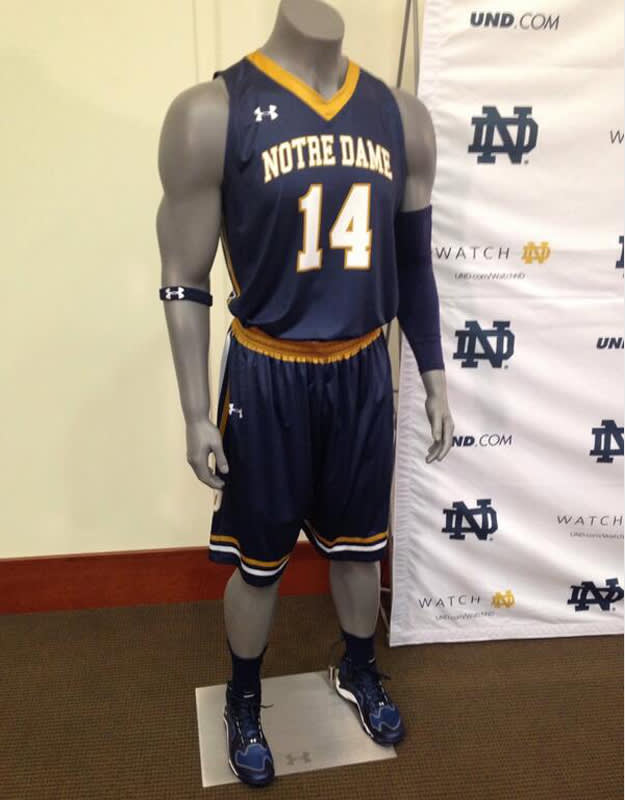 Under Armour founder and CEO joined University VP and Director of Athletics Jack Swarbrick to formally introduce the partnership. "Notre Dame is the standard-bearer of excellence in collegiate athletics and is one of the most recognizable and admired universities in the world," said Plank. "It's an honor and a privilege to have the opportunity to dedicate our passion and innovation for making athletes better in this game-changing partnership. We look forward to collaborating with the university's administration, athletic department, student-athletes, alumni and its powerful fan base to uphold the Fighting Irish's championship pedigree."
Stay tuned for more details on the Under Armour takeover and how the university will be involved in their wide-ranging story telling efforts.
RELATED: Notre Dame Switches to Under Armour
RELATED: USF Basketball Takes Over NYC in the Under Armour "So-Flo" Uniforms