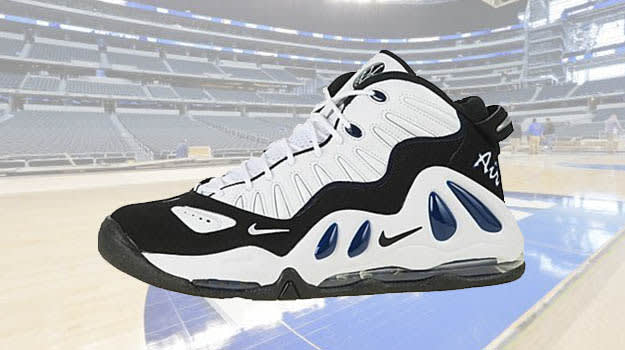 Every year, as March Madness simmers down, one team's hard work pays off as they become NCAA National Champions. Similarly, there's always one sneaker that stands above the rest. Whether its the debut of the latest teched-out performance model, or just an undeniable performance in a great sneaker, there's always that one individual shoe fans seem to remember. As the 2013 title game approaches, sneakers such as the adidas Crazy Quick and D Rose signature line are among the most noteworthy in the tournament. Looking back, Sneaker Report team has considered number of factors and now we present The Single Defining Shoe of Each NCAA Tournament from the Past 20 Years.
Riley Jones is a journalism student from Charlottesville, VA. With an unshakable affinity for basketball and all things '90s, he can be found on Twitter @rchrstphr.
RELATED: The Sneakers Worn for the 50 Best Basketball Performances in NCAA History
RELATED: The 16 Best Performance Basketball Shoes Worn in the 2013 NCAA Tournament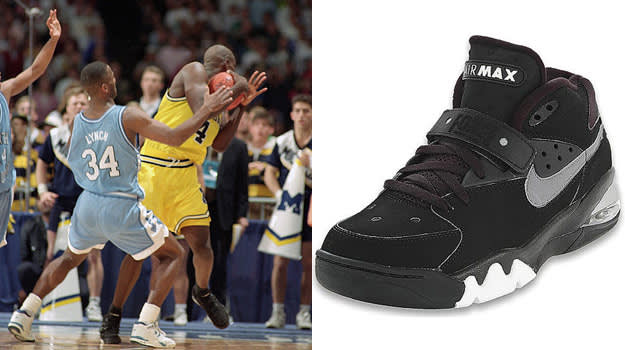 Chris Webber x Nike Air Force Max
Year: 1993
Michigan's 1993 National Championship appearance was stricken from the record books due to NCAA policy violations, but that didn't stop Webber and the Fab Five from making footwear history. The Air Force Max were paired with black socks and baggy uniforms for a trendsetting look. Between this and Webber's notorious timeout call (pictured above), the Air Force Max stood out more than anything else in '93.<!--nextpage-->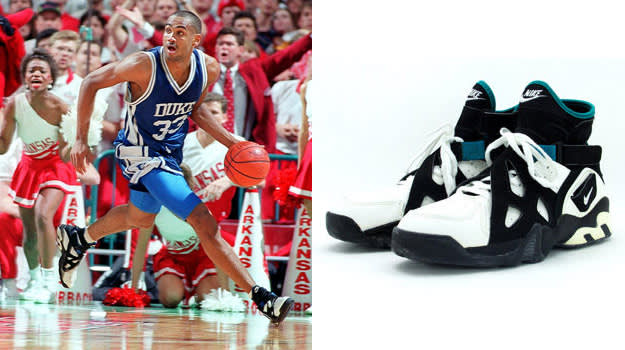 Grant Hill x Nike Air Unlimited
Year: 1994
Although Grant Hill and the Blue Devils fell short in the National Championship, Hill is remembered for wearing the strap-equipped Nike Air Unlimited. Similar in aesthetics and function to models such as the the Nike Air Raid, the Air Unlimited was also worn by pros like David Robinson.<!--nextpage-->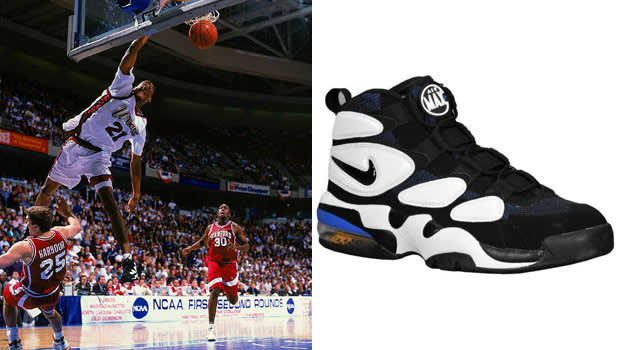 Marcus Camby x Nike Air Max 2 Uptempo
Year: 1995
UMass' '95 tourney run ended earlier than many expected in the Elite Eight, but Marcus Camby made a huge mark in the Nike Air Max 2 Uptempo. He was part of the A-10 conference's First Team as well as winning the Freshman of the Year recognition. This Air Max-cushioned model is ideal for a player of Camby's stature.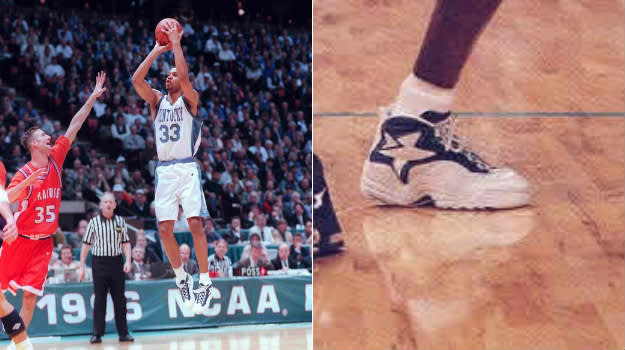 Ron Mercer x Converse CONS Blue
Year: 1996
As part of a truly elite squad of college ballers, Ron Mercer and the Kentucky Wildcats secured the '96 National Championship. A number of players wore the Converse CONS Blue, which was created specifically for the Wildcats and is notable for utilizing denim in its design.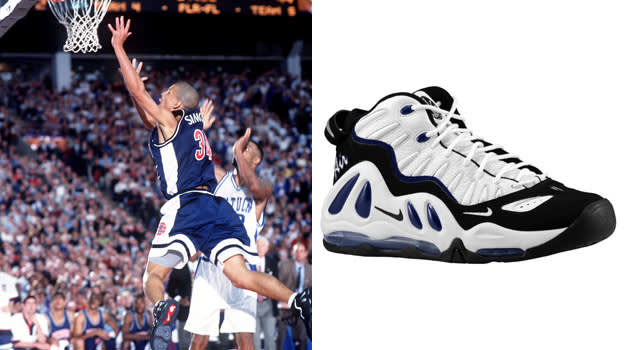 Miles Simon x Nike Air Max Uptempo '97
Year: 1997
In a battle of the Wildcats, Arizona knocked off Kentucky in the 1997 National Championship. Arizona standout Mike Bibby is remembered for his stellar play in the Nike Air Foamposite, but it was Miles Simon who won Most Outstanding Player in the Nike Air Max Uptempo '97.<!--nextpage-->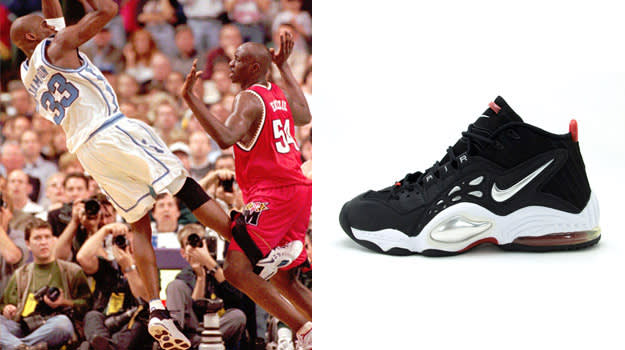 Antawn Jamison x Nike Air MZ3
Year: 1998
Despite falling short in the Final Four, the '98 Tar Heels were known for their dominance on the hardwood. Antawn Jamison wore the Nike Air MZ3, which is equipped with Zoom Air in the forefoot and Max Air in the heel.<!--nextpage-->
Richard Hamilton x Air Jordan XIV
Year: 1999
Before the NBA ring and the facemask, Rip was leading the UConn Huskies to the '99 National Championship. Laced in the same sneaker that Mike won an NBA title in, the Air Jordan XIV is an aggressive design loaded with Zoom Air for cushioning.<!--nextpage-->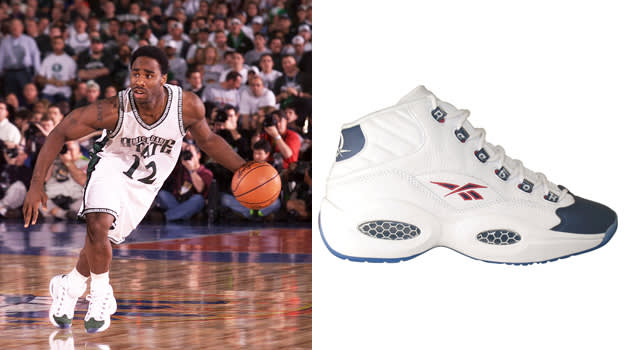 Mateen Cleaves x Reebok Question
Year: 2000
In 2000, Michigan State rallied through the NCAA Tournament, defeating Florida for the National Championship. The Spartans were powered by Mateen Cleaves, who wore Allen Iverson's first signature sneaker with Reebok. The Question features Hexalite cushioning and a translucent rubber outsole for grip.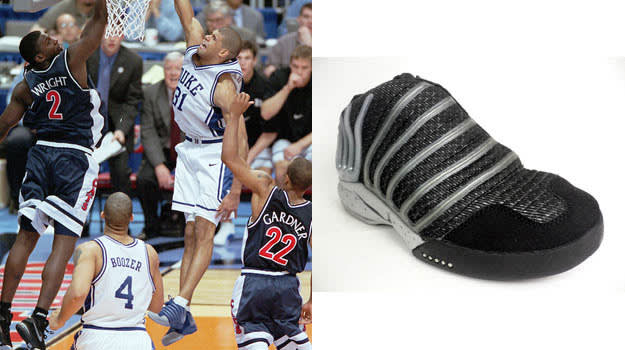 Shane Battier x Nike Zoom Flight Lite II
Year: 2001
Shane Battier powered Duke to their third NCAA title in 2001. His choice of footwear was the ahead-of-its-time Nike Zoom Flight Lite 2, which was part of Nike Basketball's Alpha Project. The model features Zoom Air cushioning and a TPU "Monkey Paw" design on the upper for support, much like the Nike Zoom Flight '98.<!--nextpage-->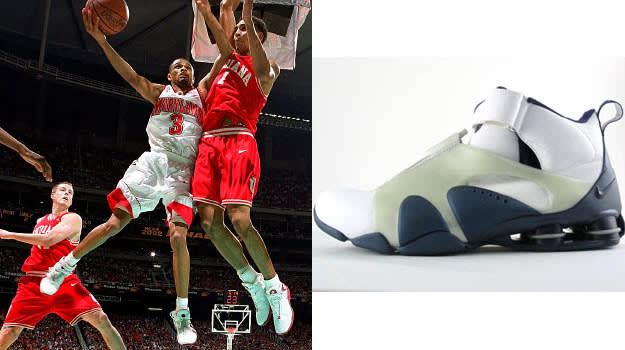 Juan Dixon x Nike Shox Stunner
Year: 2002
There's a first time for everything, and in 2002 the Maryland Terrapins won their first NCAA National Championship. This period also saw the emergence of Nike Shox technology in basketball sneakers, which was worn by 2002 Most Outstanding Player Juan Dixon in the form of the Nike Shox Stunner.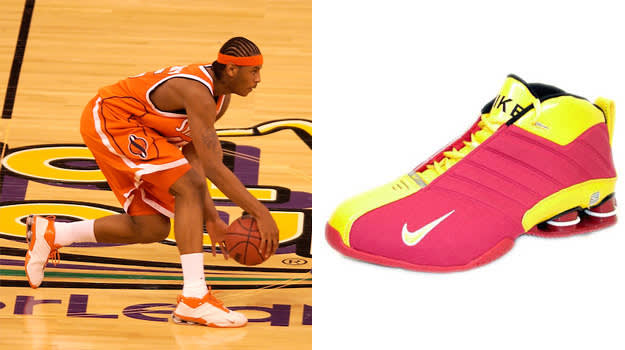 Carmelo Anthony x Nike Shox Supremacy
Year: 2003
Before the Jordan Brand contract and the NY blue-and-orange, Melo was donning another shade of orange; Syracuse Orange, to be exact. He lead Syracuse to the 2003 title in the Nike Shox Supremacy, which were designed to be lightweight with a leather upper and Shox cushioning.<!--nextpage-->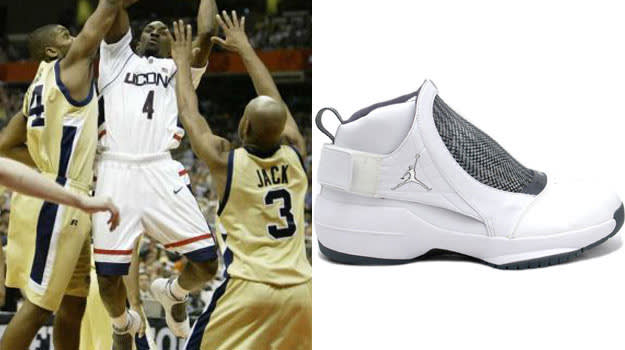 Ben Gordon x Air Jordan XIX
Year: 2004
Ben Gordon's had a fairly successful NBA career, but it was the 2004 NCAA Tournament where he shined brighter than ever. Leading the Connecticut Huskies to their second title, Gordon wore the Air Jordan XIX. This model features a shrouded upper with double stacked Air cushioning in the heel along with a full-length Zoom Air unit.<!--nextpage-->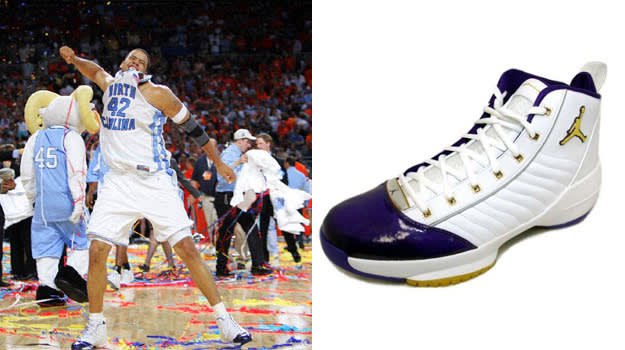 Sean May x Air Jordan XIX S.E.
Year: 2005
Released in late 2004, the Air Jordan XIX S.E. dropped the shroud but carried over most of the tech from the standard AJXIX. Sean May rocked them as he pushed the Tar Heels to their fourth NCAA National Championship, taking home the Most Outstanding Player honor in the process.<!--nextpage-->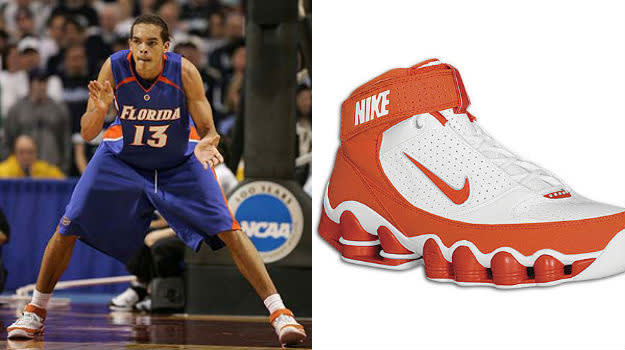 Joakim Noah x Nike Shox Ups
Year: 2006
Although Nike's Shox technology was used less and less frequently as the 2000s progressed, Joakim Noah still made great use of the Shox Ups in 2006. This model takes Shox to the extreme, and utilizes the pillared cushioning for the full-length of the shoe.<!--nextpage-->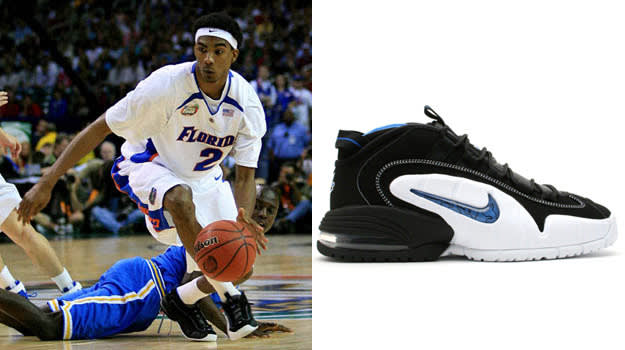 Corey Brewer x Nike Air Max Penny 1
Year: 2007
In 2007, Corey Brewer pushed Florida to a repeat National Championship win in retro style. His choice of footwear for most of the tournament was the Nike Air Max Penny 1, which was originally released in 1995 and features Max Air cushioning in the heel.<!--nextpage-->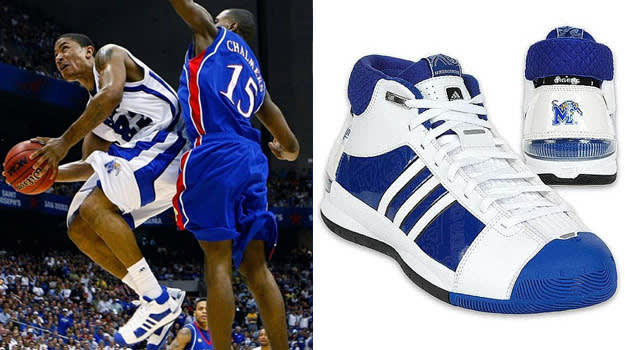 Derrick Rose x adidas TS Pro Model
Year: 2008
Designed specifically for the Memphis Tigers 2008 tournament run, the adidas TS Pro Model is cushioned with an adiPrene midsole and a durable adiWear outsole. Clearly Derrick Rose enjoyed wearing them, as he's remained in the Three Stripes throughout his successful NBA career.<!--nextpage-->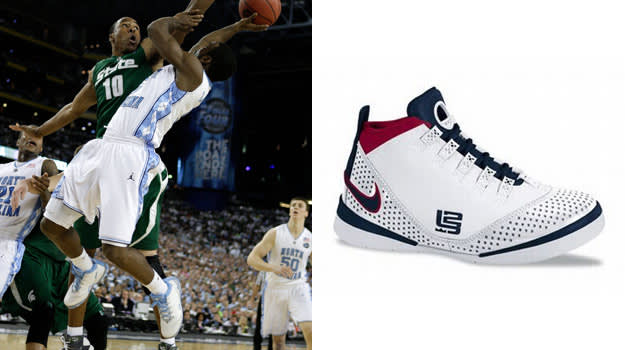 Ty Lawson x Nike Zoom LeBron Soldier 2
Year: 2009
North Carolina won their fifth National Championship in 2009 thanks in part to Ty Lawson's stellar play in the title game. With 21 points, 8 steals, and 6 assists, Lawson was playing every area of the court in the quick Nike Zoom LeBron Soldier 2. Although the Soldier line is designed as a less-expensive version of LeBron's standard signature model, this Zoom Air-equipped model is no slouch on the hardwood.<!--nextpage-->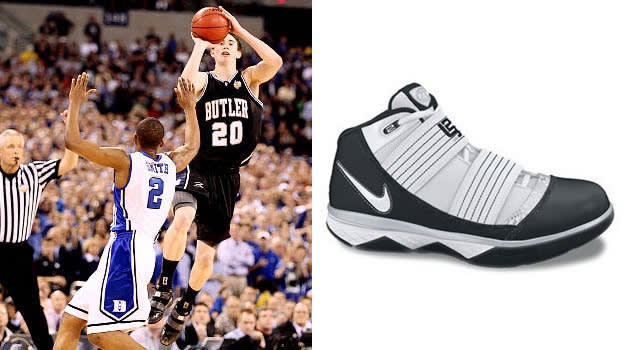 Gordon Hayward x Nike Zoom LeBron Soldier 3
Year: 2010
Butler fell short in their first title game appearance, but Gordon Hayward was impressive throughout the tournament in the Zoom LeBron Soldier 3. This model includes lockdown straps on the upper to ensure a snug fit, and the Zoom Air cushioning utilized on previous Soldier models.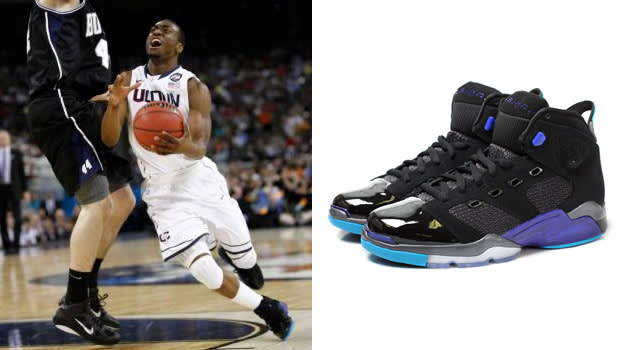 Kemba Walker x Air Jordan 6-17-23
Year: 2011
Although the hybrid Air Jordan 6-17-23 wasn't incredibly popular on basketball courts, it definitely worked for Kemba Walker in 2011, as he took home Most Outstanding Player and led UConn to their third National Championship.<!--nextpage-->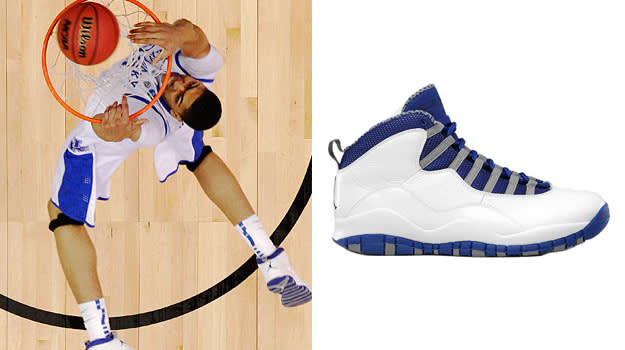 Anthony Davis x Air Jordan X
Year: 2012
Anthony Davis has had a solid rookie year thus far, and just last year he was the NCAA Tournament's Most Outstanding Player. Davis chose to throw it back to 1994 with the Air Jordan X, which uses Air cushioning and a quick-lacing setup.