In what might be the most unfathomable development within the film industry since the turn of the century, the Fast and Furious film franchise is one of the biggest movie franchises in the history of the world. When the original movie dropped in 2001, who would have expected Vin Diesel's machismo to become a staple at the box office, bringing in billions of dollars for Universal?
The fanbase loves the ensemble cast that has grown over time, adding big names like Ludacris, Tyrese, The Rock, and a few other action stars to help make each successive sequel bigger and crazier. And those last two men are currently at odds over a potential production delay for Fast Nine—or whatever the hell the next sequel is going to be called—because of scheduling conflicts brought on by The Rock's busy schedule.
Tyrese has since deleted a lengthy rant from his Instagram page, but in a post that previously existed on his page, he asked The Rock to think about all the Fast and Furious fans in the world and to focus less on the rumored spin-off movie that's in the works.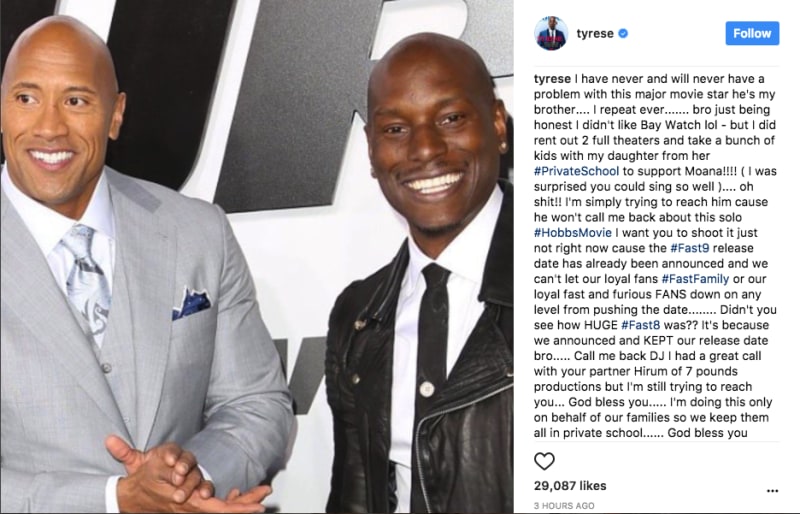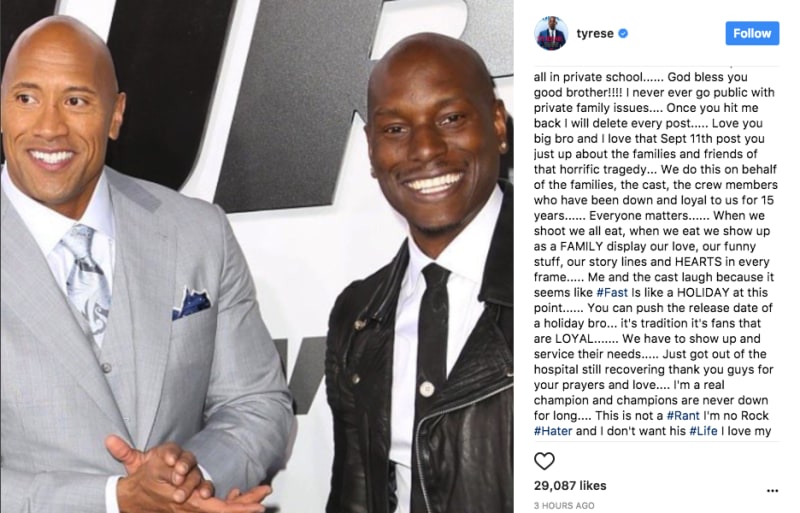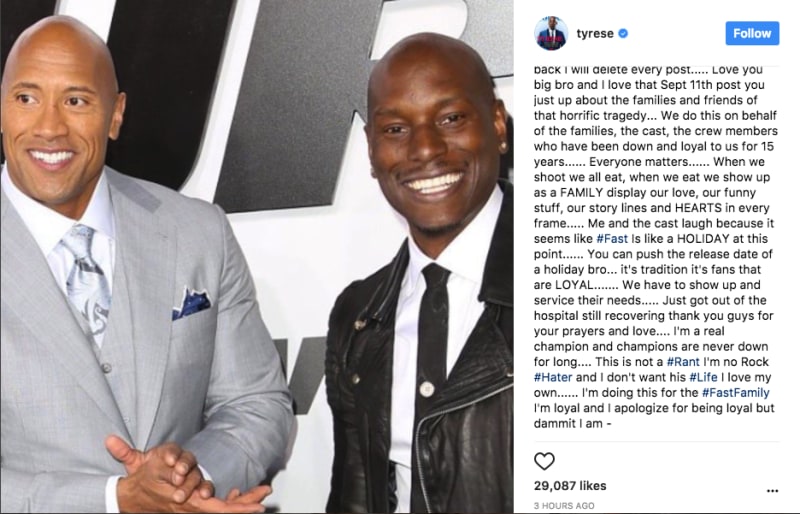 "I want you to shoot it just not right now," Tyrese wrote about the spin-off Luke Hobbs movie. "Didn't you see how huge #Fast8 was? It's because we announced and kept our release date bro...I never ever go public with private family issues. Once you go back I will delete every post...I'm doing this for the #FastFamily I'm loyal and I apologize for being loyal but damnit I am."
It's a fairly bizarre rant, considering he makes the claim that he doesn't ever go public as he's quite literally going public with something that could have been talked about with The Rock behind closed doors. If the two men are as close as Tyrese seems to insinuate, a phone call or a sit-down meeting might have been a more effective option.
Maybe it's not that simple. This wasn't the first time Tyrese spoke out on the matter, either. He dropped a separate comment on The Rock's Instagram page prior to throwing up his own post, claiming his text answers to the movie star weren't being answered.
Although the lengthy rant has been deleted as promised, Tyrese does still have a post up imploring The Rock to call him, claiming email is not a suitable response.
Though you may have thought Tyrese would win some supporters among Fast and Furious fans who are dying for another sequel, the public's overwhelming love for The Rock won out in the end. A lot of people were, ahem, furious that Tyrese took the beef in this direction.
I know this the Rock every time he checks his Instagram. Tyrese is just pathetic now. pic.twitter.com/rSRUvLcPuX

— Daniel/Issa ❤️❤️ (@bigbrotherfan35) September 12, 2017
#Tyrese is still having a conversation with himself, because #TheRock still hasn't answered. https://t.co/b1o64bLF8k pic.twitter.com/6IpuizCaeO

— YBF CHIC (@TheYBF) September 12, 2017
Tell Tyrese to sit his ass down, he's just mad no1 wants to see a Fast spin off of his character. Im ready for a Rock and Statham movie

— anchorless757 (@anchorless757) September 10, 2017
Yo Tyrese is one brother that needs to delete his Instagram

I'm a fan of his music and his acting, but that man needs to exit social media

— Mr Man-Like (@travisjayent) September 13, 2017
The Rock: I signed a movie deal.

Tyrese: pic.twitter.com/nSnJuAX9w9

— 👁 (@aieshaarab) September 12, 2017
Tyrese is at it again tryna come for The Rock? Melvin needs to put his bald ass in a headlock again, everyday unsolicited advice piss off.

— GHANA'S FINEST (@Ghanasfinestx) September 10, 2017
It's unclear whether Tyrese took down the posts because The Rock reached out or because he was tired of getting fried on social media. But in any case, we'll have to see if this impacts the future of the Furious franchise. Sounds like The Rock needs to tell Tyrese to know his role and shut his mouth if he knows what's good for him.