I don't know what made Berry Gordy want to make a karate film. The man behind one of the most important record labels–Motown–wanting to do a black karate flick? Sounds like '80s camp…which is what The Last Dragon ultimately was. A lead character named Bruce Leroy? A classic foe named Sho'Nuff, aka the Shogun of Harlem? A recipe for disaster. It did birth one amazing character, though: Laura Charles, aka the object of Bruce Leroy's desire, played by Denise Matthews, more popularly known as Vanity.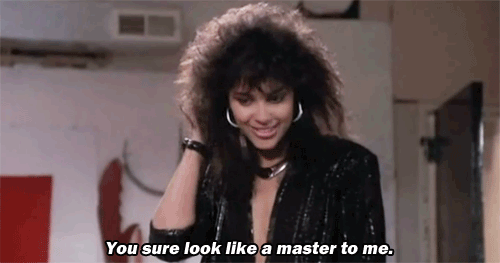 For those who don't know, Vanity didn't get her start as the love interest to a naive karate master. The Niagara Falls, Ontario, Canada-born singer, dancer, actress, and model was christened "Vanity" by the legend Prince, one of the first of such acquaintances that Prince turned into a music project during his heyday. The tale is that she was dubbed "Vanity" because he saw his reflection in her. Awkwardly, her name was originally supposed to be "Vagina," which she wasn't into at all, and "Vanity 6" (the trio she was the lead of) was given the number "6" because of the number of breasts in the group.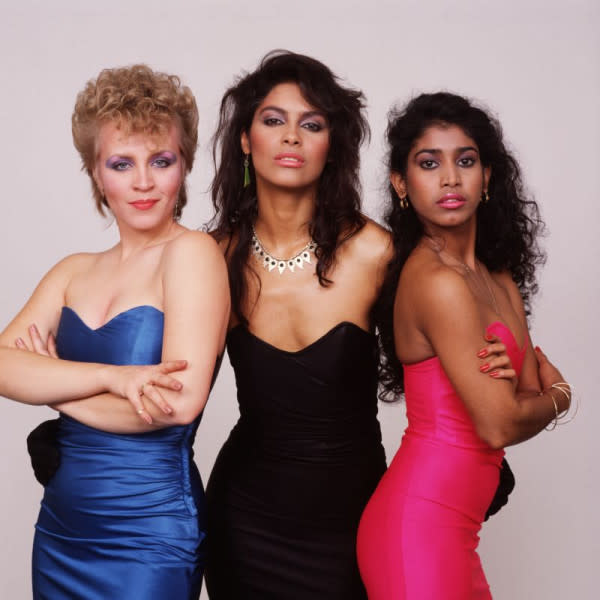 Some reflection.
Whatever the case may be, Vanity 6 became a thing, with 1982's "Nasty Girl" (which was featured in the first Beverly Hills Cop film) being the biggest hit, taken from their self-titled album (that ended up going gold). They turned heads for a few reasons: primarily, it was because they were swept up in the (pre-Purple Rain) Prince whirlwind, joining Prince and The Time on the Triple Threat tour. Mostly, it was their provocative lyrics and stage get-up (which consisted of being decked out in high heels and lingerie). Some might remember that at her height, Vanity posed with Prince for a Rolling Stone cover in 1983, and she was destined to play the lead in Purple Rain, but she ended up dropping out of the film and Vanity 6 entirely. Speculation was cast about her reasoning (with everything from falling out with Prince to money issues), but ultimately, it was a solo deal that she inked with Motown Records that seemed to be the culprit.
Before we get into that, dig if you will a picture...of Vanity replacing "that Apollonia babe" in Purple Rain. No disrespect to the woman who thought she was purifying herself in the waters of Lake Minnetonka, but she wasn't nearly the total package that Vanity was. Purple Rain is still a classic, but could it have been more? Was Berry Gordy's plan to have The Last Dragon, starring what he might consider his golden goose in Vanity, do Purple Rain numbers?
We hope not.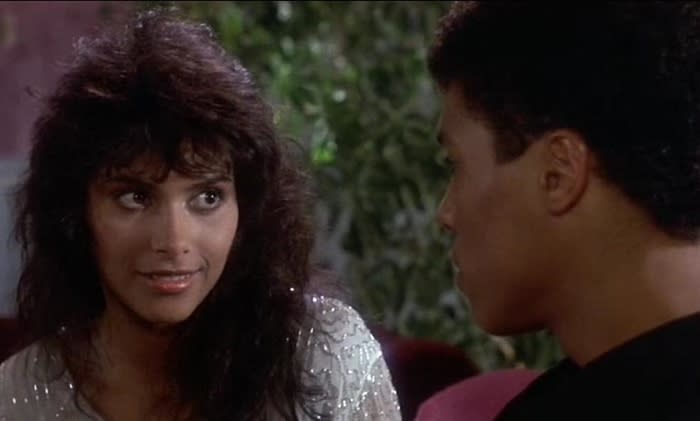 This isn't to say that Vanity was garbage...she'd done some smaller films prior to her Motown deal, but The Last Dragon didn't turn into a cult classic for any stupendous acting. It was Vanity as Laura Charles, the total package of a video jockey, giving young men fantasies about taking a trip with her to "7th Heaven." It was Sho'Nuff and his blow out proving to the people of Harlem that's he's not only the Shogun, but that he could whup Bruce Leroy's ass. It was a ton of cheese set to the early '80s Motown sound (which included gems like DeBarge's "Rhythm of the Night" and Willie Hutch's "The Glow," but also Charlene's "Fire"). Black karate fighting at its finest, with a heavy hand of garbage acting...but Laura Charles.
The late Leo O'Brien, aka Bruce Leroy's kid brother Richie, said it best: "That's my babe! That's my woman up there! She don't know it yet, but she's mine." His infatuation with Laura Charles was shared by a number of guys growing up in that era. Vanity was a timeless beauty, one of the ideal "beautiful women" out there. The Last Dragon gave her a great vehicle to be the damsel in distress, and with some more big Hollywood roles, maybe she could have been thrown into more memorable roles...instead of smaller '80s hits like Action Jackson​ or on episodes of Miami Vice and Highlander: The Series. You almost wish that she'd stuck with Purple Rain and turned that into a vehicle to truly launch her into the stratosphere; one has to imagine that, given her look and her Prince association, that she could have parlayed that notoriety into something bigger.
That's not to say that she didn't live a full life, although outside of dating rock stars like Adam Ant and Billy Idol–and being engaged to Motley Crue's Nikki Sixx–most people forgot about where her career ended up (i.e. getting addicted to smoking crack, which almost took her life in 1994 before she gave her life to God). Losing Vanity after years of drug abuse took a toll on her kidneys is losing one of my early life sex symbols. There's been talk of remaking The Last Dragon (with Samuel L. Jackson, no less!), but it feels like ever since the credits rolled, I've just been desperately seeking Laura Charles.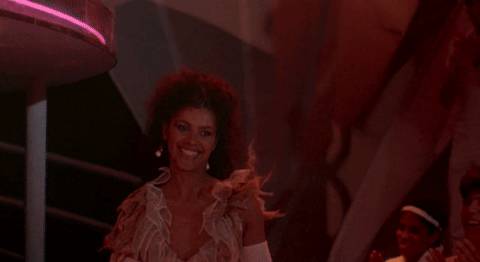 Rest in peace, Denise Matthews.