The founders of WhereWhitePeopleMeet, an actual dating site that actually exists, are now out in the press absolutely swearing their business model isn't racist. As previously reported, the dating service reached the mainstream back in January when its founders put up a massive billboard near their hometown of West Valley City in Utah. That billboard, touting white people and budget-friendly dating with equal aplomb, eventually offended so many people that local officials forced them to remove it.
"We are not racist at all, without question," Sam Russell, WWPM co-founder, tells ABC News. "Our lifestyle shows it." The site, started by Sam and Jodie Russell, has remained a crucial source of inspiration for many a joke since Twitter was made aware of its existence. Those jokes, however, don't appear to be much of a bother to the Russells.
Adding that the site doesn't allow "any racist comments," both Sam and Jodie insist their intentions are good, though the very name of their dating site clearly suggests otherwise. "Jodie and I have a lot of great black friends," Sam notes. "I think it surprises people a little bit."
Sam and Jodie argue that, since no one actually has to "check a white racial preference," a dating service with a name touting its own claustrophobic whiteness couldn't possibly be racist. In fact, the ABC News report notes that the Russells are hoping to flip their controversy into profit.
Now just a few months into extremely white existence, WhereWhitePeopleMeet would appear to be going strong. Of course, by "going strong" we mainly just mean that the same two white faces plastered on that controversial Utah billboard are still very much plastered on the site's landing page: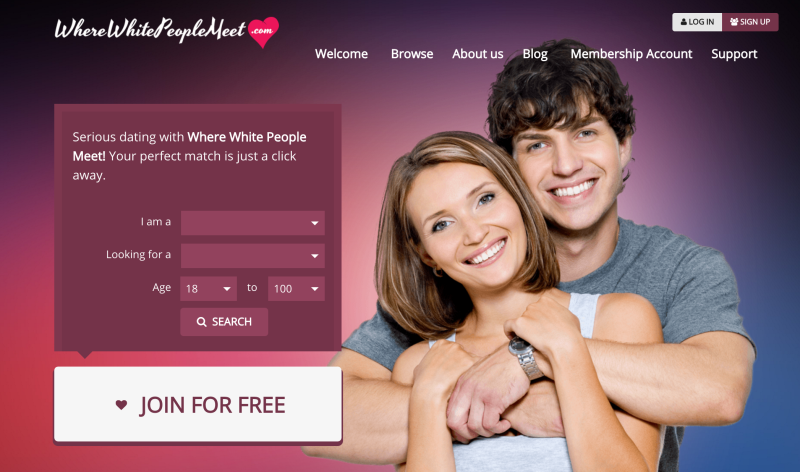 On a related note, the site also appears to favor heterosexual singles. When a potential subscriber attempts to select the same sex under the Looking For tab, the site automatically reverts the search back to a heterosexual pairing. Additionally, WhereWhitePeopleMeet has remained remarkably dedicated to their baffling choice of a truly horrendous font.
Looking for love? Look elsewhere.