Tyronn Lue spent three years playing with Kobe Bryant at the beginning of his career when the Nuggets traded him to the Lakers after selecting him in the 1998 Draft. His most memorable moment with the team was obviously this: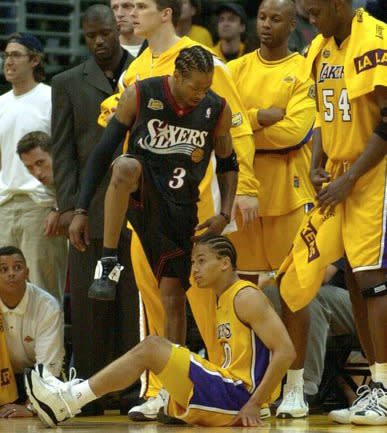 But earlier today, Lue, who is now the coach for the Cavaliers, shared another memory that he has of playing alongside Kobe. According to him, he remembers blocking Kobe in practice one day and Kobe going ballistic after it happened. Lue told reporters that Kobe actually wanted to fight him for blocking him on a dunk attempt. Here's the full story:
We're playing 5-on-5 one day and it was the gold team against the white team. It was myself, Devean George, Brian Shaw, Mark Madsen and I want to say Slava Medvedenko, playing against the first unit—against Fish (Derek Fisher), Kob', Shaq (Shaquille O'Neal).

Long story short is, it was a game point and [Bryant] drove baseline and I was at the elbow. And he drove baseline and I went down the lane and I pinned his dunk against the glass. He tried to dunk it and I blocked it against the glass. We came down, Devean George made a layup for game and Brian Shaw went, 'Ahhh, he blocked you!' He went crazy. Kobe wanted to fight me at first and then, second, he wanted to play one-on-one after practice.

'We going to play one-on-one, me and you.' I said, 'No, I'm not playing you one-on-one.' He was so mad and then, after that, it was just, every day we stepped onto the court, he just went after me every single day. It was crazy. And then, like other stories, just playing one-on-one every day, every time we acquired a new guy, he would play those guys one-on-one after every practice just to show them, like, 'I'm the man, I'm the man.' Did the same thing with Glen Rice. Just his competitive nature, man, it was just unbelievable.
Surprised? No. Classic Kobe. Keep the stories coming, guys!
Send all complaints, compliments, and tips to sportstips@complex.com.
[via ESPN]