One week after a nation was shaken up by a violent white supremacist rally in Charlottesville, Virginia, an alt-right rally in Boston was effectively stopped after thousands of counter-protesters hit the streets to let the group know they weren't welcome in their city.
A so-called "free speech rally" was meant to take place at Boston Common, a public park at the center of the Massachusetts city. According to a Facebook post for the rally, the speakers were expected to include Joe Biggs, a former employee of right-wing conspiracy site InfoWars, as well as Kyle Chapman, the founder of an alt-right "fight club" organized specifically to fight counter-protesters in the streets.
But it never appeared to get off the ground, and the site of the protest was almost completely absent of people willing to stand up and represent the alt-right, just one weekend after Heather Heyer was killed by a neo-Nazi terrorist in Virginia.
Half an hour before it is slated to start, the "free speech" rally crowd is...sparse pic.twitter.com/s2ftb85pD5

— Meghan Barr (@meghanbarr) August 19, 2017
Another man who was scheduled to speak at the rally claimed to be shocked by how unorganized it was. "I didn't realize how unplanned of an event it was going to be," said Samson Racioppi,. "It kinda fell apart."
This could be explained by the show of force from the other side that showed up. An estimated 15,000 people, many of them chanting anti-Nazi slogans and openly shaming supporters of Donald Trump, made their presence felt. The message was pretty clear: the intolerant will not be tolerated.
Bottom pic, is a picture of Americans in Boston

Top pic, is a picture of fascists in Boston

Real America v an inbred family reunion pic.twitter.com/TjBTP3j5kv

— Facts Do Matter (@WilDonnelly) August 19, 2017
They appeared to wildly outnumber members of the alt-right, and through their presence alone, they shamed and intimidated open Trump supporters into hiding symbols connecting them to the President.
Counter protesters just surrounded a man in a red Trump hat pic.twitter.com/ae5VDa4DLP

— Meghan Barr (@meghanbarr) August 19, 2017
The few protesters who did show up would eventually run away with their tails between their legs. Several different people in attendance at the rally alluded to Nazis and white supremacists taking refuge in Boston Police vehicles, and the local PD was tasked with transporting them to an unidentified safe area somewhere else in the city.
It didn't fall apart. They were terrified. They're hiding in police buses now. Boston 1, Nazis 0. https://t.co/0Pg7KbnXEn

— Robin (@caulkthewagon) August 19, 2017
#Boston police do not confirm where they are dropping alt-right and nazis off after Free Speech rally pic.twitter.com/uwiEihYx9N

— George Joseph (@georgejoseph94) August 19, 2017
So Boston police are giving the Nazis a ride out of town in the police wagons. They should charge them surge rates.

— Melissa Byrne (@mcbyrne) August 19, 2017
Ambulances leave the Common on Boylston with what I'm told is the "free speech rally" pic.twitter.com/AN3Zfqbptb

— Elizabeth Gillis (@itsgillis) August 19, 2017
Scheduled to last from 12:00 p.m. local time until 2 p.m., Boston Police declared the event was over at least 30 minutes prior to the scheduled end, and other reports from the ground claimed the protesters started fleeing the area as early as 12:45 p.m.
#UPDATE: "Free Speech" rally is officially over. Demonstrators have left the Common.

— Boston Police Dept. (@bostonpolice) August 19, 2017
The overwhelming sentiment from the Boston crowd was a rejection of the beliefs that led to the death of Heyer one week prior. The fight against racism, specifically against neo-Nazis and their ideals, was even given a Boston-themed touch up by some of the attendees.
The most Boston anti-fascist sign out here today: pic.twitter.com/f4KjytE4eU

— Jack Smith IV (@JackSmithIV) August 19, 2017
Just bring cake to the rally. #Boston pic.twitter.com/4gvX8uj5bs

— Liz Plank (@feministabulous) August 19, 2017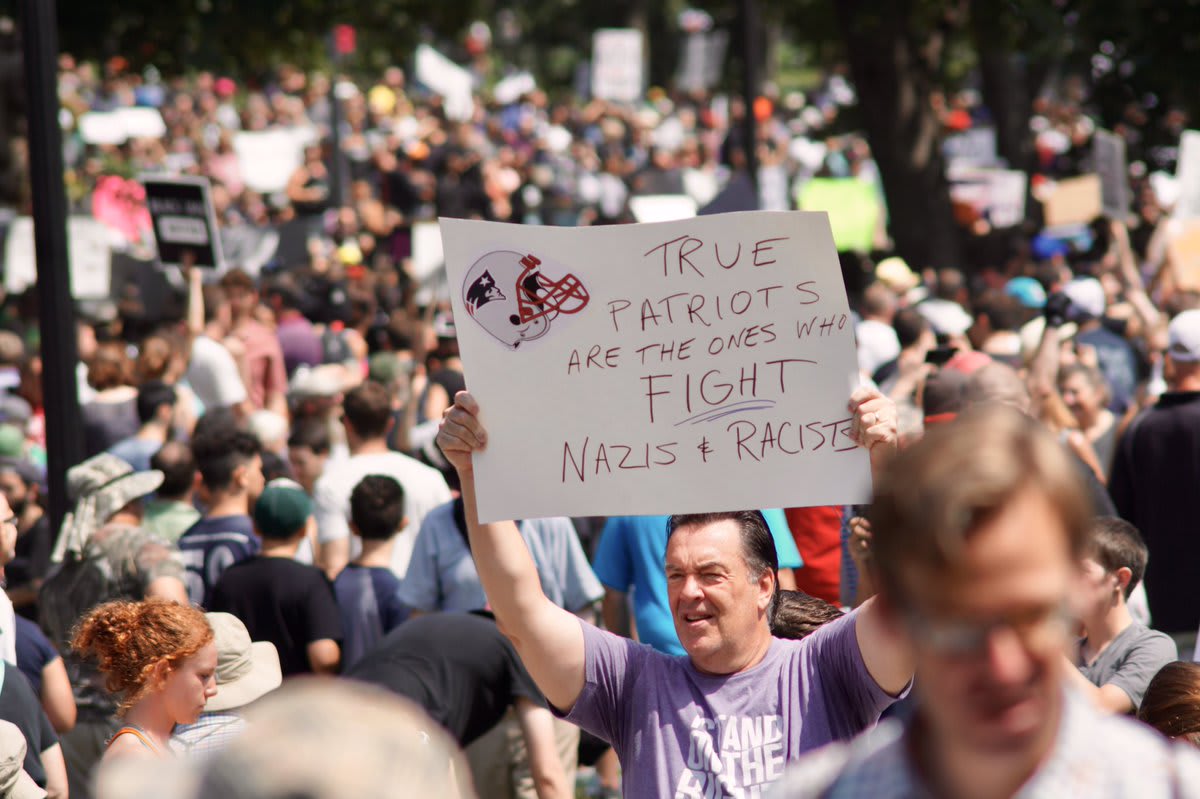 While the counter-protest will not erase what happened in Charlottesville, it did make a lot of people around the country feel better about America, if only for a brief moment. Messages of support poured in from all around the world, cheering on the people who hit the ground and made their voices heard.
I hope the "ignore them and they'll go away" folks see Boston and realize that "show up in great number and they'll go away" is way better

— dan solo (@dansolomon) August 19, 2017
The Celtics have more small forwards on their roster than Nazis were willing to show up in Boston

— 🎅🏿 (@nomchompsky) August 19, 2017
From a proud New Yorker, thank you Boston. You are beautiful and inspiring.

— Ben Schwartz (@rejectedjokes) August 19, 2017
The best news of the day? The protests remained mostly peaceful. Aided by counter-protesters who served as a wall between the two sides, peace was kept between the protesters and counter-protesters for the most part.
Veterans For Peace, here to protest Nazis, are staying between Nazis and protesters, trying to keep the peace. @VFPNational #DefendBoston pic.twitter.com/7DlyaxxoEk

— Robin (@caulkthewagon) August 19, 2017
It wasn't all so good, however. Police commissioner William B. Evans told reporters that 27 arrests were made in the crowd of about 40,000 people. Evans also revealed that bottles filled with urine were thrown at police officers during the protests.
Boston Police Commissioner says bottles filled with urine were thrown at officers during protest https://t.co/srYfo8OheR pic.twitter.com/a9B52iZ1sa

— CBS News (@CBSNews) August 19, 2017
The event's organizers have not yet indicated whether or not the disbanded protest will be rescheduled.