The 50 Most Stylish Sitcom Characters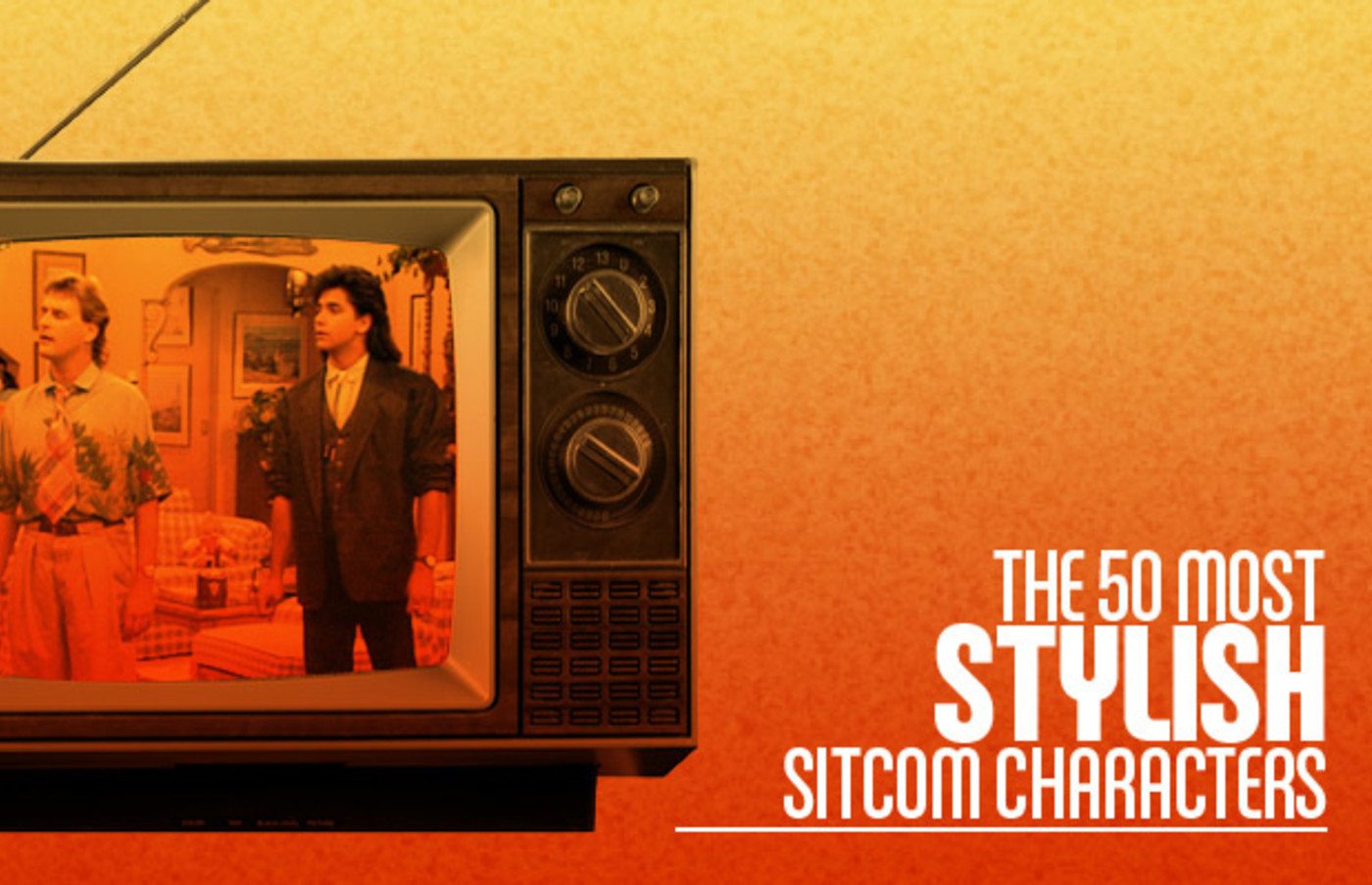 Yeah, yeah, movie stars get all the props when it comes to sick style. But even more influential in the sartorial sense are the guys you grew up watching day in and day out on the tube—for decades. You know who we're talking about: sitcom actors, the quirky characters who consistently cracked us up on the daily. In celebration of their varied, nostalgia-inducing style, we've gathered the very best, from Steve Urkel's suspenders and Mr. Belvedere's chic cardigans to Vinnie Barbarino's now immortalized greaser look and Alex P. Keaton's Young Republican steez. Take a click and see if you concur with our (sometimes ironic) take on The 50 Most Stylish Sitcom Characters of All Time...
50. Frank Rossitano
Show (Air Dates): 30 Rock (2006-present)
Actor: Judah Friedlander
The trucker hat died in 2002, right? Not in Frank's world. The TV writer's signature slacker wardrobe (as well as Judah's off-set style) consists of square-framed glasses, baggy tees, and those chunky foam caps printed with random phrases, such as Bigfoot Expert, Best Dressed, World Champion, and Time Travel Agent. If you share his sense of ironic humor and style, you can buy into it directly at his online shop.
49. Isaac Washington
Show (Air Dates): The Love Boat (1977-1987)
Actor: Ted Lange
It's hard to stand out on a cruise boat where everyone basically wears the same uniform. But Isaac Washington, The Love Boat's kindhearted bartender, made viewers look twice with his gleaming white and cherry-red blazers, spiced up with black epaulets and a sharp bowtie, and paired with his prominent handlebar mustache and kempt 'fro. Play on, playa.
48. Buffy Wilson
Show (Air Dates): Bosom Buddies (1980-1982)
Actor: Tom Hanks
Tom Hanks just couldn't lose in the '80s. And even when dressed like a chick in Bosom Buddies, donning simple wrap dresses with chunky necklaces or pastel pink skirt suits paired with Adam's apple–hiding scarves, he was still sometimes the best-dressed man in the room.
47. Shawn Hunter
Show (Air Dates): Boy Meets World (1993-2000)
Actor: Rider Strong
A troublemaker from an unstable home, Shawn's rough edges show through in his style choices, including his requisite black leather jacket, bowling shirts on top of black long-sleeves, and long-ish hair to run his frustrated hands through. Don't act like you didn't look just like him junior year.
46. Quinton "Q" Brooks
Show (Air Dates): Moesha (1996-2000)
Actor: Fredro Starr
No wonder Moesha had a long-standing interest in this dude. He rocked oversize fatigues, safari hats, and long-sleeve tees that grazed his knees during a time when all of that was still super-cool. What's not to love?
45. Stewie Griffin
Show (Air Dates):Actor:
Proving that overalls aren't just for hicks and that combining yellow and red isn't just for Ronald McDonald, unassuming infant villain Stewie Griffin chooses to don all of the above while plotting to take over the world. Paired with blue shoes for a vibrant, primary hue trio, the wise (and calculating) beyond his years character also expertly accessorizes with everything from a bottle to a machine gun.
44. Niles Crane
Show (Air Dates): Fraiser (1993-2004)
Actor: David Hyde Pierce
He's got degrees from Yale and Cambridge under his belt, and Fraiser's younger brother Niles definitely dresses like it, donning Ivy League–worthy whites to play tennis, and conservative suits, striped shirts, and preppy V-necks during his working (and fencing) hours. If only his moves were as smooth outside of the wardrobe department.
43. Benson DuBois
Show (Air Dates): Benson (1979-1986)
Actor: Robert Guillaume
Something like a black Mr. Rogers, butler extraordinaire Benson knew a thing or two when it came to cardigans and pullover sweaters. He liked his in sophisticated blues and burgundies, worn on top of trim button-ups in complementary hues. In other words, a failsafe combo both in the past and present.
42. Peter Brady
Show (Air Dates): The Brady Bunch (1969-1974)
Actor: Christopher Knight
Who says being the middle child means you always get the short end of the stick? It's definitely not the case when it comes to fashion sense and The Brandy Bunch's Peter. The most stylish kid on the boys side, Peter gave us a steady stream of short-sleeve sweaters, boldly striped tees, and solid polyester pants that don't even hurt our eyes too much a decade later. Plus, somehow this guy was able to nab the hot-yet-nasty (but HOT) model Adrianne Curry as a wife.