Meet Nolita Dirtbag, the IG Page Poking Fun at Popular NYC Fashion Trends
Meet the man behind Nolita Dirtbag, an Instagram account that has become known for posting memes about some of the biggest fashion trends in New York City.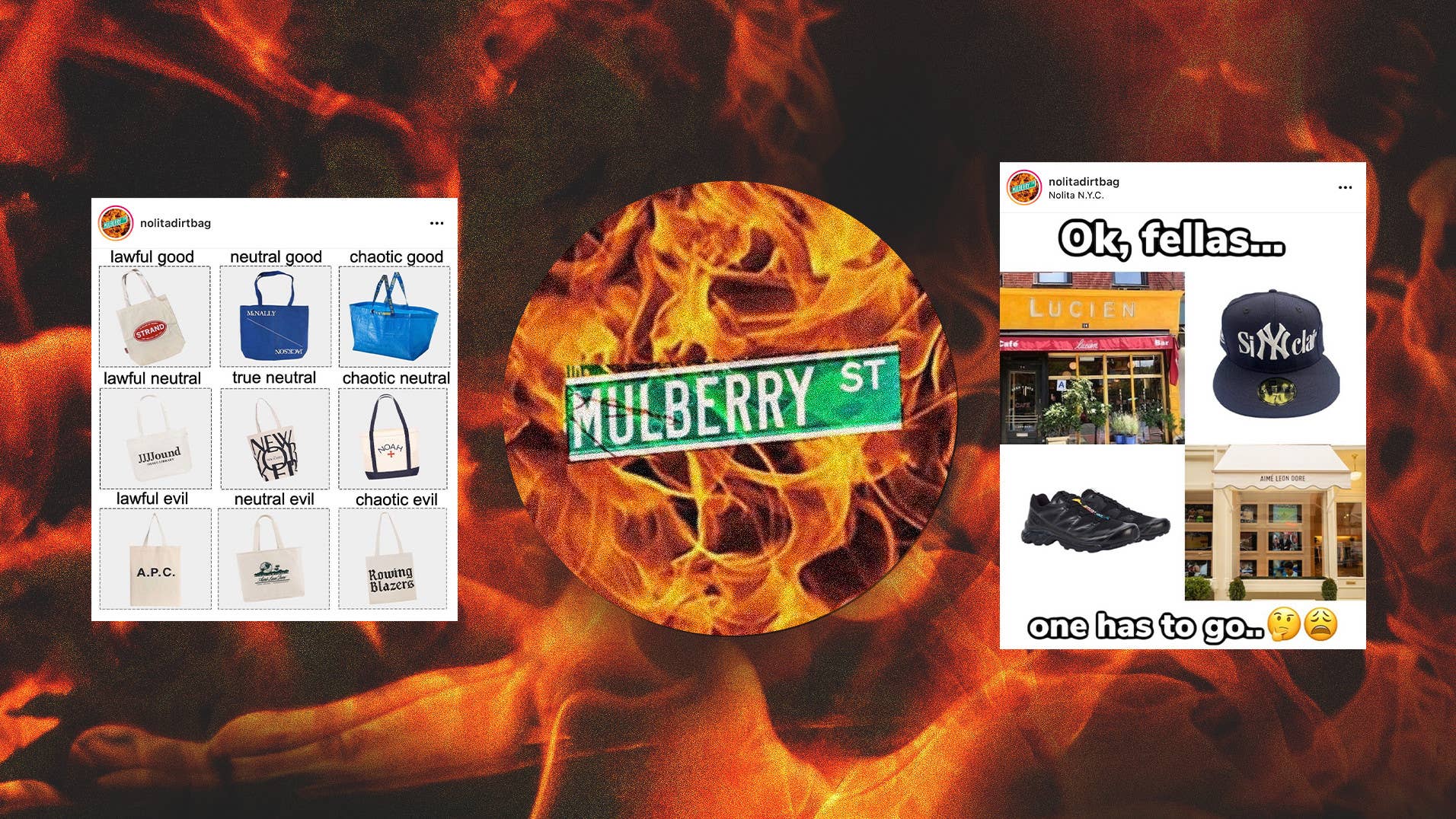 Complex Original
Image via Complex Original
It all started with some pickles in 2020 at Hester Street Fair in Manhattan. 
Nolita Dirtbag, who would like to remain anonymous, would make bootleg stickers mimicking logos from popular New York-based establishments and pass them out along with jars of homemade pickles. One was a riff on Aimé Leon Dore's logo with an "Imma Pee On the Floor" sticker. The cheeky nods to some of the city's biggest brands was a subtle way for the 25-year-old to set his spears apart and connect the packaging to his interest in streetwear. But in July 2021, he decided to take his jokes to Instagram and Nolita Dirtbag was born.
"I've been making ridiculous memes my whole life. I was born on the internet, growing up on Reddit and playing Xbox," says Nolita Dirtbag, who's just as funny over the phone as he is on IG. Before answering a question about how he's impacted Nolita, he responds with a joke saying, "I think it's motivated more people to avoid it." And when asked where he actually lives, he pokes fun at himself, saying, "I live in a cage in the basement of the ALD store." It's easy to see why he's so good at trivializing Nolita and the crowd it draws.
For those unfamiliar, Nolita is a neighborhood within the Lower East Side of Manhattan. One of its blocks, Mulberry Street, has recently become a hub for fashionable millennials and Gen-Z'ers. It houses the outposts of popular brands like Aimé Leon Dore and Noah, as well eateries like Ruby's, Upside Pizza, and Parm. It's also become a hotbed for spotting trendy streetwear outfits that include Carhartt double knee pants with paint splatters, New Balance 550s, Arc'teryx jackets, and trucker caps. But Nolita Dirtbag doesn't actually reside in the neighborhood his name derives from. He stays in Brooklyn, but grew up in a suburb outside of New York City. He made frequent summer trips growing up, but permanently relocated after graduating college. Nowadays, he spends time on blocks like Mulberry Street and the surrounding Dimes Square neighborhood three or so days a week to perform what he jokingly refers to as his, "research and development." He picks up on people's habits and uses it for the memes posted on his IG account. Since starting the page, he's found himself taking note of specific things that he may have overlooked beforehand. 
"If I see a certain dude in double knees wearing JJJJound shoes carrying a plant back to his apartment, my mind starts running a bit. What is this guy doing? Where is he eating? I'm definitely thinking about it a lot more," he tells Complex.
Nolita Dirtbag certainly isn't the first fashion-oriented meme account. Pages like Deadstock Report and Throwing Fits also love to poke fun at mannerisms and trends happening within that world. Even after the menswear blog shut down in 2015, Four Pins amassed a Twitter following of almost 560,000 people championing Jonah Hill as a fashion icon and spotlighting "trash fits" with its own brand of internet humor. But Nolita Dirtbag is good at spotlighting streetwear's most of-the-moment, oversaturated trends, which makes it feel more relevant. The regionally specific content is especially relatable to New Yorkers who may come across people like this on the street everyday, but the power of social media has introduced these regional tendencies to a national audience. You don't need to be in Nolita to be in on the jokes. But they do become a bit funnier if you live in close proximity to some of these shops and eateries. 
"My main thing is trying to connect a super niche restaurant, club, lounge, whatever it is, to a certain piece of clothing or specific trend. That creates this very specific person at a very specific moment in time," he tells Complex. "That's the sort of thing I think about when creating a post. And sometimes I just laugh while making it, post it, and see what happens."
The page has posted 292 memes since it launched and popular brands like ALD and Kith are frequent targets. One standout post showcases a fake job listing for ALD's Chief Loitering Officer as a playful nod to the shoppers that always seem to congregate in front of the store. Another examines what your tote bag of choice says about your personality. He also teases the popular moodboard Hidden.NY and the influence it has had on this particular subset of the fashion community and its infatuation with Salomon sneakers and vintage workwear. Posts about local restaurants like Jack's Wife Freda or Lucien and the tropes of their patrons are mixed in too. He says he tries to make every third post about a nationally-known brand or trend to keep his over 38,000 followers engaged. 
"If I'm talking about a beef carpaccio from a very niche restaurant in the city, someone who's following [Nolita Dirtbag] in Philly because I made fun of Kith or something isn't gonna understand that," he says. "But they're still intrigued by what this place is because they wanna be at the center of it to some degree."
Beyond that, there isn't a comprehensive strategy to how or when he decides to post. According to Nolita Dirtbag, it all comes about pretty naturally.
"I don't have a huge backlog of content," he says. "It's definitely more spur of the moment. A meme can literally take 30 seconds to make. I could be trying to formulate a moment, but I'm not spending too much time on it."
Some people may assume the man behind the page is some sort of fashion elitist based on his content. But he also memes about trends and designers he's genuinely into like New Balance sneakers or Noah. Wales Bonner, Asics, and Los Angeles-based vintage shop and clothing brand No Maintenance are some of his personal favorite brands at the moment. He is tired of seeing trucker hats though.
"I feel like I've just become an actual dirtbag when I put on a trucker hat. I do not wear them," he says with a laugh. "But again, you do you. Wear what you like."
While he notes he is not a trend forecaster by any means, he thinks that the bubbling "bloke core" movement will be the next fashion trend to take over Nolita. "Bloke core" refers to a European soccer fan's style. The look usually includes a jersey accompanied by Adidas Sambas. "Motherfuckers are definitely going to be wearing [Karim] Benzema French jerseys all summer long," he says.
The success of his IG page already seems to be paying off. He got his current job, which he'd like to also keep anonymous, from the page. No more pickle sales at the local market. Will he ever reveal his identity? Probably not. He says he sees no real benefit to doing that. However, he does want to keep growing the brand. He wants to begin to host Nolita Dirtbag parties in New York at some of the locations he frequently memes about. More tasteful merch offerings and collabs are on the horizon that are similar to the gold "Dirtbag" chain he released with M Jewelers earlier this year. Eventually, he wants to expand beyond New York City too and build a network of dirtbags that can better forecast the meme-worthy trends in other parts of the country. 
"There's definitely a way, if you find the right person, to have a Silver Lake Scumbag out in LA or something. I would definitely like to build off that."
Given some of the jabs he takes at various brands and people, Nolita Dirtbag's DMs being flooded with complaints wouldn't be surprising. But with the exception of one "company that specializes in preppy clothing" he says he hasn't experienced tons of angry brand owners in his inbox yet. While he would not name names on who has reached out complaining, he did offer some blunt thoughts saying, "Their CEO sucks." But most brands are in on the joke. When he posted a pair of Fila Disruptors ("Nolita Dirtbag 1s") covered in different logos from popular streetwear brands, Eric Emanuel jokingly commented under the post requesting a color change for his logo. Restaurants have reached out asking to be posted on his account. Nolita Dirtbag's jokes don't come from a place of hate.
"It all started by making fun of myself to some degree. I'm not standing outside ALD all day, but I have ALD. I have Noah. I have Online Ceramics," he tells Complex. "I have all these things that I make fun of, but I think there's absurdity in it all that I put into an Instagram post people can resonate with. It's all love. It's not a hateful thing. And 99 percent of people get that."