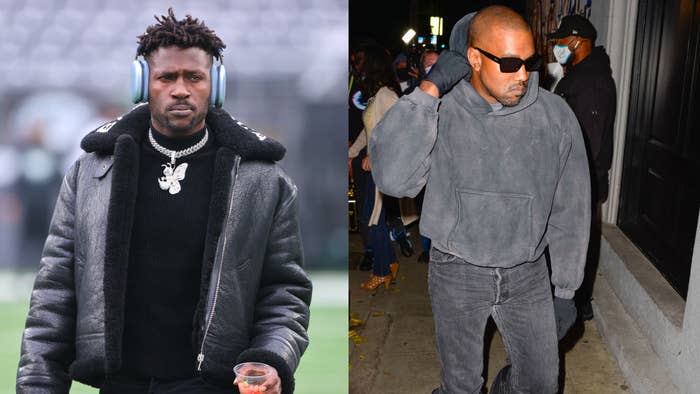 Antonio Brown, now in the middle of a new job he describes as simply "living," has recently been spotted in widely shared photos and footage linking up with the artist formerly known as Kanye West.
Fans were understandably quick to speculate on these developments, which came amid talks of a possible Donda sequel. In a new interview with Complex, AB detailed exactly how he and Ye "randomly" met at a restaurant. AB also revealed that he's been working with Ye on the Donda sports brand.
"It was just by the grace of God," Brown told Complex's Eric Skelton when asked to explain how he and Ye initially linked up. "I was at Craig's [restaurant], having dinner in LA with Rich, my guy at Fashion Nova. And I ran into Kanye randomly at Craig's. We got haircuts at Craig's. It was totally out of the blue, and we just started hanging out in LA. We've got a lot of positive things coming. It's just been an amazing week for me. I'm sitting here with Mr. Tim at Amazon Music right now, having a meeting, so I've been grateful for the last 21 days."
Asked to elaborate, AB teased the underlying goal of the Donda sports brand, which he described as an effort aimed at crafting a line specifically designed for athletes.
"We're just excited about the Donda sports brand, and making this thing a competitive sports brand to the athletes," he said. "I don't think there's a lot of fashion lines for athletes, wearing fashionable and comfortable clothes, so with a guy like Kanye West, being able to partner with him and work with him to provide more creative, genius ideas for fashion looks for athletes in general… I'm just grateful for the opportunity here soon, to share what we've got with the world. And you guys are hearing it first, we got some exciting things to look forward to this year."
On the sports front, Ye's Donda Academy has received a lot of attention over the past year, including with word last October that Jahki Howard would be joining the team.
Catch the full interview with Antonio Brown here.
Meanwhile, Ye on Friday made public comments about the upcoming jeen-yuhs documentary, notably demanding that he receive "final edit and approval" on the Coodie & Chike-helmed project prior to its Netflix release. "Open the edit room immediately so I can be in charge of my own image," Ye said on Instagram.