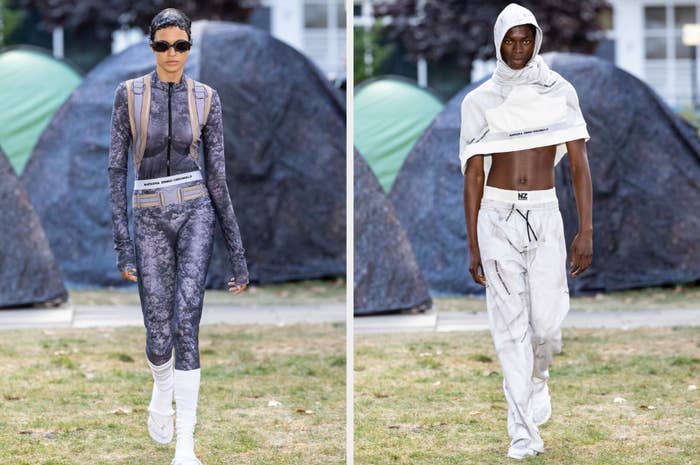 London-based designer Natasha Zinko has revealed a captivating fusion of culture and couture for SS24, offering a series of functional designs that provide an optimistic perspective on the fast-paced nature of contemporary life.
Titled THE CAMP, the new collection mirrors humanity's constant motion, from fleeing predators to escaping modern threats like political turmoil and climate crises.
Initally previewed as part of London Fashion Week, the offering sees a mix of cargo practicality and motorcycle aesthetics manifested in cargo-moto pieces, featuring flared denim trousers with ribbing on the knees and oversized square pockets, along with leather overalls adorned with distressed accents.
The Ukrainian-born creative challenges norms by delivering discreet yet visible underwear, with elastic waistbands bearing NATASHA ZINKO ORIGINALS in bold black letters.
Standout looks feature in the form of a reworked open stitched dress, as well as a skirt composed of four layered white briefs—arranged with gaps between them—creating a visually striking effect.
Rounding out the range is a series of backpacks, which have been reworked into vests, as well as monochrome bags that take on a brief-shaped form, complete with intricate stitching revealing necessary details.
Get a closer look at the Natasha Niko Spring/Summer 2024 collection in the shots below.