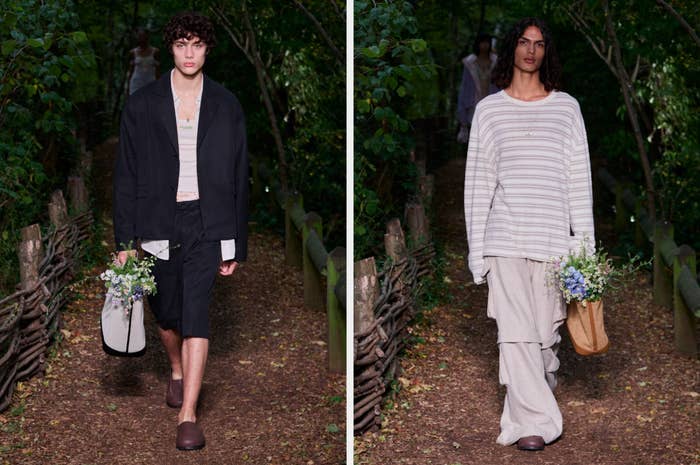 For Spring/Summer 2024, Holzweiler has looked to the heart of Norway to craft a collection that celebrates a profound connection with nature, embracing a nomadic spirit, exploration, and urban life. Titled Rewilding, the offering encapsulates the essence of the Norwegian way of life, blending utility with freedom in silhouettes designed for both men and women.
Emcompassing earthy tones of "Stone" and "Cocoa" to refreshing hues of "Peppermint" and lilac, the collection takes on a diaphanous approach packed with delicate handkerchief dresses, skirt suits and overalls that showcase a blend of crochet, tencel, and chiffon fabrics. Bridging the gap between fitness and style, SS24 also introduces a range of activewear wardrobe essentials. Here, we find monochrome leggings, tank tops and crewneck T-shirts layered alongside silk scarves with fluid lengths, gracefully trailing around necklines and waists.
Over on the menswear side, Holzweiler has seamlessly brought together comfort and style to reflect a sense of leisure and adventure. Adopting a slight sports-infused aesthetic, linen tailoring in stone and light blue denim take centre stage, along with an overcoat adorned with an elderflower motif, striped shorts, and relaxed Nehru collar shirting.
Lastly, the brand's eyewear category is also expanded for another season with the introduction of the intrepid Lucas frames, while floral pendant belly chains and bucket and straw hats add a touch of whimsy and elegance to the overall lineage.
Check out some of the highlights from the Holzweiler Spring/Summer collection in the shots below.