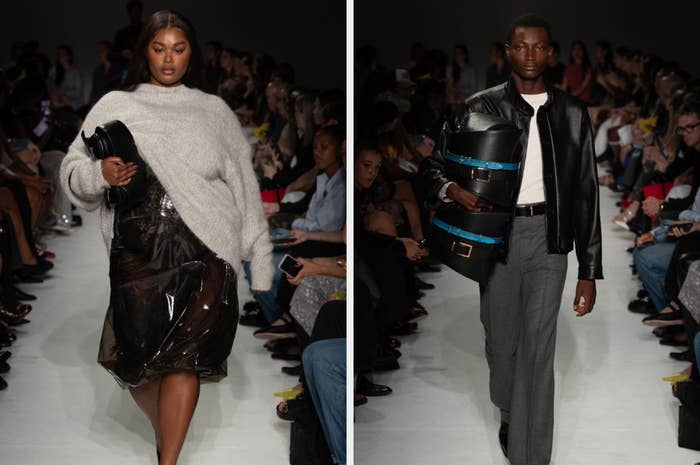 London-based luxury label 16Arlington has unveiled its Spring/Summer 2024 collection—an evocative journey that pushes the boundaries of fashion and self-expression.
This season, the familiar transforms into the unfamiliar, inviting a double take: sequins, rather surprisingly, are not sequins at all—they're fashioned from feather-light latex or polished silver metal, moving gracefully against the skin; nylon takes on a paper-like crease, while ostrich plumes find themselves encased in glossy translucent vinyl, reminiscent of factory curtains. Paillettes, semi-sheer and uniquely designed, are digitally printed in a rich blue, evoking the beauty of raindrops on a car window.
The collection focuses on human interaction and clothing as a form of conversation. Showcased during London Fashion Week, the show's set design—an instalation created by artist Olu Odukoya—serves as a journey through space and language through abstract, dream-like phrases sourced from David Lynch's surrealist 1997 noir, Lost Highway.
Within this immersive setting, the collection's title unveils itself: "There is no such thing as a bad coincidence," a poignant line from Lynch's film symbolising a moment of understanding and a profound sense of optimism even in the face of adversity.
Reflecting on the collection's inception, co-founder Marco Capaldo says: "It's the freedom that comes with getting behind the wheel and just driving. That sense of potential, of escape. That you can go anywhere, be anyone."
Get a closer look at some of the best looks from the 16Arlington Spring/Summer 2024 collection in the shots below.