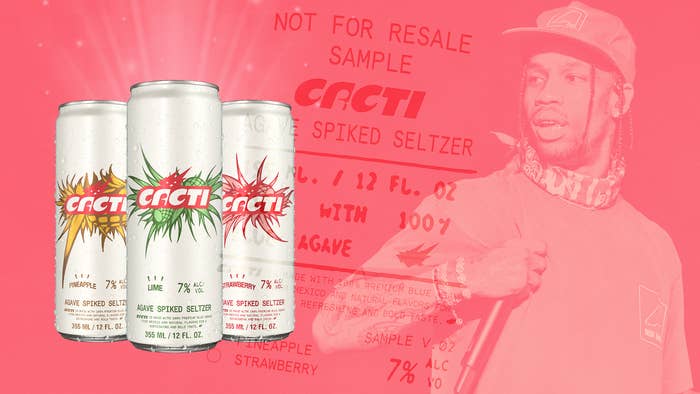 "CACTI, not no iced tea."
This is what Travis Scott shouts during the first verse of his most recent single "Franchise." The video expands upon the lyric above, showing the rapper in front of a wall of CACTI-branded boxes, wearing clothing adorned with a CACTI logo, as he cracks open a can of CACTI.
We have since discovered what CACTI is. It is Scott's new spiked seltzer beverage crafted with the help of American brewing giant Anheuser-Busch. And today marks the first time that the three flavors of CACTI, lime, pineapple, and strawberry, will be available to the masses.
CACTI is the latest venture that Scott, who Forbes calls "corporate America's brand whisperer," is adding to his laundry list of big name collaborations that have included everything from a virtual performance in Fortnite to his own McDonald's meal. Of course, we can't forget about the multitude of Nike collabs and merch drops either. Like projects before it, Travis and his Cactus Jack team have once again gone beyond just slapping their name and logo next to another one. The most recent example, a movie trailer-esque, 30-second TV spot complete with a surprise Eric Andre cameo that aired during Sunday night's Grammy Awards to promote the beverage. 
"[Travis Scott] has his hands in everything, which is super amazing because sometimes you work with people and they're very to the side. They're just, 'Okay, sure. Give me a PowerPoint presentation,'" says vice president of marketing for Anheuser-Busch's Beyond Beer, a segment that oversees non-beer products like Ritas and Hiball Energy, Lana Buchanan. "He rolls up his sleeves and get things done, which is something we're very lucky to have found."
Ahead of the CACTI launch, we spoke with Buchanan about what went into creating the product, working with Travis Scott, and more. 
When the general public first became aware of CACTI back in July 2020, there was no indication that it was Travis Scott's new alcoholic beverage. In fact, many outlets assumed that CACTI was a clothing line separate from his ever-increasing merch output. It made sense at the time. Scott frequently wore caps, workwear jackets, and even Air Force 1s—perhaps most notably in Big Sean's "Lithuania" video—that bore the red and white logo we now know represents CACTI. 
"The idea of the partnership with Travis has been [in the works for] a while. It's been over a year of talking through it and identifying what we need to do in terms of the product we want to start with," says Buchanan. "I think from the moment we identify that we really wanted to do a seltzer and what the flavor components would be, and what the brand would be from that point, I would say it was about eight months to launch."
Buchanan says that Travis and his team were very hands-on throughout the entire process from taste-testing flavors to finalizing the can design and providing input on the cardboard cut-outs that will be placed in retail stores. While Buchanan says that due to Covid-19 protocols much of the process was handled via Zoom, a recent teaser video also shows Travis paying a visit to the Los Angeles factory responsible for making CACTI. In the video he pulls samples off of the rapidly moving conveyor belt and sips each flavor.
"We really are co-creating the brand. This wasn't a brand that existed that we then said, 'Okay, Travis, will you sponsor it?' It's literally co-creating the logo together. How do we want the cans to feel, do we want the matte finish? Do we want the tabs to look a certain way? So really taking him through all of that and making sure him and his team can make decisions with him around those elements," says Buchanan. "I can tell you, we talk to each other probably every hour with [his manager] David [Stromberg] and his entire team."
Why Hard Seltzer?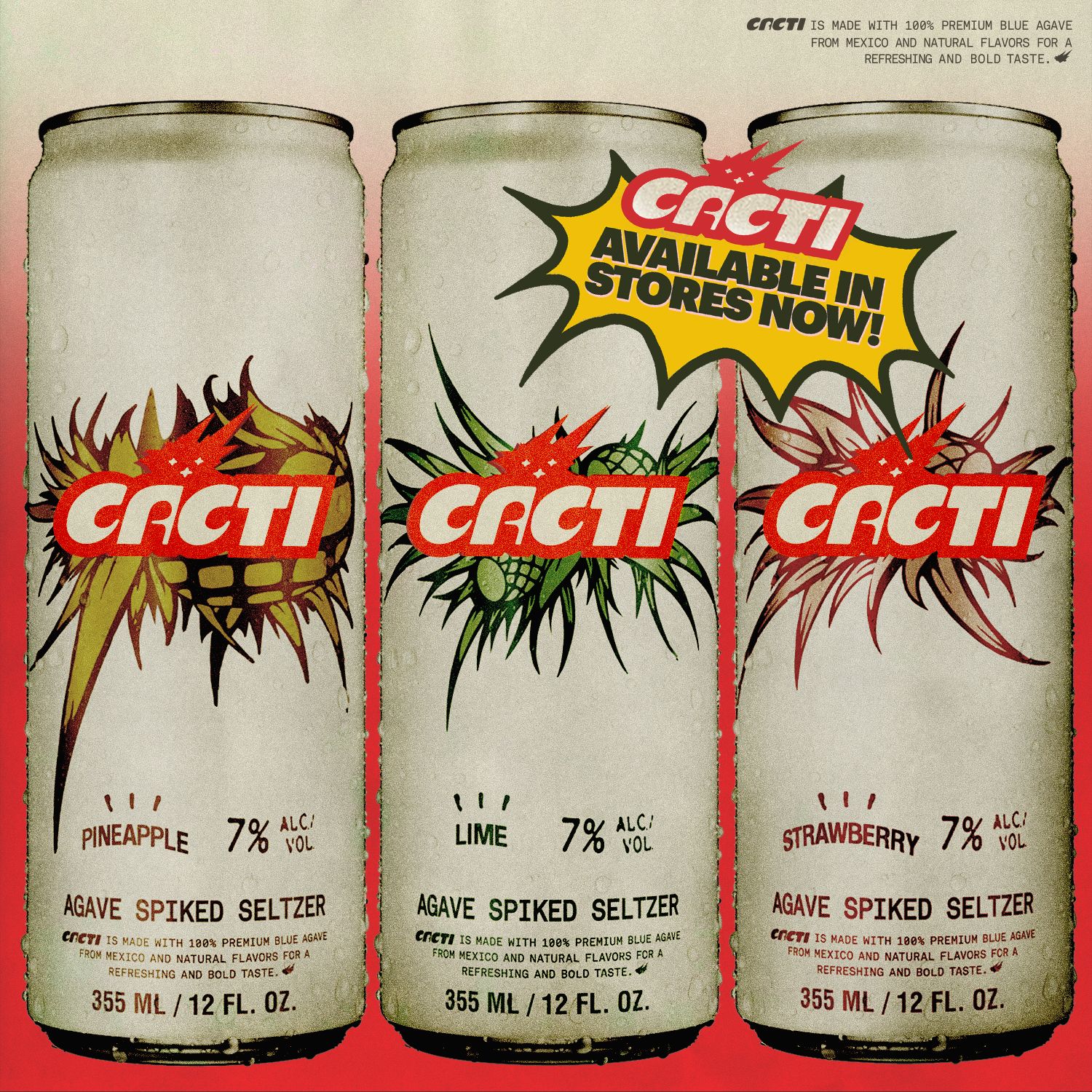 Where to Buy it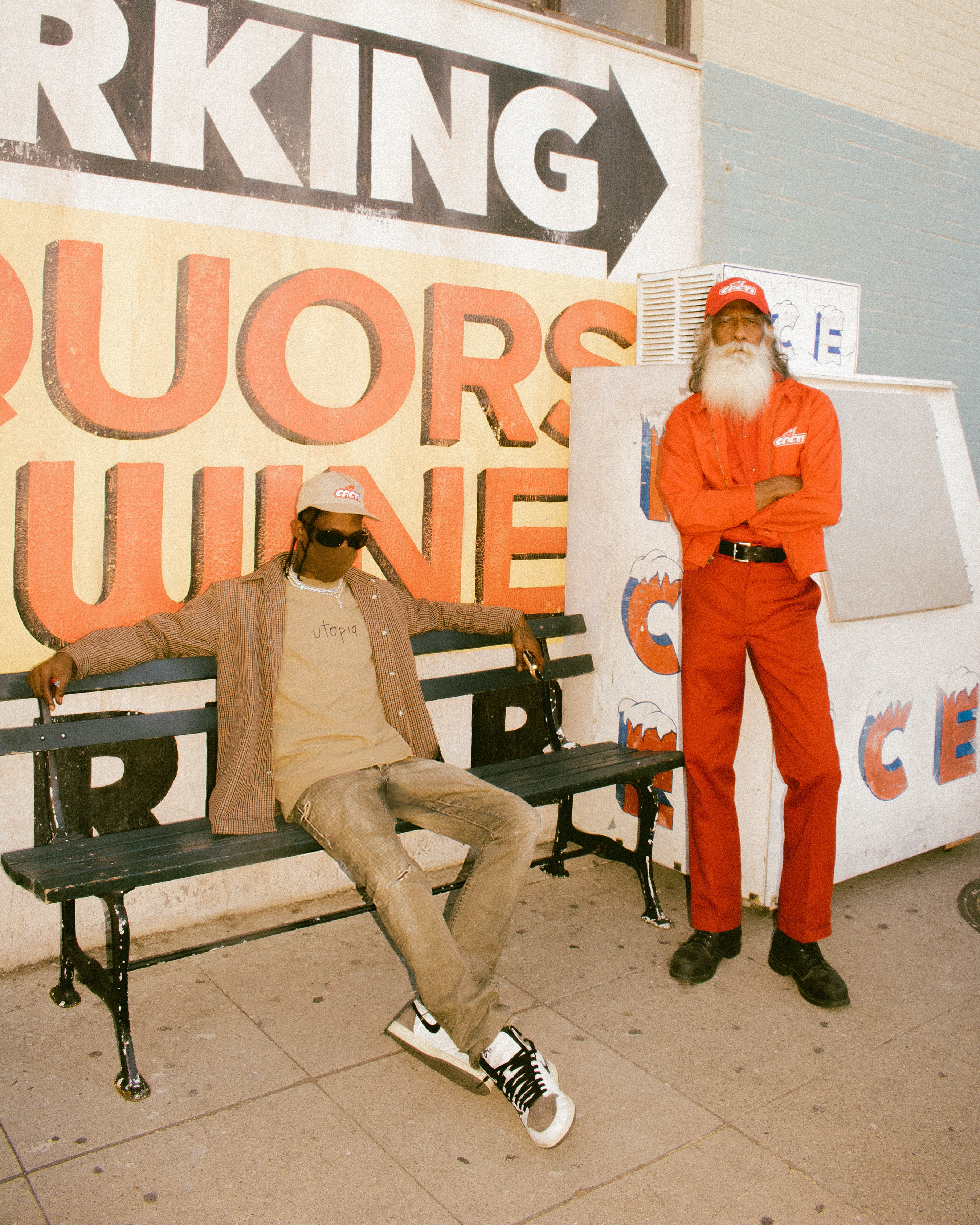 What's Next?