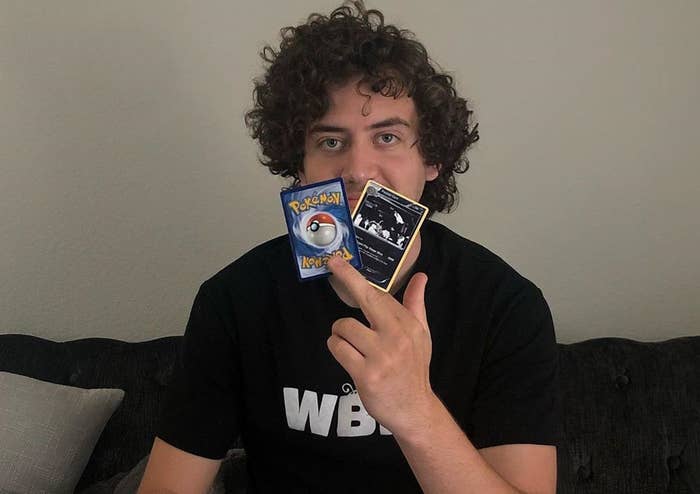 Earlier this year, ASAP Rocky'sInjured Generation tour made its way around the country. A trip to the merch stand on any given night would showcase a familiar selection of items inspired by Rocky's most recent album Testing like T-shirts, hoodies, and caps for concertgoers to choose from. A not-so-familiar piece at select venues was a crash test dummy action figure, which came in small quantites. They were created by 23-year-old Julian Armstrong. He may be more familiar to some of you by his Instagram name, Euphoric Supply. The way he got in touch with Rocky can simply be described as a stroke of luck.
"I had post notifications on so that whenever he posted I'd get comments, and I waited for his next post. When he put out his next post I commented saying, 'Please go look at the Testing doll I made.' It was funny because a lot of people were replying these things, saying like, 'You really think a 30-year-old guy from Harlem is going to care about your stupid toy?' One of his teammates reached out to me that same day, and said they want to make a hundred of them for the tour."
Despite making the special figures (they were also featured on Rocky's birthday cake around the same time), Armstrong had not actually gotten a chance to meet the rapper until earlier this month when he was invited backstage at the Real Street Fest in Anaheim. This was Rocky's first performance since being released from jail in Sweden. 
"Rocky's such a nice person. I was nervous at first to finally meet [the ASAP Mob], but once I was in a room with them they were all nice and cool people to talk to. They make you feel welcomed."
Armstrong's Instagram page is currently followed by close to 97,000 people, and has been making waves recently for his modern interpretations of nostalgic items. Think holographic Pokemon cards with Travis Scott or Drake instead of Charizard shimmering on the front, a "lil boat" in Hot Wheels-style packaging inspired by Lil Yachty, or a Nintendo 64 cartridge re-programmed to play a 16-bit game inspired by Tyler, the Creator's latest project Igor. Some of them even get released on his web store in very limited runs. While he won't reveal his process, Armstrong says that all of his expertise is self-taught. 
"Originally this was supposed to be a clothing brand. I ended up starting this brand right after I got out of high school. I think I had $250 from my financial aid from college, and I used that to buy T-shirts. I got a few sharpies, drew on T-shirts, and then I started trying to sell them," said the San Diego native. "I was always interested in learning new things, so I taught myself how to screenprint. I just started drawing and drawing. That's basically how it started up."
Eventually, he began making his custom toys in June 2018 (he started making clothes in 2015). The first was called Pet Brain, a small pink brain with big white and black googly eyes that was housed in custom packaging. Armstrong only made 10 of them, but when they sold out in an hour he decided to focus more on making DIY figures instead.
Rocky isn't the only rapper Armstrong has gotten his products to. Tyler, the Creator was actually the first. He contacted a close friend of the "Earfquake" rapper, and sent him a McLaren Hot Wheels toy with special packaging when he was "dead broke" hoping that it could help his page gain some traction. Any Tyler fan— Armstrong says he is a huge one himself— knows how much he loves his white McLaren.
"Tyler himself even reached out to me. He DMd me and we talked a little bit, and he's super inspiring. He told me to just keep doing it. He ended up telling me that he has the toy in his library at home," Armstrong tells Complex. "That was crazy. He also posted it on his story that same day and tagged me in it. I think I sold 200 of those little toys that day. It ended up taking us a month to get them done. That's what really brought me up to a higher standard."
Nowadays he says he can complete about 60 items in a single day. Playboi Carti has also reached out to him to compliment his work, and requested multiple items. More recently, he sent Lil Yachty a giant Pokemon card for his birthday. Other inspirations have included Frank Ocean, Takashi Murakami, Dennis Rodman, and even SpongeBob SquarePants. 
If you want to get your hands on one of Euphoric Supply's limited edition creations, the best advice is just to pay close attention to his Instagram feed. There is no set schedule for releases, and the quantities are usually fairly scarce. Some of them are even listed on eBay for as much as $300 right now, well above their original retail price.
His flips of Pokemon trading cards have become his signature as of late, being reposted on countless blogs and social media pages upon upload. Each is customized down to its ability, usually a play on a popular lyric from the artist. For instance, Pharrell's card read, "Frontin. Doesn't wanna sound full of himself or rude. But the opponent ain't looking at no other dudes cause they love him." 
What's next? Armstrong wants to have his own studio in New York City, make official merch for Tyler, the Creator, and work with none other than Virgil Abloh.
"I'm actually trying to reach out to Virgil Abloh. I've been following what he's been doing since Pyrex Vision. I have a few different ideas in mind that I know would go really crazy. I've had this little list of ideas that I want to send to him, but I want him to talk to me personally first. I really want to work with him because I think we could both bring value to making something great."