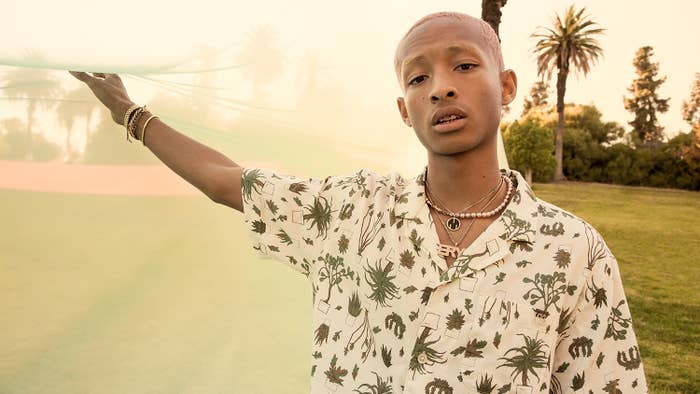 "I was really excited to be at Coachella and to be back there to have the one year anniversary of me flying on the Tesla, the biggest moment of my life," says Jaden Smith over the phone. The multi-talented creator is discussing the massively popular music festival, which was set to kick off for the 21st time earlier this month headlined by Travis Scott, Frank Ocean, and Rage Against the Machine, but was postponed due to the ongoing COVID-19 pandemic. 
Like many events, Coachella was forced to move their festivities to October. Levi's had big plans for the California festival that included an activation and campaign featuring Smith and close friend Hailey Bieber. The iconic denim brand also had to pivot. In the wake of such a difficult time, a campaign inspired by festival season transformed into a message of youth empowerment. 
"As we look at today's youth—this generation that is unapologetically demanding, creating, and pushing for the world they deserve to live in—it is clear that they are carrying forward a legacy," penned Levi's CEO Jen Seo in an open letter. "It's never been more important to maintain our collective optimism than it is in the face of this challenge."
Smith is a perfect example of this mindset. In 2019, Smith told Complex he is, "becoming a full-time inventor," a title that falls more in line with one of his idols, Elon Musk. Whether he is inventing music or a new mechanism to deliver clean drinking water to Flint, Michigan, he has certainly been delivering on his promise thus far.
Complex got a chance to speak with Smith about his new Levi's campaign, Kid Cudi, how he has been aiding in COVID-19 relief efforts through his various nonprofits, and more. Check out the full interview below.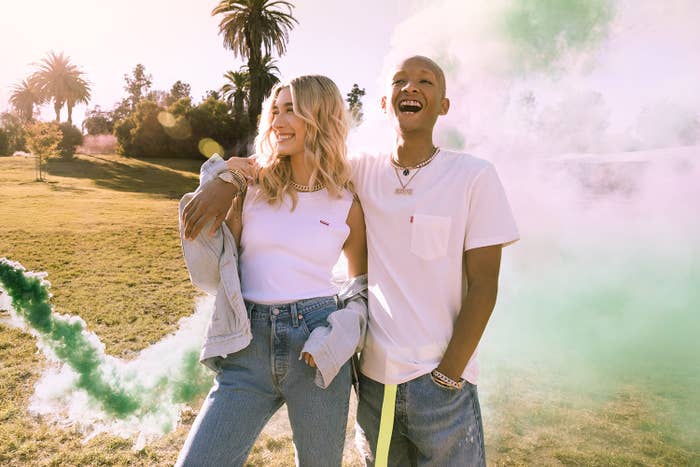 I know the circumstances have changed things up a bit, but could you talk a little bit about that new Levi's campaign you're in alongside Hailey [Bieber]?
The campaign definitely is one of my favorites that I've done and I'm really, really happy that I can do it with my family. I've known Hailey for so long. And to be able to do a campaign like that with people that you actually know and people that you're actually friends with, it makes it really easy to just have fun and just shoot it and just get in these amazing clothes and do it.
On social media recently, you posted about how Coachella is your favorite thing, how you still wear your artist's pass from last year. Ironically enough, you were wearing some custom vintage Levi's during your set last year. How much were you looking forward to Coachella this year?
I was really excited to be at Coachella and to be back there to have the one year anniversary of me flying on the Tesla, the biggest moment of my life. And I was really excited to see everybody that was going to perform. It was very sad they got canceled. But I just want to also give props to the entire Coachella team who have been putting Coachella on for all these years and who have been working tirelessly everyday to try to make Coachella happen even though it couldn't happen. And all the planning that they're doing for the next Coachella and I just want to give a whole shout out to that team because I know that nobody was expecting this and we all have to find ways to pivot to reach our goals.
This Levi's campaign pivoted to speaking more about youth empowerment and trying to remain optimistic right now. How important do you think that message is to tell people, especially the younger generation right now in such a weird time?
I think it's really important to let people know that youth empowerment is really important because it's going to be the next generation that has to deal with the problems in the world and really start to tackle those in a way that makes sense. So I think it's really important for young people to feel empowered to get out there, do things to make your voice be heard, and to really make a difference in the world.
This quarantine has affected everyone in its own way. How have you been dealing with it? Has it been a productive time for you as a creator now that you have this free time? 
Yeah, it's very hard for everybody and I've just been trying to be as productive as possible during this time and focus on my work in everything that I'm doing as much as possible right now. I miss everything that's going on.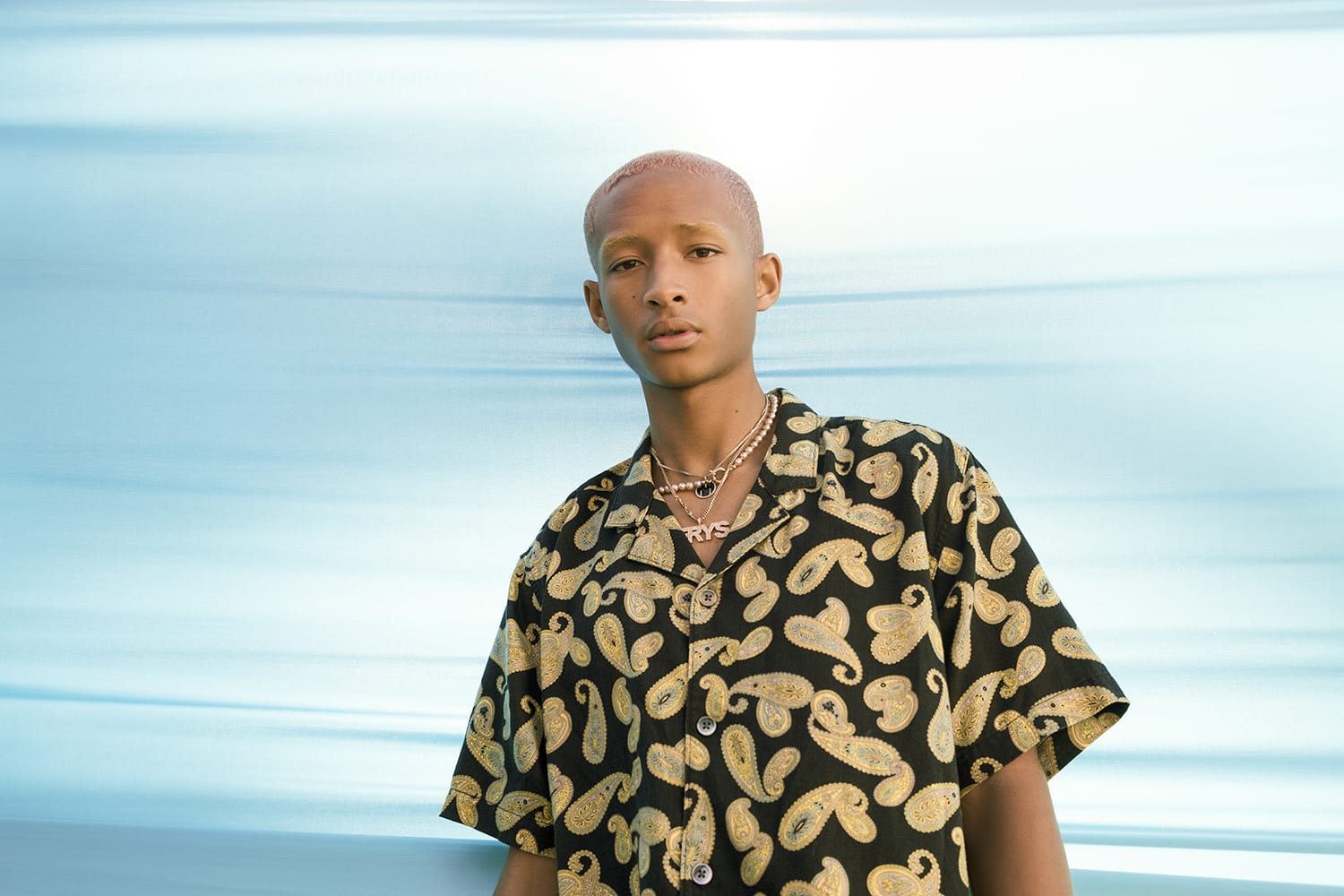 One of the things that a lot of people are gravitating towards is these Instagram Live sessions. You were on one with Cudi not too long ago. He ended up posting that throwback photo of you guys. Can we expect you guys to work together again in the future?
Cudi is my mentor in life and that's my big bro forever and I'm always here for him for whatever he needs. Cudi is such an important and powerful person in the world. I would love to do a million things with him, but I'm sure that something's going to come around for us again. Besides the collab on my last album that we did, which was a dream come true for me. To have that song with Cudi was really just such a dream come true. So I'm excited.
As a fan of his, how do you feel about his two newest songs, "The Scotts" and "Leader of The Delinquents"? 
I think the "Leader of the Delinquents," that's one of my favorite Cudi songs that has been released in a long, long time. But I love everything he releases.
You operate your own nonprofits. I'm sure that's proven to be a busy thing for you right now. How have you helped with the COVID-19 relief? 
So we had to pivot our I Love You programs because of the quarantine. So we are not able to actually get our food truck down to Skid Row and physically hand it out to people for obvious reasons. Because we want to limit contact with other people and it's literally against the law right now. So what we do is we've been dropping these care packages down to Skid Row. You're thinking about everything  happening with COVID-19 and people having to stay home and all this stuff. Well, if you're homeless, you can't stay home. If you're out in Skid Row, that means just staying out in Skid Row, which is not going to help you. So we've been donating a lot of masks and a lot of food and everything that we can donate down to Midnight Mission down on Skid Row through the I Love You care package program where we're just dropping care packages of food, vegan food, masks, clothes, hand sanitizer, and all different types of things. Just dropping them down.
With JUST Water, we've also donated a bunch of masks to people because that's the biggest thing that we've been able to see that we can really make a difference is people actually do feel more secure. If they couldn't get a mask and then they do get a mask, they actually do feel more secure and feel better and can actually have better days. So we've been just trying to get masks to as many people as possible through JUST Water, I Love You, and also MSFTS is actually working on that right now to give away for free. So I'm really excited. We're just trying to be there for the world in these times.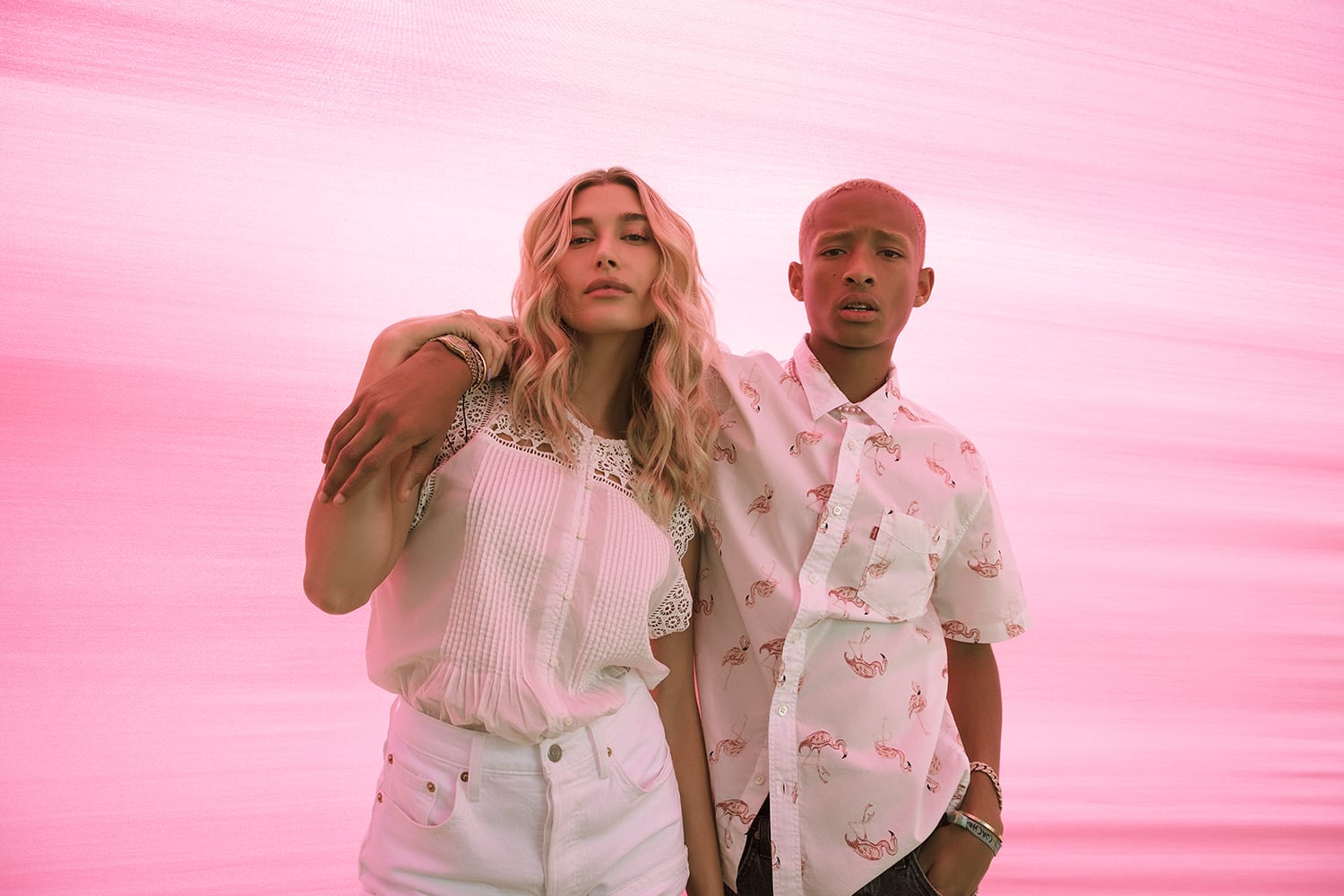 To pivot back to music for a second, have you been working on your next project or anything new that you could tell us about?
Yeah, I'm working on a new project right now.
What's inspiring you personally right now creatively and just how have you been keeping busy just throughout the day? What have you been doing?
I've just been working on this album everyday and I've been writing scripts and I've been designing new collections and I've just been trying to stay busy, and do everything that I would do if I was in the office and I was working right now. I'm trying to just do it all from home. I got my library. I'm setting up my library to just fill it up with books just so I can reference things on a daily basis to have it right there and yeah, I'm just really studying. What I will say about the album is that it's telling the story of a prequel. It's a prequel to my first album, Syre. It tells the story leading up into that and how I got to that place. So yeah, the albums are like Star Wars, they don't come out in order.
Lastly, what has been your go-to quarantine fit?
Honestly, just my Levi's and my MSFTS Trippy Summer collection. That's it.