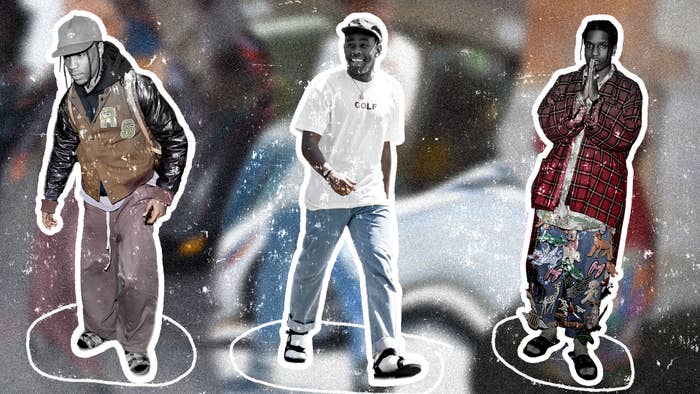 Summertime is in full swing. That means there is no better time than the present to make sure you have a versatile pair of sandals ready to go in your wardrobe. Maybe you haven't quite warmed up to the idea of copping some Crocs yet., but the trendy rubber clogs are far from being the only worthy options on the market. Whether you are making a quick coffee run, meeting some friends for lunch, hitting the beach, or even trying to get away with a pair at that summer wedding you have to attend in a few weeks, there are slides out there perfect for any style and budget. From a classic style like the Birkenstock Arizona to something a bit pricier from a designer like Raf Simons, we have got you covered.  
If you are in need of some inspiration for how to style your new pair of slides, check out how some of your favorite celebrities like Tyler, the Creator, Travis Scott, ASAP Rocky, and others rock theirs below. 
Tyler, the Creator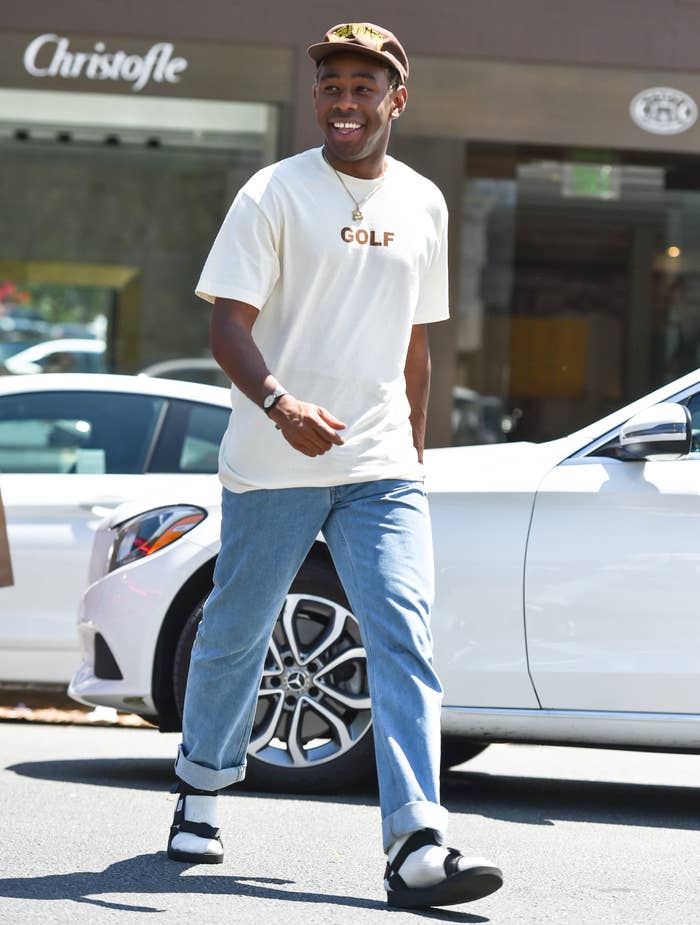 When: 2018

Styling Tip: Gone are the days when long pants and white socks are no-nos with sandals. Rock them together confidently. 

Get a Similar Look: 
These days you will be more likely to see Tyler, the Creator rocking some penny loafers on foot, brown trousers, a colorful wool sweater, and a furry Ushanka hat. It's become his signature look throughout the rollout of Call Me If You Get Lost. Tyler still keeps it casual from time to time, though. This fit is from 2018, but it doesn't feel unlike something we might see him wearing spotted out and about in LA today. He paired a brown cap with a cream T-shirt from his own brand Golf, cuffed straight leg jeans, white socks, and a pair of black Suicoke Depa-Cab sandals. Tyler likes this silhouette so much that Golf even released its own brightly colored variations back in 2020. For any Tyler fans trying to cop some Suicokes of their own that may not be feeling all of the straps on this particular style, Golf has released a couple of Suicoke Kaws in the past as well. The style is similar to a traditional slip-on.
ASAP Rocky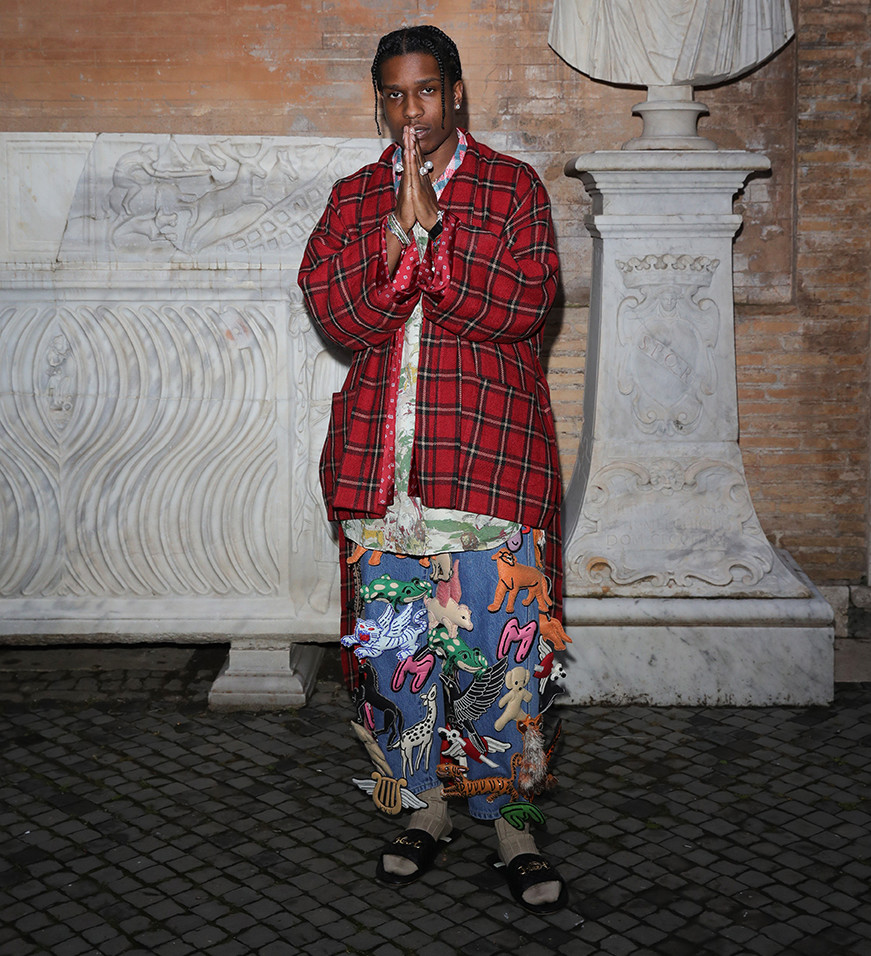 When: 2019

Styling Tip: If the rest of your outfit is loud, keep it simple with some all-black slides.

Get a Similar Look:
It's safe to say that none of us are capable of pulling off these pants. But none of us are ASAP Rocky, either. It's sort of impossible to see Rocky in this fit and not fixate on the baggy denim covered in a zoo's worth of animals. To counter the loud pants, the rapper kept the rest of his fit for the 2020 Gucci Cruise show very simple. A red plaid coat covers just enough of his loud collared shirt that it doesn't throw everything off. On foot, a pair of quilted black leather Gucci slides. Want some Gucci slides of your own and don't mind a pop of color? Try the pair above, complete with the fashion house's iconic green and red color palette and an interlocking G logo.
Travis Scott
When: 2020

Styling Tip: Don't worry about your baggy pants draping over your sandals.

Get a Similar Look:
Travis Scott has plenty of his own sneaker collaborations with Nike and Air Jordans to choose from. His collection of SB Dunks is impressive too. These are usually what we see the Houston rapper lacing up, but that doesn't mean that sometimes he doesn't just want to slip on a pair of sandals when he's out on the town. He makes sure those are exclusive too. The Visvim Christo, which retails for $700 and above depending on the exact pair, is usually his sandal of choice. Here he can be seen rocking a camo pair with some baggy brown pants, a Raf Simons varsity jacket, one of his Cactus Jack x Nike caps, and a Louis Vuitton monogram backpack slung over his shoulder. Now, most people aren't willing to spend the money for a pair of Visvims, but Suicoke provides an excellent alternative for a fraction of the price. If you are in search of a similar look, we recommend the brand's Moto style.
Justin Bieber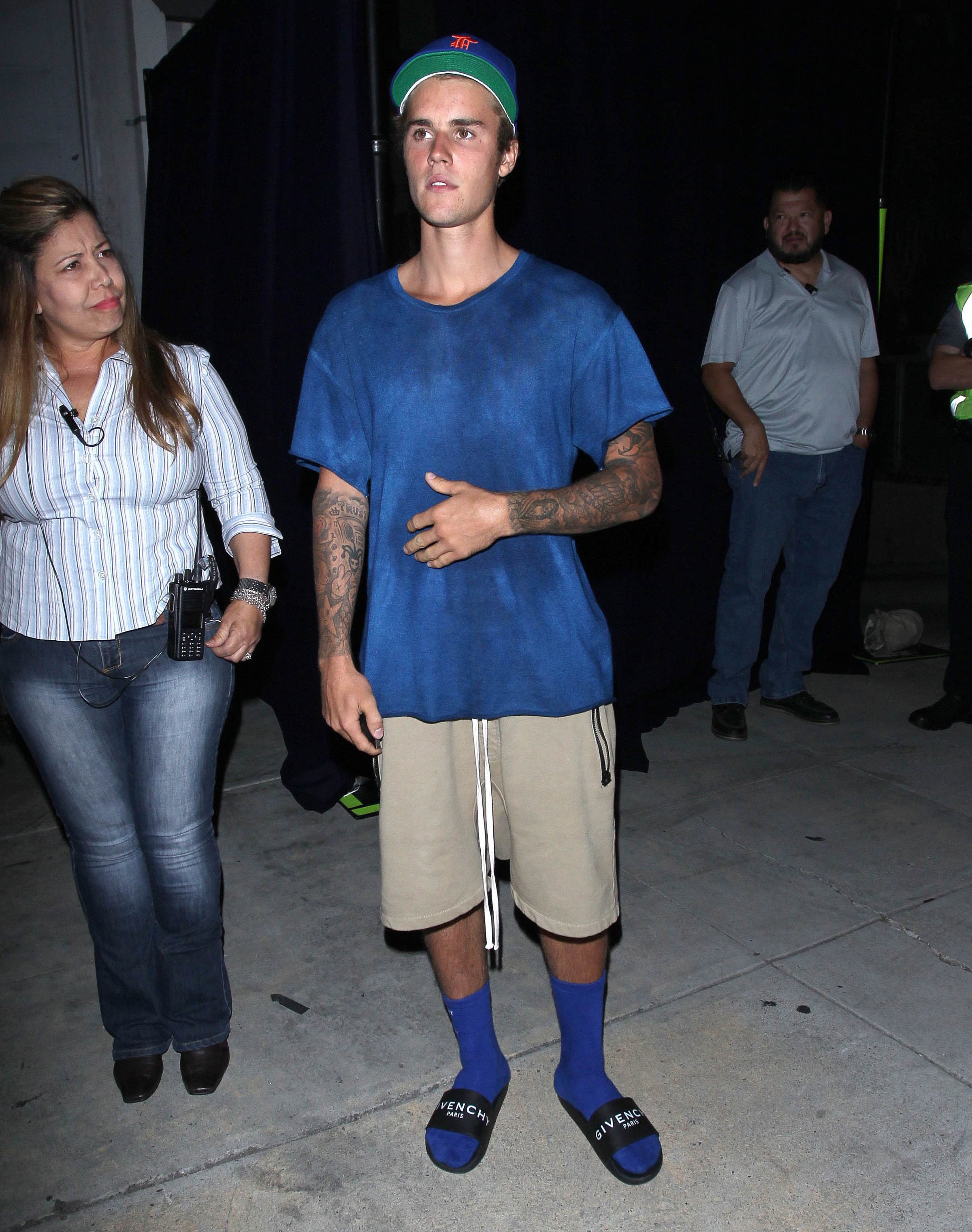 When: 2017

Styling Tip: Slides are acceptable with plenty of outfits now, but sometimes they still just look best with shorts and a T-shirt, even if they are from a designer brand.

Get a Similar Look: 
Justin Bieber always keeps slides in heavy rotation. Yeezy slides. Adidas Adilettes. Even white hotel slippers have made it into his footwear rotation before. It's obvious that whenever Bieber is stepping out, he's dressing up with one goal in mind: be as comfortable as possible. You have to commend it. That doesn't mean he is just tossing stuff on though. He still tries to keep things coordinated. Here he rocked a dyed blue T-shirt, drop-crotch tan shorts, and matching blue socks with a pair of black Givenchy slides. He tossed on a Fear of God fitted cap, a frequent accessory of his in plenty of colorways, to complete the fit. Have the budget to cop a pair of designer slides of your own this summer like Biebs is rocking here? We recommend these black Astra slides from Raf Simons. Sure, they're a bit pricey for just a sandal, but the colorway makes them versatile enough that you can guarantee they will get plenty of use.
When: 2021

Styling Tip: Birkenstocks aren't usually the most luxurious footwear choice. That doesn't mean they can't be.

Get a Similar Look:
When most people think of Future and footwear, their mind probably goes to the opening bars of "Thought it Was a Drought," but Gucci flip flops aren't the only sandals in his repertoire. Case and point, this fit from this past February. Future Hendrix paired his long mink coat and gray tracksuit with a pair of "Birkinstocks," a custom sandal made to look like Birkenstock's signature Arizona model with straps made out of crocodile leather sourced from an Hermès Birkin bag. The pair was created by MSCHF, the same design studio responsible for Lil Nas X's infamous Satan shoes. Future's special edition sandals cost $48,000. We don't have that kind of money. But that doesn't mean that we can't rock our tracksuits with some regular Arizonas to channel this look.
Rihanna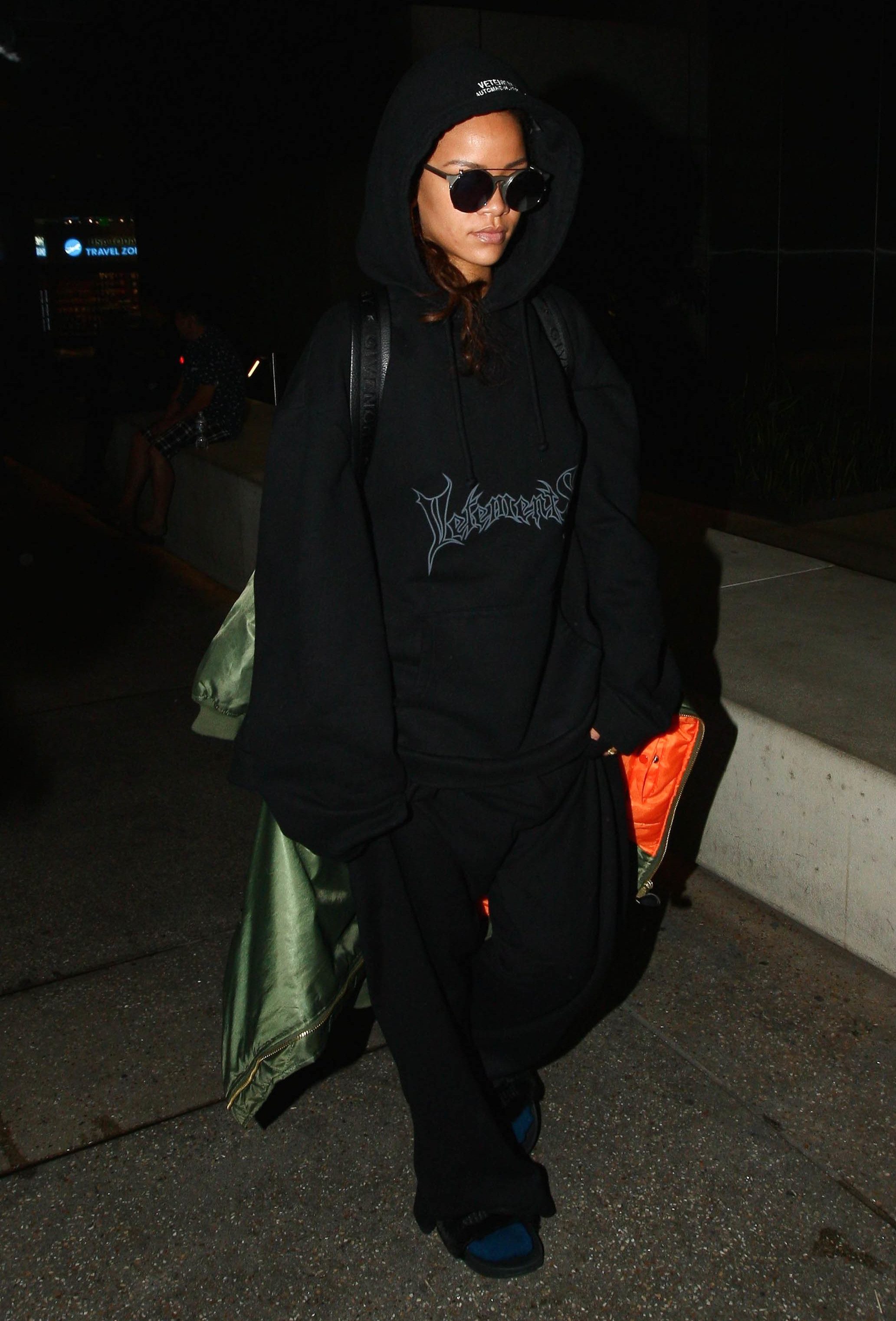 When: 2015

Styling Tip: In the airport? Keep things as cozy as possible.

Get a Similar Look:
If you ever need any inspiration for what to wear to the airport for your next flight, look no further than this photo of Rihanna at LAX. She pairs a baggy black Vetements hoodie with an equally oversized pair of black sweatpants, olive green bomber jacket, round pair of sunglasses, and some black slip-ons. Not only is she achieving maximum levels of coziness and probably going to be able to slip into the perfect mid-flight nap once she boards the plane, her footwear is super practical. If you can, always rock some slides to the airport. It makes the TSA check much easier when you don't have to untie and re-tie your sneakers going through the metal detectors.
Kanye West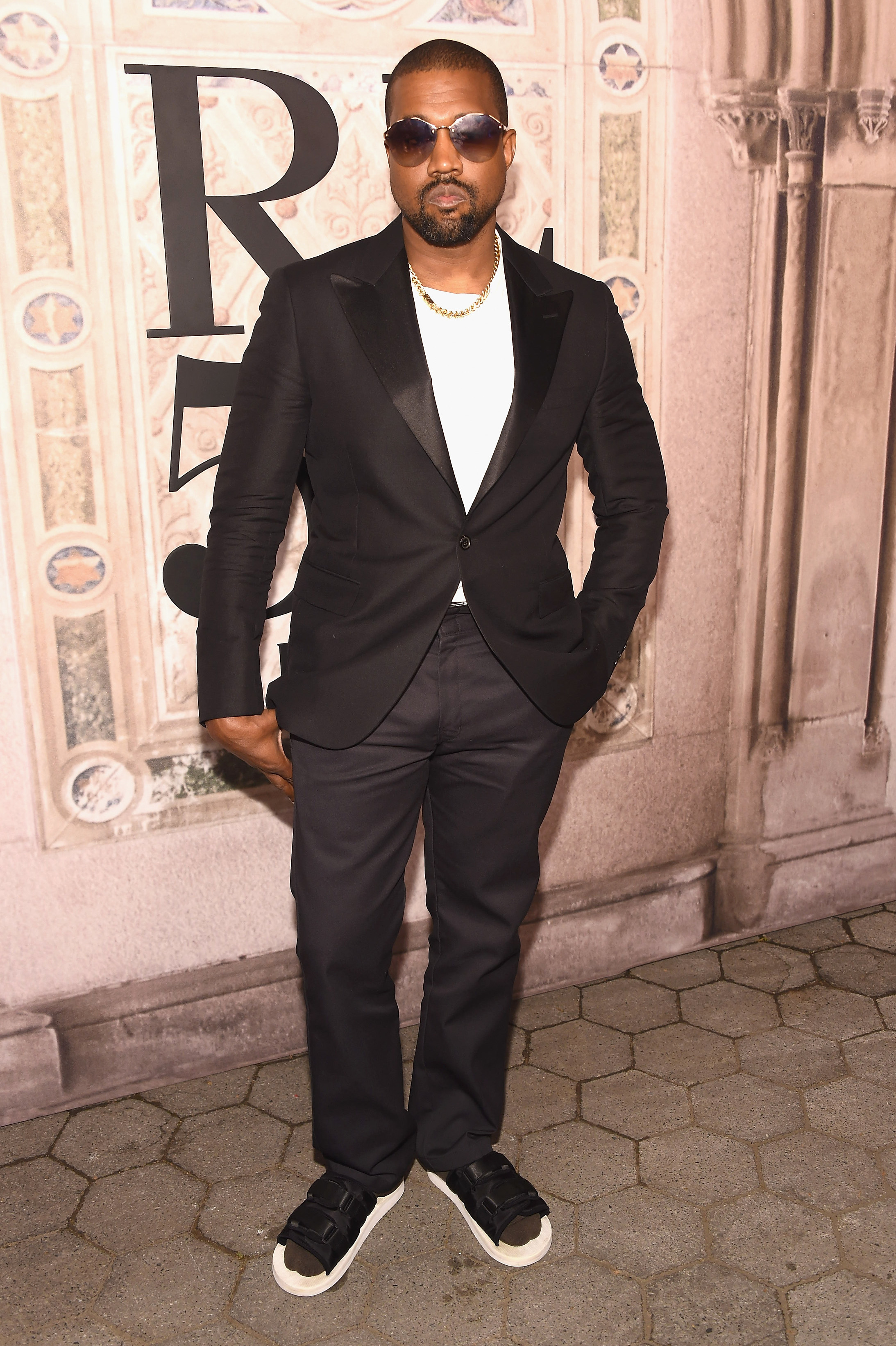 When: 2018 

Styling Tip: Don't be afraid to experiment with footwear other than hard bottoms when wearing a suit. It can change the feel of any formal outfit. 

Get a Similar Look:
Leave it to Kanye West to be able to pull off rocking some Suicoke sandals with a suit. When he attended the Ralph Lauren 50th Anniversary event during New York Fashion Week back in 2018, he opted to keep things a bit more casual by wearing a white T-shirt under his blazer and a black and white pair of John Elliott x Suicoke Motos on foot. Will this go over as well if you try to pull this off at the next wedding you attend? Maybe, maybe not. But the point is that slides are good for much more than just something you keep by the door to slip on when you're in a rush or on your way to play some pickup games at the park these days. They can be stylish too. This actually isn't the only time Kanye has rocked slides with a suit in recent memory. In the same year, he attended 2 Chainz's wedding in a mint green Louis Vuitton suit and a small pair of tan Yeezy sandals that left his heels hanging over the back. The internet was quick to call him out for what they thought was a mishap, but West later clarified he was rocking them that way intentionally to mimic the traditional Japanese styling of sandals.
​​When: 2020

Styling Tip: Most sandals are neutral colors. Wear a brightly colored pair if you want them to be the highlight of the fit.

Get a Similar Look: 
Shai Gilgeous-Alexander is one of the best young talents in the NBA. The Oklahoma City Thunder point guard is also unquestionably one of the best dressed players in the entire league. While we are used to seeing him get his fits off in the pregame tunnel, that doesn't mean he takes any days off with his wardrobe. Here he can be seen rocking a blurry graphic T-shirt from Walter Van Beirendonck, NBA logo patch denim by Ev Bravado, and a pair of bright red Visvim Christos. It's kind of hard to steal the show among some Jeff Hamilton-esque jeans and a blurry T-shirt that has you feeling like you've had one too many shots (drink responsibly), but these red Christos manage to do just that. Again, we get these aren't in everyone's budget. Suicoke makes some bright Moto sandals of its own though, if you want to mimic SGA's look.
When: Every day

Styling Tip: It's OK to let the toes breathe sometimes, especially in the summertime.

Get a Similar Look: 
Cole Bennett has gained a reputation in the hip-hop community as a video director crafting some of the most unique visuals in the genre today, but anyone who is familiar with the Lyrical Lemonade founder knows he is somewhat of a Birkenstock connoisseur as well. Seriously, look at this. On set. In the snow. With socks. Without socks. Pants. Shorts. It doesn't really matter. The Illinois native has made the Birks part of his uniform. Whether you are a fan of Bennett's work already or haven't quite surveyed his catalog of videos just yet, it's worth taking this style tip from him. Few sandals are as versatile, and comfortable, as a pair of Birkenstocks. The style may take a little getting used to, but once you do, it's definitely worth it.
Bruno Mars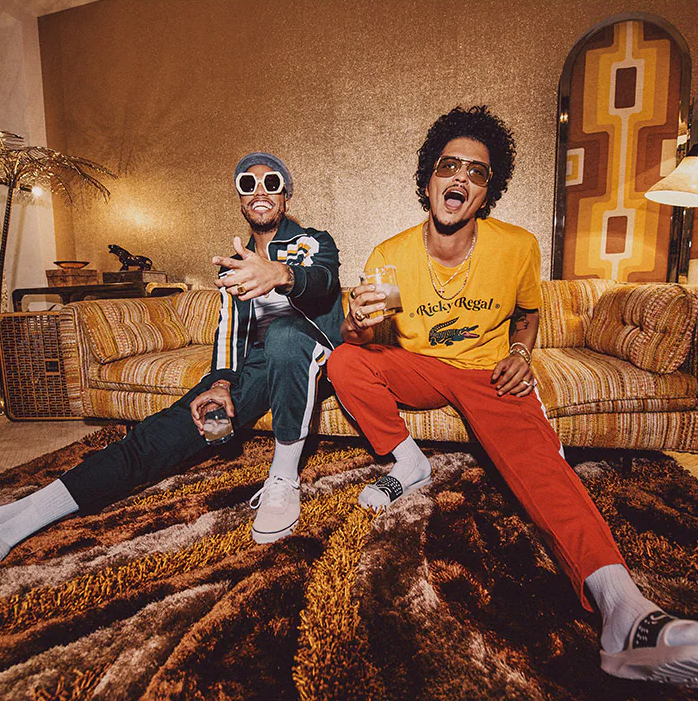 When: 2021

Styling Tip: Don't rock your shoes on the carpet, please. Get yourself some slip-ons for the house.

Get a Similar Look:
Earlier this year, Bruno Mars partnered with Lacoste to launch his first collection of lifestyle apparel. For the endeavor, the award-winning singer took on a special alter ego, Ricky Regal, who the collection was named after. Along with luxury sportswear items like tracksuits and polos, the collaborative partners also released some slides. Mars can be seen rocking a white colorway of the Croco 2.0 Vegas Slides in the collab's official lookbook beside his Silk Sonic partner Anderson .Paak. Drink in hand, Mars is definitely trying to have a casual night at the crib with his fit. He pairs his slides, which we can assume are being used as house slippers in this instance, with a pair of orange track pants, yellow graphic T-shirt, and a pair of his signature shades.