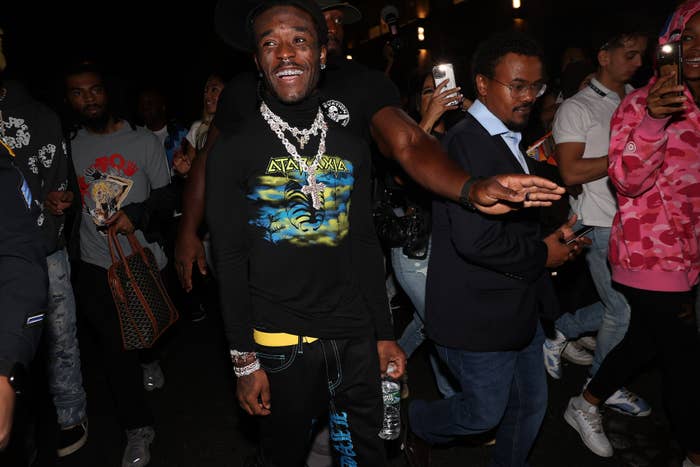 September has come and gone. Like mother nature, some of our favorite celebrities also decided to turn down the temperatures. The ice they have pulled out over the past month has been on point.
Last month was a great one for jewelry. While some of us were deciding if it was worth buying another Telfar bag, many of our favorite celebs were balling out on the finest grills, chains, rings, and belts that money could buy. No need to delve into how much these pieces probably cost. We know they would certainly hurt our wallets. Instead, let's just take a moment to appreciate the craftsmanship behind this great jewelry.
ASAP Rocky linked up with Alex Moss to customize an iconic luxury accessory. Ken Carson and Destroy Lonely came together to bless Playboi Carti with a piece that lives up to Carti's King Vamp nickname. Lil Uzi Vert hit up a beloved Houston jeweler to flash a fresh new smile at Rolling Loud. Meanwhile, Drake and Nav went all out on special pieces from Eliantte and Jason of Beverly Hills. 
Check out some of the biggest celebrity jewelry purchases from September, below. 
Jeweler: Alex Moss
Days before ASAP Rocky was sucked into a mosh pit at Rolling Loud New York, he treated himself with a big purchase courtesy of Alex Moss. Pretty Flacko did not skimp when it came to icing out a classic monogram Gucci belt with the word "Grim," which is rumored to be the title of Rocky's upcoming studio album. The belt is estimated to cost $322,000 and features unique details like a bedazzled "G" inspired by R. L. Stine's Goosebumps logo and an "M" pulled from Monster Energy's branding. The belt also includes a grim reaper character and ruby, emerald, and clear-colored stones throughout. While we may never figure out exactly why Rocky loves Monster Energy drinks this much, one can definitely say it's a more luxurious take on the DIY jewelry made out of Monster Energy can tabs we remember from back in middle school. The belt took four months to complete, was constructed out of 18-karat white gold, includes VVS natural white diamonds, green diamonds, black diamonds, and natural rubies. Thankfully, none of Rocky's fans took off this belt while they were "squeezing life out of" his you know what. 
Jeweler: Alex Moss
It's important to give back to the mentors who put you on. Playboi Carti's Opium Records signees, Destroy Lonely and Ken Carson, teamed up to give Carti a very special gift for his 26th birthday in September. They hit up Alex Moss to create a ring that was truly fit for King Vamp. Dubbed the "Lick of Death" ring by Moss himself, Carti's latest piece is a fully iced out ring that vaguely looks like The Rolling Stone's iconic tongue logo bearing a set of vampire fangs. In an interview with Complex this year, Carson revealed that he connected with Carti by hanging out at Southside's studio all the time before signing to Opium. "We were just friends. I started making music, and shit just kept going," Carson told Complex. 
Jeweler: Johnny Dang 
Lil Uzi Vert was all smiles during his recent performance at Rolling Loud New York. Who wouldn't be smiling when wearing a pair of fresh grills from Houston's Johnny Dang? While the exact price of Uzi's newest set of teeth is unknown, a set of Carré Cut grillz from Dang's webstore carries a hefty price tag of $17,500. Aside from performing some of his biggest hits during his headlining set, Uzi also made surprise appearances during performances from other big acts. In a viral video filmed by Lil Gnar, Uzi was caught rocking out to Chief Keef's energetic performance of "Fanteto." Uzi then appeared onstage with Nicki Minaj to perform "The Way Life Goes Remix" off his 2017 debut album Luv Is Rage 2. Let's just pray Uzi doesn't lose this expensive pair of grills, like that $24 million pink diamond that used to be implanted on his forehead. 
Jeweler: Eliantte 
Nav is riding high off the release of his latest studio album Demons Protected by Angels. Nav's newest album hit No.2 on the Billboard Top 200 after it dropped last month and included features from the likes of Lil Baby and Travis Scott. Naturally, to celebrate a good month, Nav did what any rapper would. He balled out on some crazy jewelry by Eliott Eliantte. One of hip-hop's favorite jewelers crafted a special two-piece chain for Nav. A set of pendants that blend a devil's trident with angel wings hangs off a necklace made from diamond-encrusted and gold-plated balls. It was a chain aptly inspired by the title of Nav's latest album. "The album title was inspired by a sweater that my friend had made," Nav told Complex in a recent interview. Be sure to also check out Nav's 360 interview with Speedy Morman.
Jeweler: Jason of Beverly Hills
Because Drake's team won the SBL Rec. Basketball League Championship for the second year in a row, the Toronto rapper took a moment to celebrate by flexing his own custom-made championship rings. Drake tapped one of his most trusted jewelers, Jason of Beverly Hills, to design some fresh new championship rings for his SBL champions. Each ring costs approximately $100,000 and boasts 24 carats of flawless diamonds. The ring aptly reads "Back to Back" to flex that Drake's team won two years in a row while also referencing his infamous 2015 Meek Mill diss track. "As someone who wishes I could play ball professionally I respect Drake for making his dream a reality with his own league," Jason said in a statement to Complex. "We always have a good time when we work together and it has been fun working on these championship rings with him the last three years." Before making this championship ring for Drake, Jason also crafted a $150,000 ring for Drizzy to celebrate the Toronto Raptors winning their first NBA title back in 2019.