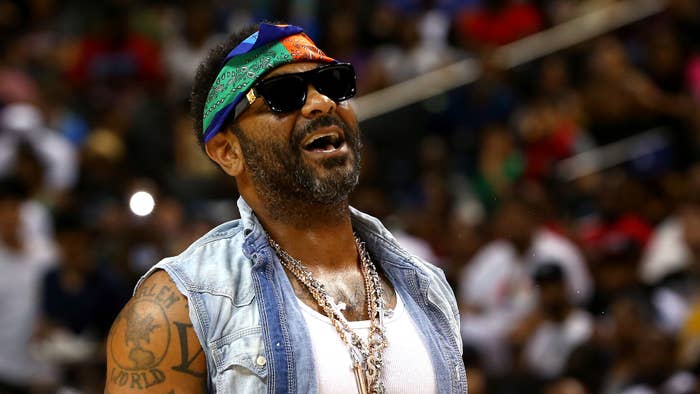 Jim Jones says he is a man of the people.
After the Harlem rap icon went off on Gucci on Wednesday for showing a lack of hospitality in their store, he took to Instagram and used his #DripReport weather report video segment to respond to people who were calling for him to support Black designers instead.
"Please miss me wit I need to support black designers because if u really know me then u know Thts wht I'm about," Jones captioned his IG post in which he gives a colorful weather report. "My preference is my preference and tht preference is fly drip 💧 tht has no color to me but when I do get some drip from a black designer tht is some fly drip I get extra excited and can't wait to talk about it on my platforms."
Jones went on to highlight an Instagram page he's had for over a year, that highlights bags created by Black and Brown designers. "I love black period don't play urself #khaledvoiceanotherone," he added.
Jones initially blasted Gucci for not showing him and his entourage any hospitality while they were shopping. The rapper said that they weren't assisted by any sales associate, weren't given complimentary water or champagne, and could not speak to a manager to help them.
"I'm tired of this, we're spending all of this money as entertainers in these stores, they hire these Black people and these Black people are more racist than white people when they get they job," Jones said in part while still inside the store. "Stop playing with us bro."
Jones would later leave Gucci and finish his shopping at other luxury fashion stores like Louis Vuitton and Bergdorf Goodman before getting home and asking for an apology. Gucci has yet to respond to the rapper.