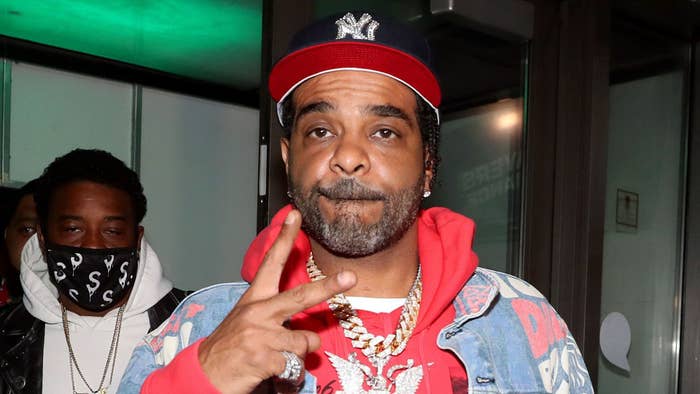 Jim Jones has called out Gucci, saying he experienced poor service and a lack of hospitality in one of the brand's stores while working on a new music video. 
On Instagram, Jones chronicled being at Gucci trying to buy clothes for the visual for an upcoming song called "Goin Shopping" with fellow New York rapper 5ive Mics. Capo said he and his entourage were met with terrible customer service in the VIP section. 
"Very racy and all we wanted was some water sparkling water cause I was parched to be been shoppin for a long time I'm usually drunk by time I leave stores like this cause they be servin tht Champaign smh," Jones wrote in his caption.
In the video, the rapper emphasized how Gucci sales associate never came to assist him despite repeated requests. He said he and his team didn't receive any complimentary drinks or VIP attention, and that when he asked to speak to a manager, they brought out a Black employee who Jones believed was racially profiling him.
"I'm tired of this, we're spending all of this money as entertainers in these stores, they hire these Black people and these Black people are more racist than white people when they get they job," Jones said while still inside the store. "Stop playing with us bro."
Jones and his crew ended up leaving Gucci and going to luxury department store Bergdorf Goodman instead, where he said he was treated much better and provided complimentary champagne.
"Ask for @chrisoff5th if u shoppin at bergdorf they got th drip but most of all they got th hospitality and Champaign and bergdorf water and he ask me if I was hungry ok I'm gassin it now but they had th Champaign n sparkling water," Jones captioned his next post, with him and his team sipping champagne.
Jones and 5ive Mics ended up going to Louis Vuitton afterward to continue shopping and shooting the video.
After all the shopping was complete, Jones took to Instagram once more to voice his frustration toward Gucci, saying the company owes him and 5ive Mics an apology.
"And for those lookin [in from the] outside sayin this is some rich privilege Shit it's really not it's about treatin people with respect no matter th race or Wht u may think u know about a person," Jones explained in the caption. "And for people sayin Thts spending money foolishly u never know wht a person been through so u should never worry bout Wht a person does wit his."
Gucci has yet to issue Jim Jones an official apology.
Jones later released a video for "Batman" off We Set the Trends, which you can check out below.