 Whether you believe it or not, celebrities are the true barometer of style as the year goes on. If athletes, musicians or actors experiment with their wardrobes and ascend to stylish new heights, there's a strong chance that the general public will follow suit. With more events like the inaugural New York Fashion Week: Men's on the calendar, famous guys had new opportunities to explore the rapidly expanding field of men's fashion and another chance to show off their personal style. And it wasn't just the usual suspects making waves. Even athletes—who traditionally land somewhere between hypebeast and Tim Duncan—found style saints in the form of Victor Cruz and Nick "Swaggy P" Young.
A strong coalition of men made their mark on the style scene in 2015. Modern-day icons like A$AP Rocky, Pharrell, and Zayn (fresh off his One Direction years) continued to think outside the box when it came to filling their wardrobes with everything from Louis Vuitton and adidas, to Gosha Rubchinskiy and Midnight Studios. And let's not forget that this was also the year that Kanye West dropped not one, but two collections, the first of which sold very well worldwide. Yes, his designs had their detractors, but when it comes to West, it's nearly inevitable that his aesthetic will inspire others well into the future. Moving men's style forward in more ways than one, these are the Most Stylish Celebrities of 2015.
13. Future
Future had his biggest (and arguably best) year ever in 2015. The Atlanta Auto-Tune icon spread out well beyond the confines of infamous strip club Magic City (though he's hardly stopped reppin' the local club and its "Magic City Mondays" maestro, DJ Esco) and into the public at large, with DS2 taking over airwaves, followed by his insanely-hyped collaboration with Drake. When it comes to experiencing Future at peak greatness, well, what a time to be alive, indeed.
But, he didn't just leave his mark on the music world. He quickly adopted some his contemporaries' favorite labels —including Fear of God, Yeezy Season 1, and Givenchy—and put his own spin on each...even if that meant just popping a wide-brimmed hat on top. And the Atlanta artist brought a little flavor up north to NYC, where he and his Freebandz label released a small collaborative collection with Concepts to herald the drop of DS2. But, it's not all sweatpants, Saint Laurent and upscale streetwear; Future proved that he could also suit up, stunting heavy at GQ's 20th Men of the Year Party in December. He may not be the first guy who comes to mind when you think of this year's style icons—but he's rapidly becoming one of hip-hop's biggest stars, musically and sartorially. —Gregory Babcock
---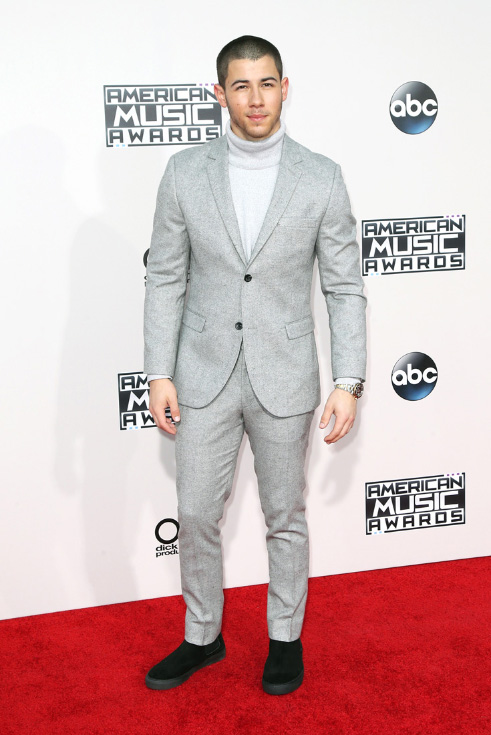 Nick Jonas is that dude in your circle who may not be the most fashion-forward, but has mastered the art of cleaning up. Jonas is at his best when he's suited up, as he's proven time after time (or rather, red carpet after red carpet) that formalwear is where he truly shines. His latest look may have stirred more comparisons to Drake than praise for his burgeoning personal style, but you can't hate on his ability to tap trends—in this case, turtlenecks and monochromatic dressing—in a way that doesn't feel forced. Even in his "off-duty" looks, he keeps things accessible; standby staples like trusty bomber jackets make up a large chunk of his wardrobe, appearing in a variety of fabrics and fits. He even knows how to truly "get a 'fit off" every once in a while. Is he changing the landscape of menswear? Maybe not. But, he is showing guys how to style the classics in ways that actually fit right now. It may sound simple, but that's only because Jonas makes it look easy. —Gregory Babcock
---
11. Shia LaBeouf
He might be the last person you'd expect to crack a list like this, but in terms of finding a uniform and sticking with it, Shia LaBeouf is the best example to follow. And sometimes, he does literally choose a real, actual military uniform. His signature look, tan military boots, slim and worn-in black jeans with a tight t-shirt (that has at least one hole in it) or a crewneck sweatshirt, has become Shia's calling card. It's not about the unattainable or expensive labels for the actor-artist. Hell, he probably barely even thinks before throwing on his outfit for the day. Even when he marathoned all of his movies in reverse chronological order in New York City last month, he wore mostly military-inspired clothing, like the olive parka with the fur-trimmed hood and white hoodie underneath while he suffered through every Transformers movie. It's quintessential Shia—barely considered, slightly disheveled and somehow still stylish. That's why it works. Shia himself is extremely unpredictable, but one thing is for sure: he's the only person on this list who has rocked a rat tail this year. —Skylar Bergl
---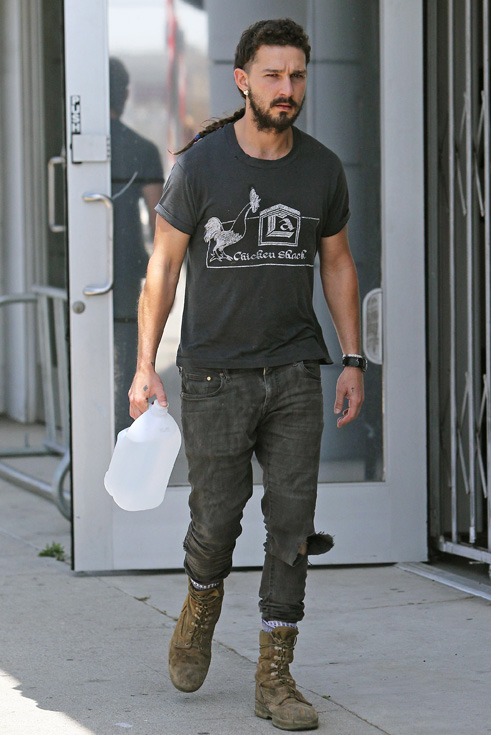 10. Nick "Swaggy P" Young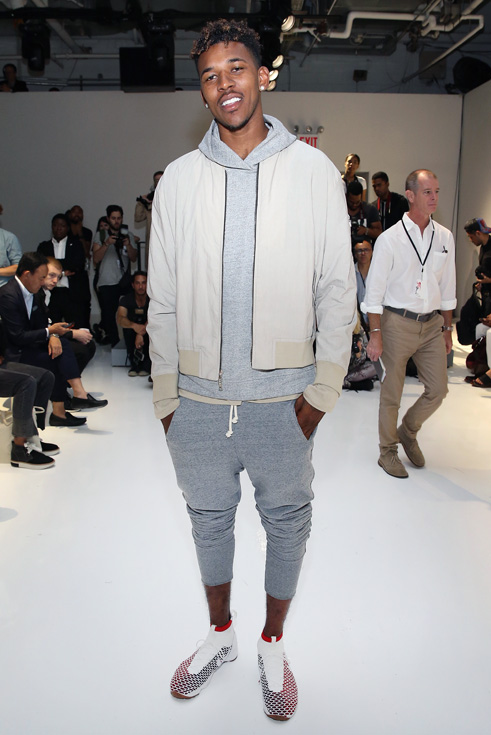 Just a year ago, Nick Young was wearing ostentatious silk shirts, shiny suit jackets, floral polos, and baseball jerseys with strange snake prints. But, it's abundantly apparent Young has really switched things up in 2015. He's dressing much better: distressed denim, plenty of bomber jackets, leather jackets, plain tees, and sneakers. He also made sure to make his presence felt at the very first New York Fashion Week: Men's, stopping off to show support for labels like John Elliott and Public School. While he isn't pushing boundaries like the Young Thugs of the world, he is putting forth a considerable effort with his grunge look—especially for a 6'7" basketball player whose height can be difficult to fit properly. He's definitely one of the handful of players proving how stylish the NBA can be—despite its less-than-stellar sartorial history. Now, if only the Lakers could turn things around, too, then all would be good.  —Karizza Sanchez
---
9. Victor Cruz
If you weren't convinced that Victor Cruz is a style icon in the making at the top of 2015, you certainly can't argue against his fashion cred by the year's close. His recently released signature shoe, the Nike Air Trainer Cruz, was a first for both Cruz and Nike, holding the honor of being Nike's first lifestyle sneaker designed by a football player. But, it wasn't the footwear that earned Cruz fashion accolades, it was his impressive runway show resume. Sure, Cruz didn't  take to the catwalk himself, but he made his presence felt at Paris Fashion Week and New York Fashion Week: Men's—earning extra points as one of NYFW:M's ambassadors. Cruz also teamed up with a few brands this year, designing a low-key capsule collection with the denimheads over at 3x1, and capturing a spot as the Fall/Winter 2015 face of Riccardo Tisci's Givenchy (thanks Hov). While the NBA and its players get more shine in the fashion world, Cruz is almost single handedly proving that the NFL could become one of the most stylish sports leagues in the nation. —Gregory Babcock
---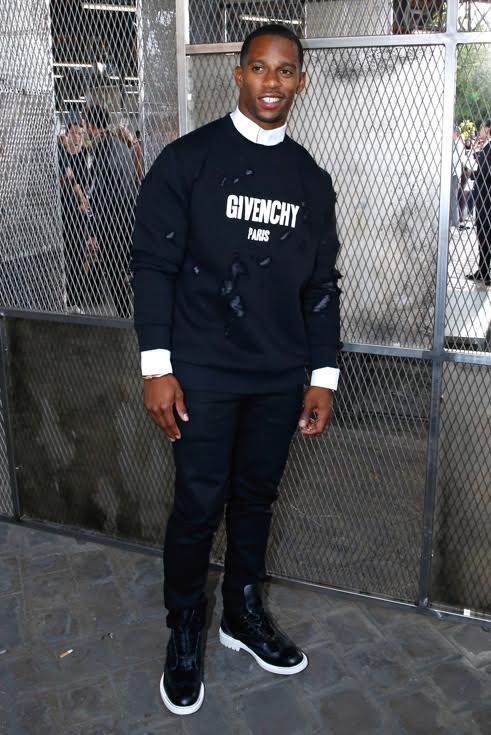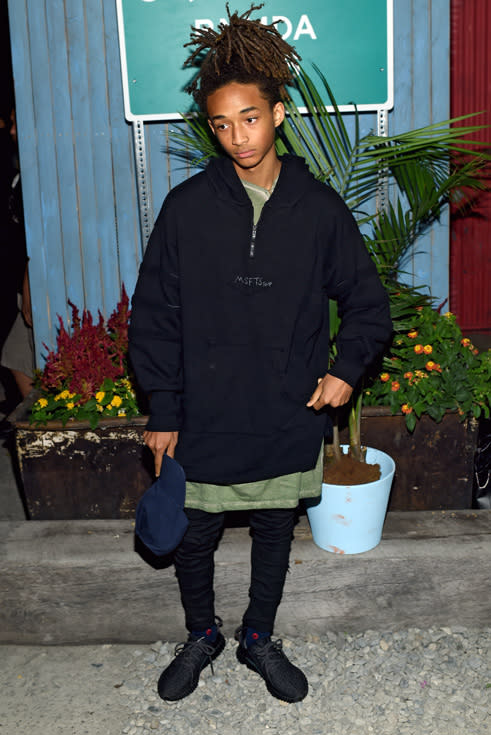 Jaden Smith is either the biggest style troll or men's fashion's mad genius; or, more likely, something in between—and that's precisely why he's left such an indelible mark on style these past 12 months. Jaden clearly couldn't care less about playing to the norms of how guys dress—see his gender-bending trips to Topshop or that time his prom 'fit most closely resembled a simple shift dress. You're probably familiar with his antics dressed in a white Batman suit—the one he famously wore to Kim and Kanye's nuptials last year. This May, Smith reemerged as "albino Batman" to fight crime attend yet another prom, citing his desire to slip on the costume to "heighten his experience." Even Will Smith was a little nervous about his choice to don the suit one more time, although, truth be told, Jaden probably struck greater fear into the hearts of high school fathers than hardened criminals.
He's made no secrets about his plans to keep his style more D.I.Y. than on-trend, and it's his mix-and-match assortment of influences, inspiration, and ideology (never forget Jaden is foremost a budding philosopher) that drives the look and feel of his own brand, MSFTS. Even so, you can still catch him wearing some of this generation's trending labels, including Supreme and Yeezy Season 2 (well, the invitation T-shirt anyway). If you're going to start the revolution, it doesn't hurt to look good leading the charge. —Gregory Babcock​
---
7. Pharrell 
Pharrell has made it onto every recent "Most Stylish Celebrities" list Complex has published, but there's a reason for it. Clothing and sneaker lines aside, what really sets him apart is his originality. He doesn't hop on trends or the "hottest" brand; he wears whatever he wants—a trait we can't say about many celebrities—and is often the one starting trends, even if that means not everyone will understand it (I think he looks dope, but I digress). Yes, he is that dude who wears that insane Vivienne Westwood hat, eyeliner, a kimono, or a technicolor grill and owns it. These days, he's really into the style scene in Japan, often rocking Nigo's Human Made brand with his BBC Bee Line x Timberland boots and custom clothing he's doodled on, or a denim jacket with a graphic T-shirt tucked into his jeans, and plenty of driving caps and beaded jewelry. America's cool and all, but trust us, style-wise, Japan is where it's at. —Karizza Sanchez 
---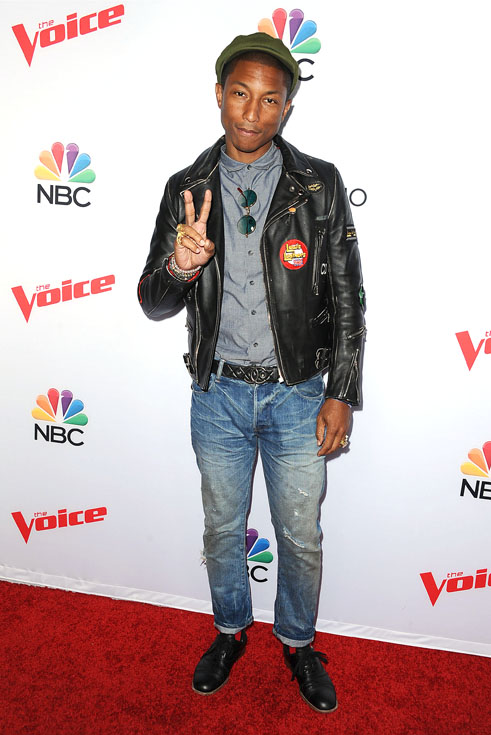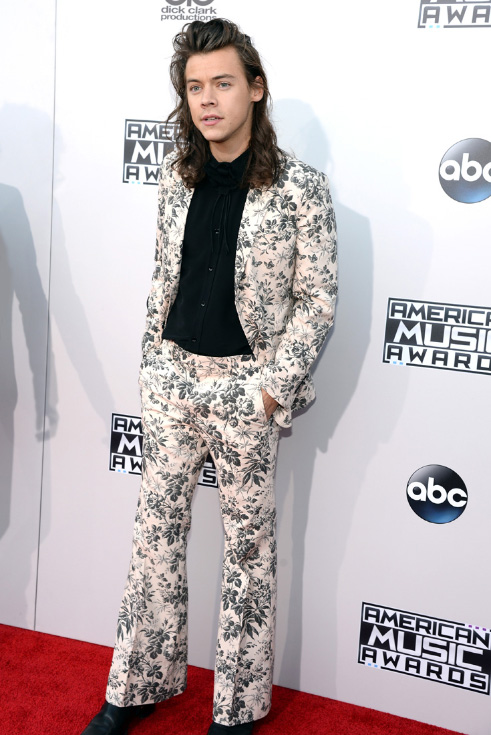 Harry Styles may be the lead singer of One Direction, but as far as his personal style goes, he's taking the opposite route from his other band mates. His wardrobe consists almost exclusively of Saint Laurent by Hedi Slimane, which means he got a great eye and prefers classic, timeless items that focus more on quality than flair, usually. The skin-tight jeans and Johnny boots he wears (basically Chelsea boots with a higher heel) have secured his place as an international playboy. In the latter part of the year, he switched up one time from all-Saint-Laurent-everything to a full-blown retro feel when he hit the red carpet of the American Music Awards in a flamboyant floral number designed by Gucci's new Creative Director, Alessandro Michele. While not too many guys out there can pull off the strong 70's vibes that Gucci is giving, Harry has proven one thing  for sure: he's got it figured out "One Way Or Another." (That's a One Direction song reference. Nailed it.) —Matthew Henson
---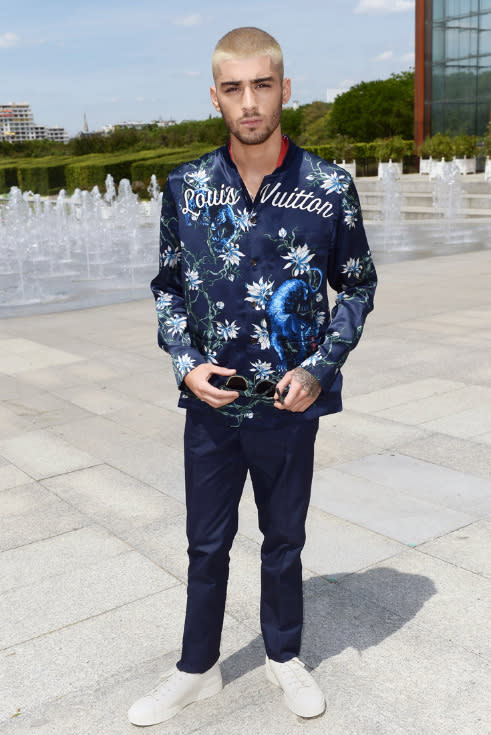 Speaking of One Direction, when Zayn left the group in March, Directioners collectively lost their minds. After five years, one of the band's two most popular members went his own way in an attempt to leave the spotlight, only to have it shine even brighter on everything he does. While he hasn't really put out any new music, Zayn did thrust himself into the most stylish celeb conversation this year for the first time. He always felt a little too edgy for the polished image his bandmates cultivated. While we've seen less of Zayn this year than any other, what we did see of him secured him a spot on our list. Whether it was his entrance to the Louis Vuitton show this summer, complete with a freshly shorn blonde buzz cut and silk Vuitton shirt, or other appearances during Fashion Week that sent him on a path to style stardom, I'm not totally sure, but, for the last half of the year, all eyes have been on him. Zayn's typical look nails that British aesthetic of slim trousers, dress shirt (often buttoned to the collar with no tie) and boots or chunky dress shoes, but he's also branched out to different looks with distressed jeans and Air Jordans this year, showing just how much a change of scenery, like leaving one of the biggest pop acts of the era, can do for someone. —Skylar Bergl
---
2015 is the year The Weeknd transitioned from a cult favorite to a pop star. He released a No. 1 album, Beauty Behind the Madness, amassed several awards and Grammy nominations, made hit after hit (see: "Can't Feel My Face," "The Hills," "Earned It"), and performed on Saturday Night Live. Yet, very few have paid attention to his style—a huge mistake, tbh. Sure, he doesn't dress in gaudy, flashy outfits or wear really big rings, but that's the point. Instead, he has a well-edited uniform of all-black everything—black Levi's denim jackets, Alexander Wang, bomber jackets, black jeans. When he does experiment with prints it's never too much; when it comes to color, he opts for muted, neutral shades. Chalk up his Alexander Wang collaboration and being handpicked by Kanye West to preview Yeezy Season 1 as W's, too. The Weeknd is only going to get bigger in 2016. Pay attention.  —Karizza Sanchez
---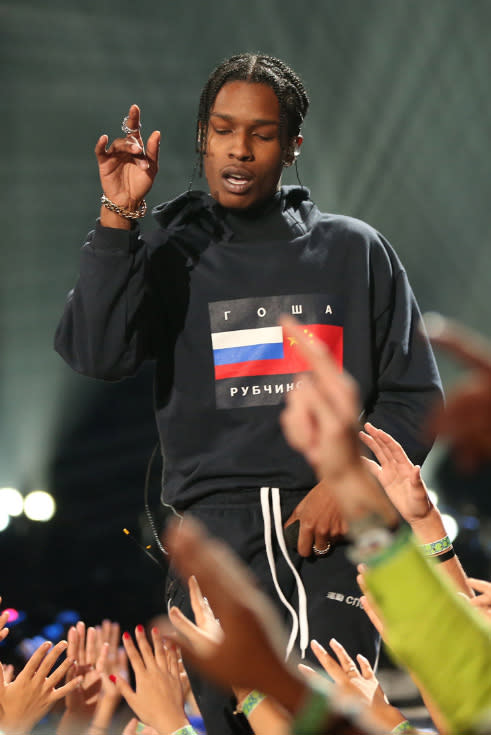 A$AP Rocky is nothing if not experimental. While he may be off Hood By Air since he dropped "Multiply" at the end of last year, that about-face opened him up to a variety of brands—ranging from high-fashion to hypebeast favorites—further establishing the fact that he is, indeed, the fashion killa.

Aside from wearing "cool guy" standbys like Palace and Bianaca Chandôn, he's also got an eye for high fashion. Seen in Dior, Raf Simons, Dries Van Noten and Maison Margiela, Rocky also steps off the beaten path, wearing under the radar designers like The Soloist by Takahiro Miyashita. One of the biggest #influencer moments of the year came when Rocky wore rising Russian designer Gosha Rubchinskiy during his performance at the 2015 MTV VMA's. Without a doubt, his hyper-public co-sign put the label front and center before a new audience, turning the cult skate-inspired brand into something that even Kylie Jenner could get into. But, even with a wardrobe that would make fashion nerds weak in the knees, Rocky still makes time to put on for other A$AP endeavors, including the A$AP Mob clothing line, A$AP Bari'sVLONE, and an A$AP collab with Guess. It's safe to say that Rocky may be down with his Harlem hometown, but his fashion tastes are explicitly international. —Gregory Babcock
---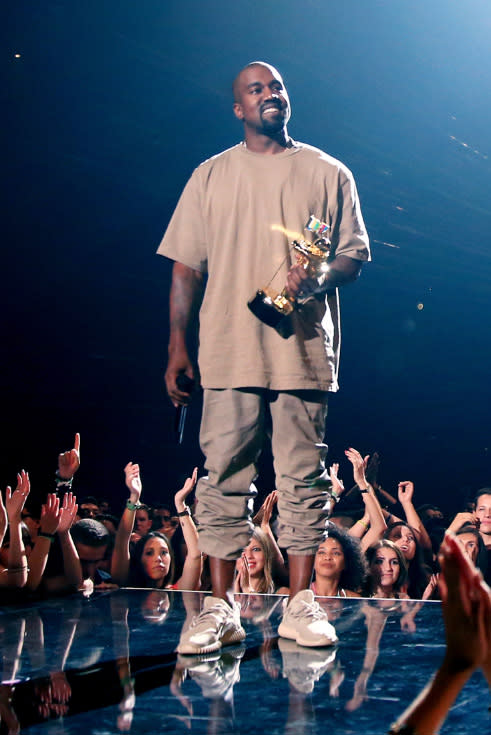 Love him or hate him, there's a reason Kanye West seemingly tops stylish celebrity lists year after year. Whether you realize it or not, he influences menswear. Period. From the silhouettes and sneakers he rocks, to the designer runway shows where he's seated front row, if Yeezy is attached, you can bet you'll be hearing more about it in the near future. Sure, he's had a couple bricks in his day, but when you're consistently moving men's style forward, that's bound to happen.
Naturally, this year was truly a 12-month-long Yeezy Season, with both Season 1 and Season 2 showcasing West's new vision for how he wants to "fix the pantleg" of the world. People made fun of the surplus-aesthetic that defined his designs, but heavy cynicism (and heavier price tags) aside, the collection sold well. Even H&M took a stab at co-opting West's Yeezy Season-meets-Haider Ackermann stylings. It's just another reminder that, while Yeezus may sit in an immaculately curated ivory tower, his designs and fashion decisions do affect what ends up in our closets, directly or indirectly. If his numerous interviewsthroughout the year were any indication, his vision for fashion is as big as his ego—meaning that maybe (just maybe) West truly is the Steve Jobs of fashion. —Gregory Babcock
---
Biebs has come a long way since his pre-teen, windswept bowl cut days. After all, the tightly controlled image of a budding pop star has to be kept safe and secure, never treading into risky territory, wardrobe-wise. But now that Justin has reached headlining global pop stardom, he's free to dress pretty much however he wants. That freedom is gaining him attention from the fashion world, as he even scored the Calvin Klein underwear campaign. But, 2015 also saw him graduate to a broad swath of luxury streetwear pieces from Fear of God, Givenchy, Off-White, Raf Simons and Yeezy Season One, often paired with vintage jackets or simple Vans sneakers. Sure, he occasionally goes super hard on the big graphics, extremely drapey shirts and loud colors, pushing him to a place where he becomes a bit of a caricature. While those ostentatious outfits can be a point of contention, if nothing else, they show how Bieber and his stylists know what is popular with the kids these days—even celebrities need to keep up with the trends sometimes. With Bieber dominating headlines and tabloids for years now, it's easy to forget that he's just 21 years old. He's still honing that sense of taste and style that tends to come with age. As with most 21-year-olds, we presume he isn't sorry about his style. And, if this year is any indication, he doesn't need to be. —Skylar Bergl
---