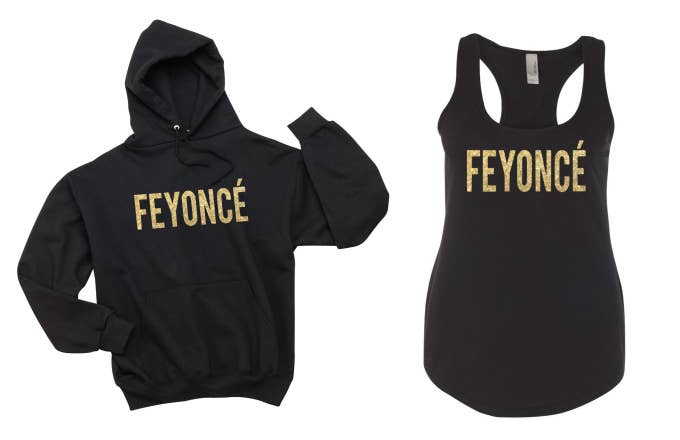 Beyoncé is suing Texas company Feyonce Inc. for selling merchandise that bear the name "FEYONCÉ" and, in some cases, use her lyrics. A complaint was filed in Manhattan federal court wherein the singer accused Feyonce Inc of selling "FEYONCÉ" products on www.feyonceshop.com that are too close to her trademarked name. 
According to the lawsuit filed, Beyoncé said the "FEYONCÉ" bootlegs confuse consumers and damage her brand. She added that the defendants have ignored her requests to cease and desist from selling their infringing merchandise and that one defendant, Andre Maurice, has filed trademark applications for "FEYONCE" and "FEYONCÉ."
"Defendants adopted the Feyonce mark to call to mind Beyonce and her famous song," the lawsuit said. "Defendants' conduct described herein is intentional, fraudulent, malicious, willful and wanton."
Feyonce Inc currently sells shirts, sweaters, hoodies, and tank tops branded with "FEYONCÉ" in the same font the singer used for her self-titled album. There's also a coffee mug that says, "He put a ring on it"—lyrics from Beyoncé's hit "Single Ladies." 
"Seeking to capitalize on the notoriety of Single Ladies, with its famous lines 'put a ring on it,' Defendants are selling merchandise bearing the 'FEYONCÉ' mark -- a misspelling of 'fiancé' intended to call to mind Beyoncé and her famous song," the lawsuit said. "Some of Defendants' merchandise even bear the lyrics 'put a ring on it' further solidifying the connection between Beyoncé and the unauthorized products."
In January 2015, Beyoncé's lawyers threatened to take legal action against an Etsy seller who was selling mugs pained with "Feyoncé." The mugs were later taken down from the artist's site. A quick Google search will also show that there are a ton of merchandise with the "Feyoncé," a word often used by fiancés, available online
So far, the "FEYONCÉ" merch is still available on www.feyonceshop.com