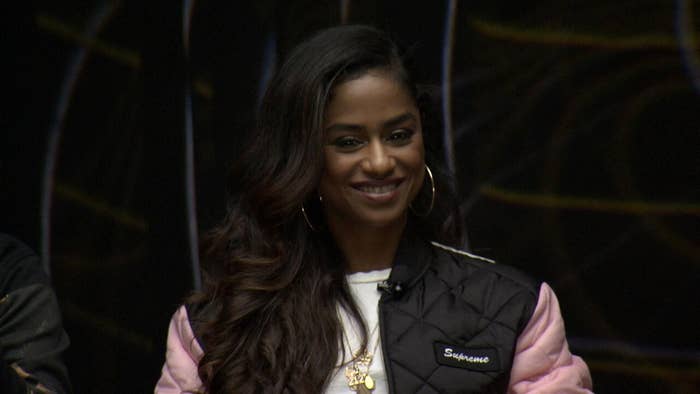 Although many women have long been a part of streetwear's history and have broken into the subculture—Leah McSweeney, Vashtie Kola, Aleali May, Emliy Oberg—there is still quite a bit of work that needs to be done to disassemble streetwear's boys' club structure.
A new story by Hypebeast explores the issue of sexism within streetwear and taps a couple of the aforementioned women to share their thoughts. Vashtie—who was the first woman to collaborate with Jordan Brand, which was also the first Jordan II collaboration ever—spoke on why she dressed in a "masculine" style: "[As] a young woman who was really focused and serious about my work and art, it was a way for me to have meetings with men and not look at me as an object."
She continued, "It was always like a masculine look although there were feminine touches. It was a way of growing up in the hood and being fashionable and saying, 'I'm a tough girl, don't holla me on the street.' In a way it was fashion but it was also protection."
Aleali May—who has also dropped a collaboration with Jordan Brand—voiced her thoughts on dressing in a masculine style, as well. "I have grown up being around boys and surrounded by boys and sort of being comfortable in that world of being a tomboy, and I didn't necessarily have the challenge of how to fit into this male dominated area," she said.
Even being accepted into the subculture was due to the fact that they were tomboys, Kola explained: "I think that my entry into that scene in a way was almost level to how the boys dressed or the boys acted or the fact that I skated."
But the demand for women's streetwear has risen, and with that, it seems like brands are straying from the tricky "pink it and shrink it" thought process when making products for women.
"When I was in that Nike meeting, they showed me all these Jordans, colors, it was dope, it was fresh, no gender," May shared. Her Jordan 1 collaboration is only the second since Kola's and has been made for women, children, and men. She added, "There are always going to be women in the industry that are going to break barriers; even inside Jordan, these women are behind the scenes working to break that mold." Read the Hypebeast piece in full here.