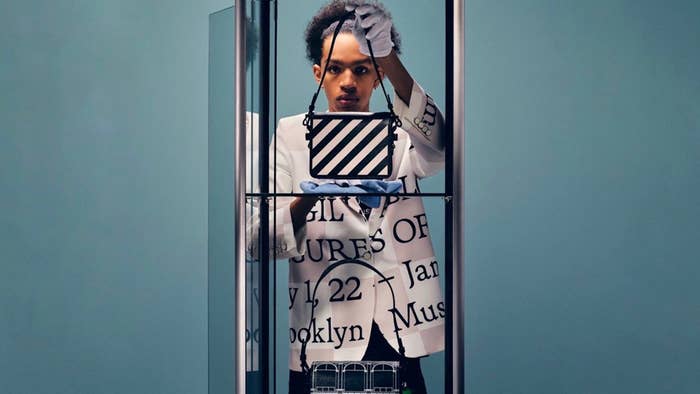 The Brooklyn Museum is offering additional merch for "Figures of Speech," a retrospective exhibit that celebrates the life and work of Off-White visionary Virgil Abloh.
The exclusive range consists of limited edition apparel and accessories, including vintage-feel tees, pullover hoodies with spray-effect graphics, an assortment of leather handbags, as well as Italian-made couture garments featuring checkered patterns and details about the exhibit. There's also a tabletop flip clock that symbolizes the inspiration behind the collection, as it reminds "us of the evolution occurring every moment."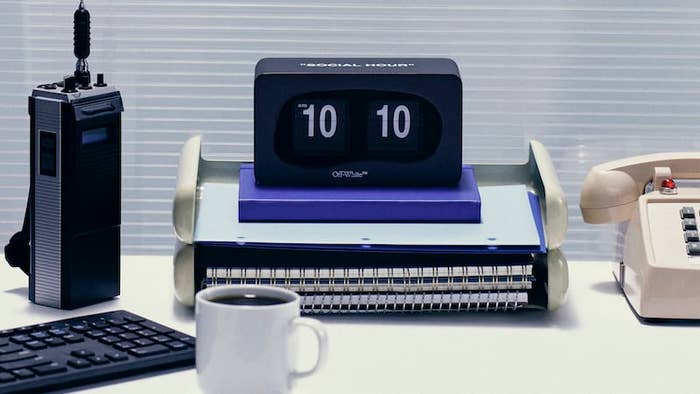 The "Figures of Speech" merch launched Thursday during a special event at the museum. The pieces will hit the Brooklyn Museum's online store and Off-White flagships on Friday.
The exhibit kicked off earlier this summer, less than a year after Abloh died at age 41. The exhibit showcases Virgil's work within fashion, art, music, and architecture.
"'Figures of Speech' traces Abloh's exploration of the communicative power of design," the exhibit's description reads. "His use of language and quotation marks turns his designs, and the people who engage with them, into literal figures of speech. The artist uses the Black gaze to dismantle the traditionally white-crafted structures at work in fashion, design, architecture, and art, reconstructing new work through the lens of the Black cultural experience."
"Figures of Speech" will continue through January 2023 at the museum's Great Hall on the first floor.