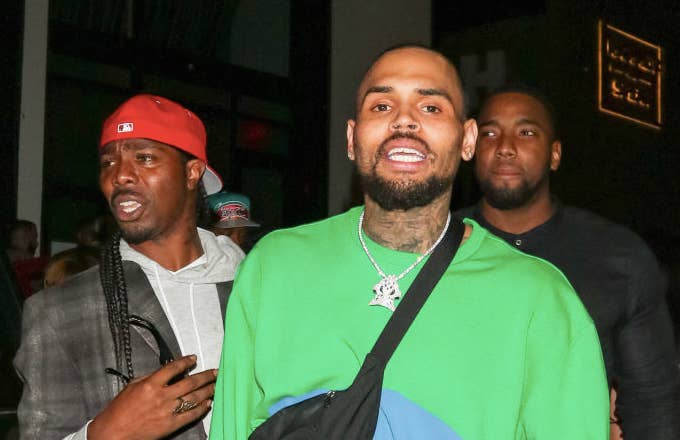 Chris Brown found himself in yet another controversy this week after he was accused of using an artist's work without proper authorization.
On Friday morning, Brown went to Instagram with a Teen Titans-inspired illustration that promoted his streetwear line Black Pyramid. The image featured the brand's logo emblazoned on one of the character's jacket as well as a diner's signage; however, it turns out the image was an edited version of a Gabriel Picolo illustration.
The Brazilian-born artist pointed this out on social media Friday, showing side-by-side comparisons of his original work next to the Black Pyramid-branded piece.
"The original artwork is from the Casual Teen Titans, my fan-made series of drawings reimagining the original Teen Titans doing teenager stuff," Picolo told Complex. "The series eventually went viral last year and got me to do some promo artwork for DC Comics."
The artist found out about the edited version after one of his fans sent him a screenshot of Brown's Instagram page via Twitter. Picolo wasn't pleased.
"I was mad as I usually get when big accounts repost my content without credit, but I was even more shocked that a 40-million-followers artist did it," he explained. "It's beyond disrespectful because Chris would probably freak out if one of his song got plagiarized."
After Picolo called out Brown out via social media, several people pointed out that the edited illustration was originally posted by jkbofficial_, one of Brown's Instagram fan pages. Picolo acknowledged this; however, he argues that Brown was far from innocent.
"As far as I'm aware, a fan account did the edit and he uploaded (without crediting the fan account btw)," Picolo said. "It doesn't take the responsibility out of Chris […] On twitter people told me that this is far from being the first time that Chris reposted other artist's work without credit."
He continued: "Knowing that he left other creators uncredited in the past, I just wished he understood that leaving an artist uncredited prevents that artist from getting deserved recognition and potential clients. I was lucky enough that people made me aware of what was happening but imagine if I was never told about it and the dude would use my drawing as promo material for his brand."
The edited illustration has since been removed from Brown's page as well as the aforementioned fan account. Picolo said he has no intentions of pursuing any legal action.
Brown responded to the plagiarism allegations on social media, writing: "No one cares about a damn instapic bruh [...] suck it."