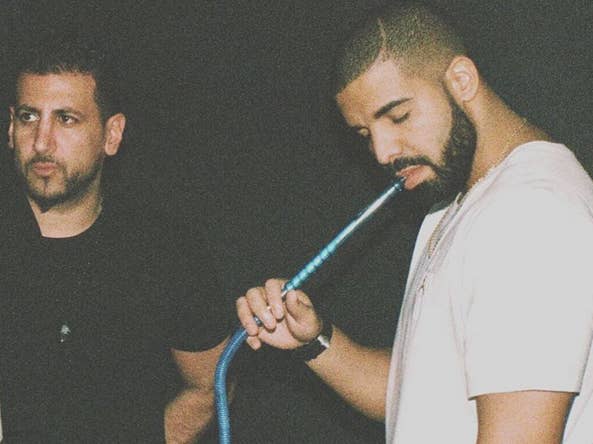 Take Care is Drake at his best. It's Drizzy at his most relatable and vulnerable. It came out at a time when "the 6 God" didn't exist yet and the Drake we get on this album is the Drake the average dude can most see himself in. The average guy who would be thrilled to dance with a beautiful woman (his just so happens to be Rihanna) and would definitely get drunk and throw a party with his best friend (in Drake's case, Lil' Wayne). This relatability can be directly tied to success in Drake's music, and the same can be said for his style.
We've said it before: Drake is not a style icon. But that's not an insult. We love Drake because he's not a style icon. We love Drake because he made "Marvin's Room" and probably did have a hard time adjusting to fame. We love Drake because the items of clothing we most closely associate with him are hoodies, sweatsuits, and T-shirts.
"Part of Drake's 'brand' is that he makes relatable music, so part of that is dressing, not necessarily in a relatable way, but in a way that is aspirational," says Complex contributor and former Vice and Noisey editor Drew Millard. "Some normal person sees a picture of Drake, and he might be wearing a $400 shirt, but it's not super gaudy, it's just a very nice, well-made shirt.  So, people look at Drake and think, 'Oh, I would wear that if I were famous.' Or, 'I want to wear these things.'"
Part of Drake's charm is that, unlike other rappers, he wears things that any average guy could wear and get away with. It doesn't hurt that this helps him stand apart from his competition. "Someone like Young Thug, who has a more flamboyant style, he wears something and it's like, 'I want you to know that this is the most expensive shirt in the world, and the only person in the world cool enough to pull this off is me,'" Millard says.
While Young Thug, A$AP Rocky, and Kanye West elevate themselves to style icon status, they also distance themselves from the general public in this way, because, let's face it, most people are not style icons. Drake's style goes the opposite way. Even on his "Worst Behaviour," Drake seems like someone who passes that hackneyed Presidential test of, "Would you get a beer with this person?" Getting a drink with Kanye might be entertaining, but realistically how many words do you think you'd get in?
These differing attitudes towards style are reflected in each other's approach to their own brands. Drake's OVO imprint offers casual styles at more than reasonable prices. Kanye puts on fashion shows at Madison Square Garden and wants to sell you a distressed sweater for more than $2,000. Kanye sells coveted fashion items at his pop-up. Drake gives out free shirts printed with the name of his album at his.
Even the brands Drake collaborates with—Canada Goose, Jordan, Roots— are brands that average guys can wear. Kanye makes $100 white T-shirts with A.P.C. Neither approach is wrong, but they are both right for each individual's brand. And part of Drake's brand isn't to be the rapper who sits front row at fashion shows (unless it's Serena William's presentation). He raps on "Club Paradise": "No wonder why I feel awkward at this fashion week shit." 
Drake's approachable take on style is endearing—and he knows it. "I think that fashion is really important to him, because fashion is essentially one of the ways he communicates with his audience," Millard says. "And you can see that by the memes that are created whenever he wears something silly or brushes his pants with a lint roller. He's doing these things with pretty full knowledge that he is being watched and scrutinized and mined for content at all times." 
In October 2015, New York Times writer Jon Caramanica wrote: "No celebrity understands the mechanisms of Internet obsession better than Drake." Drake himself has acknowledged that. In an interview with Complex, Tanisha Scott, the director behind the "Hotline Bling" video, said: "We were looking at playbacks, and [Drake] was like, 'This is totally going to be a meme."
Drake's gift to us is that he's aware of his status as both a celebrity and someone who isn't seen as a style icon on the same level as Kanye. And he leverages this to make us laugh. "Drake has a very weird relationship with a lot of his fans where they're making fun of him, but he's in on the joke," Millard says. Drake didn't wear that turtleneck and dance the way he did in the "Hotline Bling" video because he thought he was going to start a fashion trend. He wore it because he knew people were going to treat it like the second coming of his Dada moment. And, boy, did the Internet oblige.
Not everyone can or should try to push the boundaries of fashion. Someone needs to be a template for the rap fan who doesn't want to wear Rocky's kangaroo fur slippers, Kanye's kilt, or Thugger's Gucci dress. Drake is a hero to the average-dressed guy. And for that, he'll always be beloved.