 Just shy of 18, Luka Sabbat has accomplished more than most teenagers. Widely recognized by his signature curly hair and almost always with cigarette in hand (he says he started smoking when he was 12), the native New Yorker claims he broke into the modeling scene by accident at the age of 15.  
Since then, his portfolio now includes a long list of impressive names, including features for magazines like Vogue and i-D and brands like Hood By Air, Stüssy, and even his best friend Virgil Abloh's label, Off-White. In fact, it was Abloh who got him a dream gig—modeling in the much anticipated Yeezy Season 1 presentation. He quickly became noticed as the Internet's coolest teen, raking in almost 100,000 Instagram followers, all intrigued by his adventures with people like Zöe Kravitz and Ian Connor, his modern Jimi Hendrix rockstar steez, and ethereal cool guy demeanor.
With a mother who worked as a stylist for John Galliano and Dior and a father who designed clothes in Paris, Sabbat was exposed to the world of fashion at a young age. Attending Galliano runway shows when he was only 3 years old, Luka eventually went on to spend most of his teen years in the 3rd district of Paris consumed by skate culture and clothing.
It wasn't until two short years ago that the young stylist and creative director found himself traveling between London, Paris, and New York to work for some of today's most acclaimed designers. Modeling aside, you can catch him roaming the streets of SoHo with his posse of super-stylish, Internet-famous kids, or out in L.A. with the Jenner sisters and Jaden Smith.
We met at his favorite spot, Jack's Wife Freda, where he precedes our interview by praising Young Thug's Dazed cover—released just hours before—on which the gender and genre-bending hip-hop artist was photographed wearing a dress.
"It's fire!" Sabbat exclaims. "This is so important."
We followed him through the streets of NYC and discussed Japanese fashion, being young today, and what it's like to work with Kanye West.
Where'd you grow up?
I was born in the Lower East Side and then I moved to Paris when I was 3. I went to London a lot because I had a bunch of family there, and I would come to New York for every vacation.
How do you compare how people dress in New York City to the style in Paris?
It's weird. Dudes here are a bit more creative. The thing with French style is that everybody dresses the same—like blue denim, Stan Smiths and like, a white or graphic tee. Might fuck around and wear some Supreme or something like that, because to them Supreme is so rare out there. They still think it's a "New York" thing even though it's in London and Japan. It is what it is.
New York style to me is cooler just because there are so much more different styles. Some French style is really good and some is really basic, but I guess it's the same here. But I still appreciate New York style more than I appreciate Paris style.
Where do you prefer living?
New York. Paris is cool, but New York is my favorite city in the world. I have love for Paris but I don't love Paris—there's a difference. The nightlife in Paris…you can go out every night and it will feel the same. Contrary to here, you can go out every night, but every night is different, every club is so different. Over there it's just mad house music and a few hip-hop clubs, but it's all really the same shit.
How did you get into modeling?
It was an accident. I was getting videogames with my dad and we just came from this audition. All of a sudden Noel, the owner of Re:Quest Model Management, comes up to us like: "Oh my God, you should sign to us, blah blah blah" and  I was all like: "I don't know, I don't want to be a model." She kind of finessed me into being one, and I was like, "Well, shit." That was all an accident.
What was the appeal for you?
She started talking numbers—and traveling too. I was like: "Sounds fire."
"Being a kid, there are only two ways you can go: You're either an influencer or you're influenced. You're either a leader or a follower."
You got to model in the Yeezy Season 1 Presentation, how'd that gig come about?
Virgil [Abloh] touched down and he hit me up because they didn't even have male models yet. It was on a Monday and they literally didn't have any male models, there were only three girls. Virgil calls me, he doesn't tell me he's with 'Ye, and he just tells me to come to the studio. I thought I'd go say hi, not expecting to start working. I just thought I was going to go hang out with Virgil. So I walk in, and there's mad security. Virgil comes to vouch for me and I walk in and Kanye is just like: "What's up?"
I was not expecting it. I was starstruck at first. Virgil introduces me as a creative and not just a random kid or model which is a good look for me. He was like: "This is Luka, the next up, creative young guy. And Kanye's like: "Nice to meet you. I'm Kanye." And I'm like: "No shit."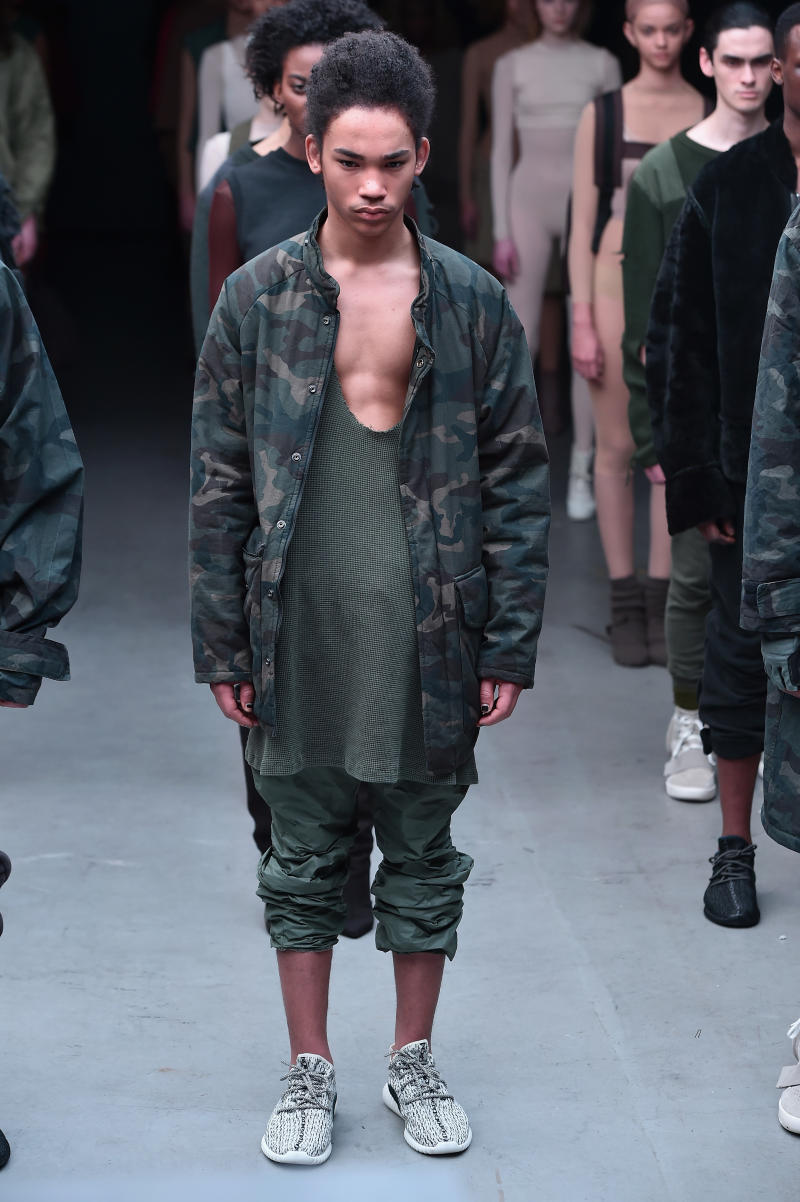 What was the process like leading up to the show?
Jerry Lorenzo started coming through and he was styling me a bunch. I tried on every single article of clothing. I did probably over 200 fits, I tried on everything. And that went on for three days. They would call me in at 3 in the afternoon and I was there until 3 a.m. I would go home, wake up then do it again.
As they got more male models and shit, more people started coming through. It started getting crazy—three days in a row working until 3 a.m. I was pretty cool with Kanye by then. I saw him everyday, I was the first model there. Then there was the casting, that was a hectic day, because they were fitting while they were casting. I remember Fetty Wap came through because he was supposed to be in the show, so Kanye fit him in clothes. And I was like: What?!
Kanye also debuted a new song at his presentation, did you get a sneak peek?
They were playing "Wolves" during rehearsal.  That's such a good song, I had been hearing it for two days since we were at the studio. I was addicted to that song and the hardest part was when we were standing there and the song drops and I have to stand there and listen to it with no emotion. That was so hard.
Then it got to the show, and like 50 kids were rehearsing. About an hour before the show starts Kanye was like: "Scratch that— we're going to start from square one, so retake your positions." He told us: "Stand when we hear that trumpet, do three steps left, three steps right until you get to the front—and don't make eye contact with anybody." It was crazy because it was so last minute. We changed our position 10 minutes before the doors opened, and we just had to stand still.
What do you think of Kanye as a designer?
Kanye's good at what he's doing and he's surrounded by some really creative people. He incorporates his own style with sportswear and design. The thing is—what you saw at the show, there's way more than that. I already saw season two. There's so much more clothes. There's way more shoes, by the way, than the two that dropped. And there's not much adidas branding on most of it, it's just a Kanye brand which I think is dope.
You mentioned Virgil Abloh, who you've worked with on his OFF-WHITE line, what's your relationship like?
Every time he's in New York I see him. Virgil is one of my best friends. The other day he was supposed to be in the studio doing press shit all day, but he took time out to come get lunch with me. He's always putting me on—he gets me jobs, he gets me work aside from my agency. He helps me out and does shit. He puts me on to art—he made me read the Yeezus set design book. I went through it, all the options, the process behind it was amazing. He put me on to so much.
What about your friendship with the SoHo crew of kids like Asspizza and Mike the Ruler, how'd you all meet?
[Mike] is one of my best friends. When it comes to fashion he knows everything; you literally cannot school him. He knows what year anything ever was made. He can spot something fake from a mile away. He went through his high-end phase when he was obsessed with Helmut Lang, Rick Owens, Margiela and shit. He went through his Supreme phase when all he wore was Supreme and Fucking Awesome. He went through so many phases and steps and now he knows so much, he has such a wide spectrum.
He knows everything about streetwear, everything about fashion, everything about the artistic point of view, the music background—he's like a living encyclopedia. He knows how that all plays into one thing. I met him hanging around SoHo and going to VFiles and stuff like that. Asspizza I spotted a few years ago on Instagram, he had like 32 followers. And I just was like " I love you." Then I put him up on Twitter and Ian [Connor] really liked him. He became one of my best friends.
Would you say that the fashion industry has begun to imitate the style that you and your friends developed—merging streetwear with high-end designers?
That's because of the youth! Us "youngsters," I hate using the word "youth"—we decide what's cool because we're the next generation. We make and break the trends. I think we do inspire fashion a lot. I've had some really big designers give me attention and be like "your style is cool…that's inspiration."
Some designers do really show that they look at us and our generation as inspiration for their collection. I mean Raf [Simons] just called his last collection "very gang." That wasn't just off him thinking "very gang!" Right now the popping word in young culture is "gang," so you can tell he was very inspired off us young niggas. So yes, we do play a part in high fashion, but it's very unique.
Do you think that sort of cultural influence people your age have is here to stay?
I'm going to be outdated one day. I'm going to be old, but then there's going to be another "youth." My generation is going to be popping until we can't be popping anymore. Of course I'm always going to get topped by someone younger and better—you're never really the best. Instead of me being the influencer, I'll be the one making it or behind the scenes. But young people will always be able to run shit—but not corporate shit, that's all for old niggas. Influence-wise and style-wise, young niggas will always be the ones running it.
Have you ever seen the film Kids?
Of course.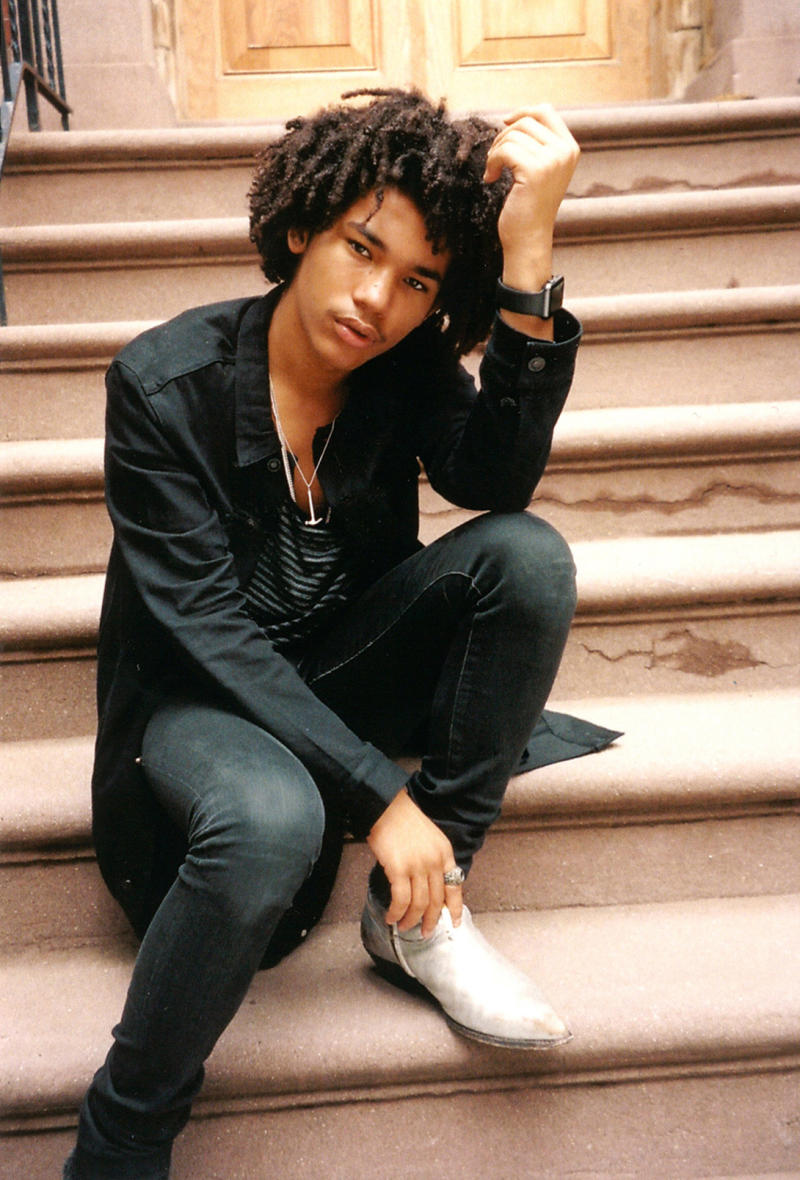 What's it like being a young New Yorker today? Do you think that film still represents that?
Yes and no. It's on a way bigger scale now because of the Internet. Kids is such a cultural movie but from a skate culture point of view. Fashion is fashion; skate is skate. Skating culture gets into fashion, like how Palace is doing shit but they're staying true to their own thing. They're always going to be a skate brand, but they dip into fashion by doing shit for adidas.
What it's like being a kid today? I don't know. It's very stressful but it also could be very easy because social media is in our hands. I've linked up to so many people through social media, and I've met so many important people through social media. But it can be stressful because you have way more eyes looking at you at such a younger age. Now I have a reputation to keep up and I have to be careful about what I say and what I post because there's mad people out there. It can be exhausting because I just want to live a normal teen life because I'm still 17 and I'm already doing so much shit. I work more than I hang out—and that's some old nigga shit!
Being a kid there's only two ways you can go: You're either an influencer or you're influenced. You're either a leader or a follower. I feel like so many kids in this era copy-and-paste what we do. I mean it's cool and I like to inspire kids, but be your own person. So much of these kids see something and don't know how to make it their own. Everyone's obsessed with being other people all the time and that's a tragedy! Because when they grow up—what the fuck are they going to be? Someone else? Are they going to be living vicariously through someone else? Do your own shit.
People often compare you with Jaden Smith, or say you guys look alike. Do you agree?
Nah! Did you see my Instagram post? That was the first time I decided to take a picture to tell these niggas that we don't look alike. We don't look alike! We have different hairstyles, eyebrows, nose, mouth everything.
How do you  know each other?
Jaden Smith is my homie; he's also my neighbor. We live across the street from each other. We have mad mutual friends. I actually met Willow before I met Jaden. I met Willow just walking down the street. Apparently she followed me on Instagram and she was like "Hey Luka," and I turned around like: "Oh shit, that's Willow Smith!" And we ended up getting dinner that night and hanging out. [Jaden] is cool, I actually met him at a Justine Skye listening party at Up and Down, and that night we went to go see a movie.
"I hate using the word 'youth'—we decide what's cool because we're the next generation. We make and break the trends."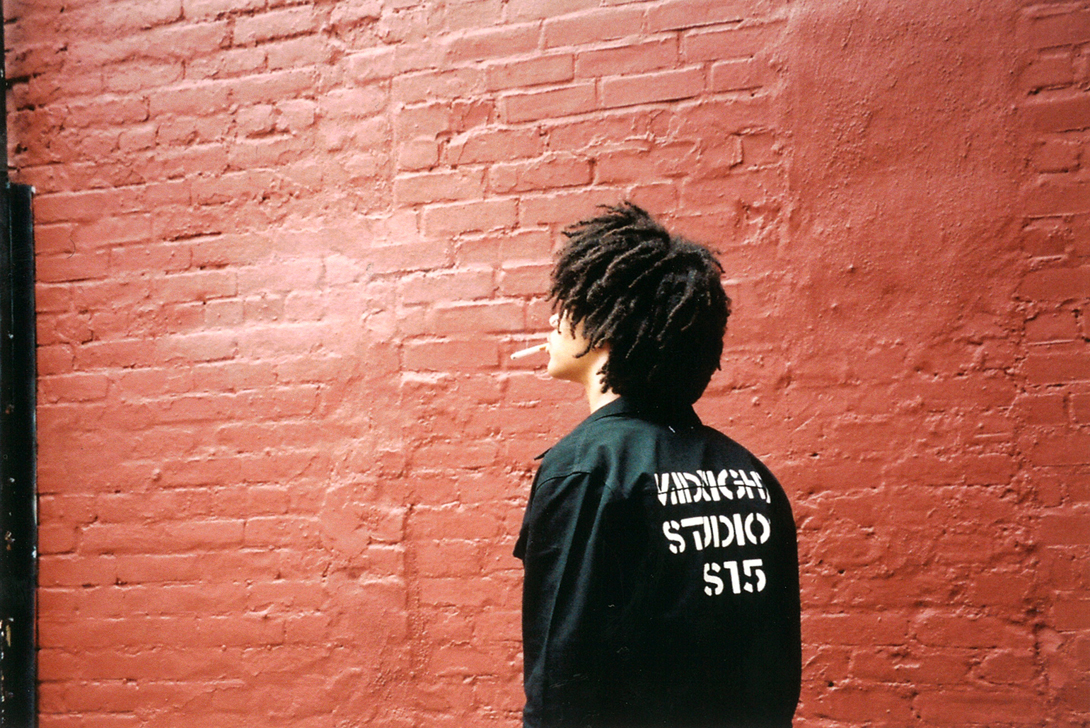 What do you think about race and the fashion industry? Do you think there's a lack of diversity?
I think there is. I can't get too political. All I'm going to say is there is a lack and it's unfortunate. But I do see a lot of designers try to add more diversity. The thing is, black people are so important in fashion. Some collections are inspired by African culture and things like that, and you can see it.
Are you still working on releasing a clothing line?
I was going to do it, then I pushed it back because I'm going to college in London for fashion and I don't want to release anything until I'm ready. I have great ideas and I can make great things, but if I can't construct a garment myself then I don't want to make anything. I want it to be high-end. Kids start brands just to start brands now, and I don't want to be that guy. So I want to know more about fashion and go to school for that shit before I release a clothing line.
It was cool how you had a creative hand in that Jimi Hendrix-inspired shoot for Vogue.
I got to pick my own clothes and shit. I went out of my way to go find pieces I'd like. Vogue DM'd me on Instagram and they were like: "We're doing a Jimi Hendrix tribute and we also want to do a story about you." And they said I can go pull from showrooms and get my own shit. I also did another Jimi Hendrix thing for the i-D magazine 35th anniversary video—I feel like I keep being Jimi.
Who are some of your biggest style influences?
I have a lot! From movies to people to objects. I fuck with GG Allin, Morrissey, even my own friends like Mike the Ruler—he's one of the stylish young niggas I know. Movies like Natural Born Killers, Ian [Connor] put me on to that. Hanging out with Virgil, being with 'Ye for a week straight he taught me a lot too. I hated fashion for the longest time, but then I got into it two years ago. It just runs in my blood. My mom was a stylist for Galliano and Dior and my dad was a designer, too. He worked in Paris with Galliano and shit.
Who do you think some of the best designers out right now?
My favorite designers are Japanese, which is also a lot of my inspiration. Rei Kawakubo, Issey Miyake, Junya Watanabe. I don't wear a lot of [their clothes], but I appreciate [them] so much. Hedi Slimane, just because he's all about that rock star shit.
Who else do you think is killing it?
Virgil is one of my favorites, also one of my biggest inspirations ever is Malcolm McLaren and Vivienne Westwood. But to me, Japanese niggas run this shit. I know how SoHo started, I mean Rei Kawakubo is always one step ahead and when everybody in fashion was in Midtown, Rei Kawakubo didn't want to be in the midst of that. So SoHo used to be a lot of junkies and artists and not a cool area.
Then Rei Kawakubo just opened a store in SoHo out of nowhere. After that, Issey Miyake came through, then Junya [Watanabe], then Yohji [Yamamoto], and then all the fashion houses started moving to SoHo because of Rei Kawakubo's influence, so that's why she's my favorite. She moves the mountain, she doesn't climb it and that to me is pretty amazing. And Comme des Garçons isn't even in SoHo anymore—she left!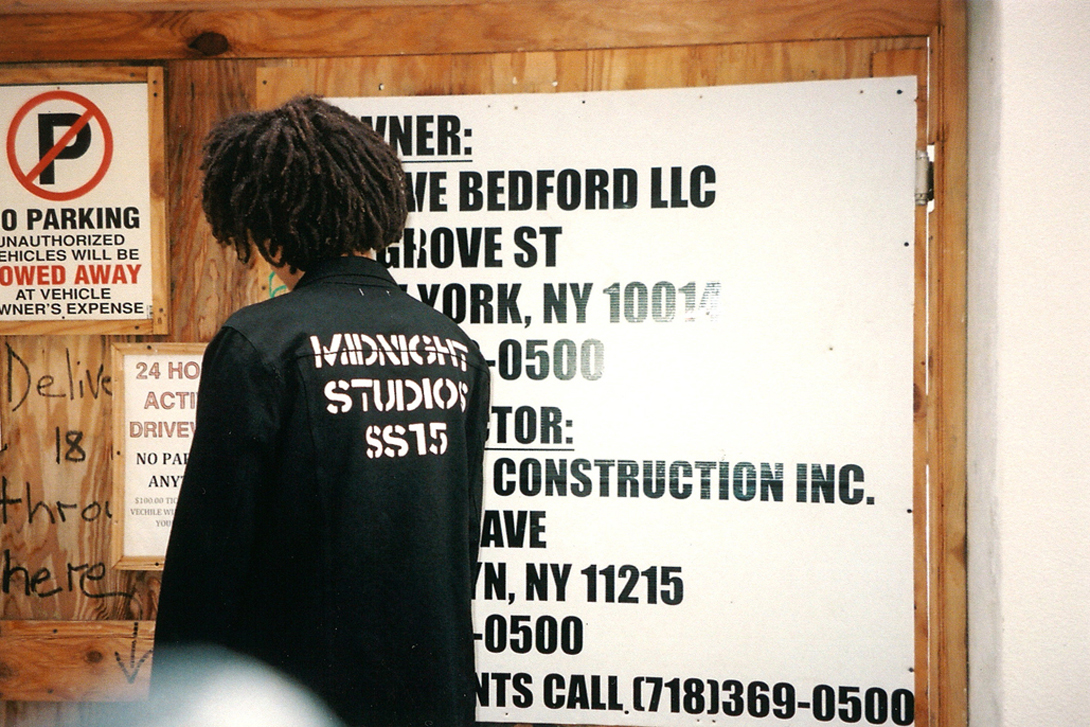 How has your style changed since you got into modeling?
I used to only wear Supreme and Hundreds—I used to be a hypebeast. Then I would just wear Rick [Owens], Margiela, and then with time I started reading books and hanging around people and seeing all these different things. Traveling helped me out so much—it opened my eyes to how other people dress and shit. Now I don't believe as much in gender roles, I'm pretty androgynous in a way. Now I just dress for myself.
What are some of your favorite things to wear?
Saint Laurent boots! I wear the same boots every day. Also Saint Laurent pants and Off-White tees.
Models like Cara Delevingne have graduated from fashion to other fields. You just graduated high school yourself. What's next?
Cara if you're reading this—the glo-up is real! I see you in Suicide Squad, that's fire.
My favorite photographer Noah Dillon and I just did this shoot in LA. I creative directed and styled it. I also work a lot with some magazines low-key but I work with C.L., this Korean pop star, I've been casting for videos, and styling extras. I do all types of shit; I try to do more than modeling. The next step is just to keep doing that and get known more as a creative.