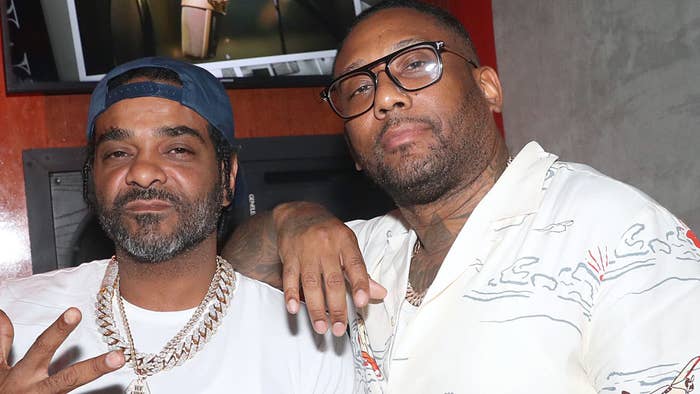 Maino and Jim Jones are keeping the playful banter going. 
The longtime friends and collaborators can be seen in a new clip posted by Maino as he grills Jones in the gym for wearing what Maino calls "party" attire during a workout. As Capo approaches a stair-stepper machine, the banter hits full force. 
"Can y'all please let @jimjonescapo know that this is NOT approved Gym attire," Maino captioned the video. "He ain't come to work out he came to party."
During the clip, the pair butt heads as Maino insists his friend isn't wearing "approved gym attire," telling him that he thought it "was the after party."
Jim holds his own, telling Maino he wore the fit—which includes a fleece and matching patterned pants—the night before and isn't afraid to take it to the gym with him. Maino ends the video by admitting he "can't" work out with his friend as he wears his post-party jumpsuit.
"Just don't confuse the drip don't disrespect," Jones wrote in the comment section. 
This isn't the first time an outfit choice led to some friendly banter at the gym involving Jim and Maino. Earlier this month, they roasted Fabolous—who may not be joining them in the gym again anytime soon—for his own workout fit, which included a light-blue sweatsuit. As the rapper left his car, the two friends teased him on the way to the gym, calling him "baby blue" and saying they were "sick of your shit."
"Bro, nah, don't take the coat off now," Jim told Fab as he arrived in a mismatched coat. "Yo, look how he come out! We in the gym, bro! Yo bro, why we coming to work out?"
It seems the tables have turned on Jones—who just dropped his We Set the Trends project with DJ Drama—and he may want to hit the gym with Fabolous once more to steer attention away from his own fashion decisions.