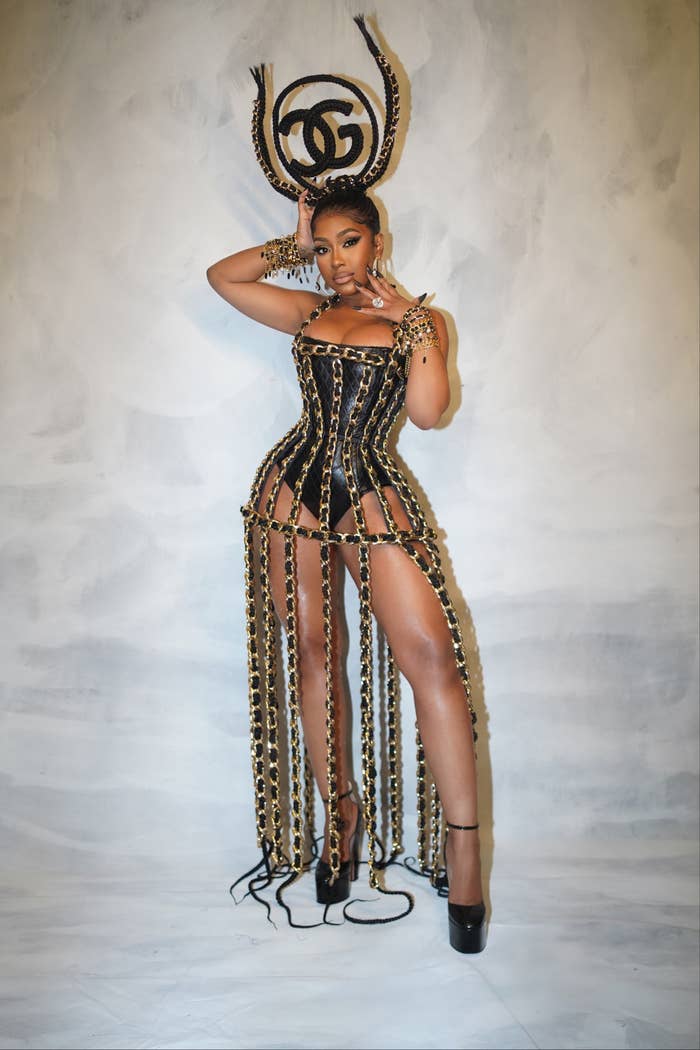 Duran Lantink's Met Gala design for Yung Miami (aka Caresha) didn't make the red carpet, but it should have. 
Lantink received a call from Yung Miami's stylist Marni Senofonte two weeks before the event requesting concepts that paid homage to Karl Lagerfeld, the late designer who formerly led brands like Chloe, Fendi, and Chanel. He's the subject of the Costume Institute's spring 2023 exhibition: "A Line of Beauty."
Lantink, who has created designs for artists like Beyoncé, came up with about nine concepts, including a birdcage made of pearls, but the corset dress constructed with gold chains, which were intertwined with fake hair to mimic the handles on Chanel's quilted bags, was Yung Miami's favorite.
He also created a head piece made out of fake hair that remixed Chanel's double C logo with "CG," which stands for City Girls. His design was one of the few looks from the evening that played with a Lagerfeld signature: logos. 
"Once Karl Lagerfeld presented the double F Fendi logo on top of a hat. So I started thinking about playing around with the double C Chanel logo," says Lantink. "It was a tribute to Karl, who brought logos to Chanel. Coco Chanel wasn't really about logos, so I thought it would be fun to play with a logo."
The Dutch designer, who is based in Amsterdam, is known for using old luxury clothes to make something new and he took a similar approach with Yung Miami's dress, which was constructed with about 55 handbags purchased across eight different cities in Holland. Here, Lantink speaks about the process of designing the dress, the impact it had on his brand, and his thoughts on the other Met Gala looks.
How did it come together? 
Marni reached out maybe two weeks before the event. We talked about her inspirations and pearls and Diddy's look. And the idea of turning Yung Miami into a Chanel bag came up. From there I started finding inspirations and sort of playing with different types of forms. I made about six to nine design proposals and the one they chose was the golden chains. 
Originally it had a pretty big white skirt underneath it, but then Marni was like, maybe we could have the chains go to the ground. And I thought that would be really great. Chanel is known for the leather fabric going through the handbag chains and I thought of the idea of creating braids that sort of go through the chains and then hit the ground.
Was that your favorite design out of everything you proposed?
Yea. I had two favorites. There was one that was inspired by the Chanel birdcage bag but it was made with pearls that went over the head. That concept and the gold chain design were my two favorites. But it was very last minute and we are in Amsterdam. It's very hard to find materials here. So we had to research like crazy people. Everybody in my studio was researching how we could get chains. We ended up going to different retailer shops here and buying like 55 bags and unscrewing all the chains on the bags and putting them together to make a dress. It was a lot but it was fun. 
These weren't Chanel bags, correct?
Right. I don't remember the name of the brand, but we had to go to different shops across eight different cities in Holland.
Can you talk more about the construction? 
We shaped it with wire and boning, and then we wanted to make the corset go away from the body so she could have space to move and it also followed the birdcage reference. And Marni had a tailor in New York make the body suit or corset.
Your work does a lot with shape and volume and it's great you were able to integrate that. 
Yes. I was very happy that they were open for me to do kind of shape-y 
Can we talk about the headpiece?
Once Karl Lagerfeld presented the double F Fendi logo on top of a hat. So I started thinking about playing around with the double C Chanel logo. It was a tribute to Karl, who brought logos to Chanel. Coco Chanel wasn't really about logos, so I thought it would be fun to play with a logo. And then Marni and I were discussing and we thought maybe it should be CG after the City Girls. 
I'm not a hairdresser or a hair artist. I've never done something like that, so I started looking up references to make sure the shape was right. I found this really beautiful photo of a woman wearing braids circling into a round shape. And I used that to come up with the round shape for my sketch to make the Chanel logo. Also at the Met Gala, you always see these really big dresses and ball gowns with trains and I thought it might be nice to sort of work with something that goes into the air up above her head. I thought that was a more modern take. 
You flew to New York to fit her into the dress. What was her reaction?
She was so sweet. And she seemed to enjoy it. I know Marni really wanted that dress to be the red carpet look. 
What did you think of the other looks from that night and how they honored Karl?
I don't want to disrespect any of the other designers because I think they're all trying their best, but for me, sometimes it's a bit too fairytale. And it seems like they just wanna have a super gorgeous dress and they don't really care about the concept. And I think for me, as a conceptual designer, it's very important to really do something with the concept and try to bring it to the next level. I really liked Anne Hathaway's dress. It was very Gianni Versace but it was also Chanel. It was kind of a blurry mix between those two and I thought it was really smart. I saw really gorgeous dresses, but you're like, what does this have to do with Karl?
What's happened since she wore the dress? Has anything changed? 
Celebrity stylists are reaching out now. For me it's also really important for professionals to see my work in real life. I don't really care too much about following. I care about followings as long as the people who are following are actually helping me get to the next stage. But I received a few emails from people asking me if I could do custom designs or if they can pull from my collection. I'm not really interested in loaning out pieces from my runway shows because they are one of a kind, but I do love to make costumes. 
What do you think is Karl's legacy?
He did the opposite of what I do. I mainly cut up old clothes and make new stuff out of it. And Karl's slogan was "don't look back, always look forward." He was only interested in new things, not old things. I do respect that in a way. I think Karl Lagerfeld was also very, very important in sort of a pop world and bringing Chanel this new life of logos and sort of freshness. That's what he brought to the table at Chanel.