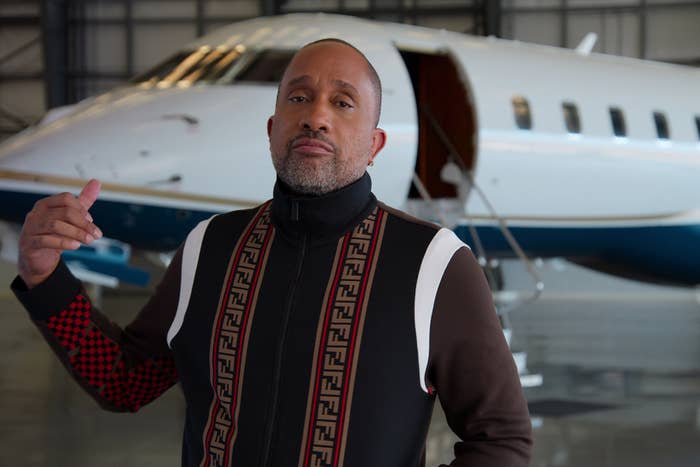 The most significant character on Netflix's new series #blackAF is probably Kenya Barris' wardrobe.
On Black-ish, the other show Barris created about his family, Dre, played by Anthony Anderson, is a hip, sneakerhead dad based on Barris in real life. But on #blackAF, the wardrobe is amped up. Barris, who plays himself, wears things like Gucci and Fendi tracksuits that go for around $4,000, Fear of God Essentials and Cactus Plant Flea Market sweatshirts, gold rope chains, diamond necklaces, the Nike x Sacai LD Waffles, and the Tom Sachs Marsyard Nike Overshoes. 
"It's a drip-fest," says Barris over the phone. "We went for it in a very, very real way. It's insane. We wanted every moment to be a fit. We wanted very few general releases. We wanted things to be limited."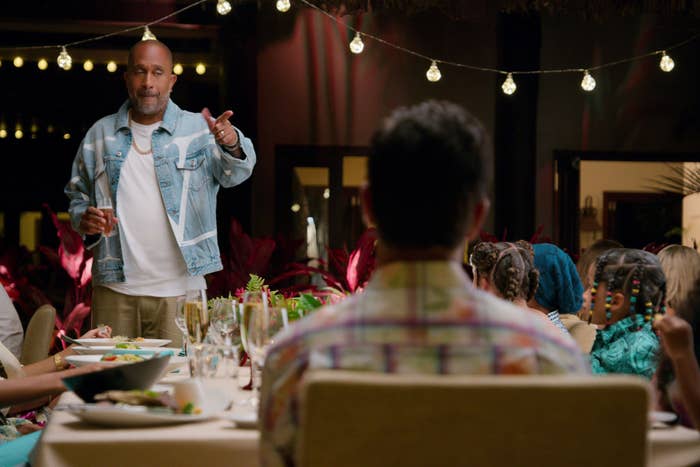 Michelle Cole, the #blackAF costume designer whose worked on Black-ish, In Living Color, Martin, and The Bernie Mac Show, says she and Barris had an almost three hour conversation about styling the cast before production started. Barris says he wanted to make his outfits a character, similar to Carrie Bradshaw's outfits from Sex and the City. But both noted that this is how Barris dresses in real life—Cole says she's never seen him wear the same thing twice.
"A friend of mine just saw Kenya at a writers' party or something like a month ago, and she said, 'Michelle, Oh, my God. He had this chain on. I have never seen anything like it,'" Cole recalls. "And I was going, 'Yeah, that's the chain that says I've made it.'"

Cole added that because they were working with Netflix as opposed to network television, she was able to use more logos freely. "We would have never been able to use Balenciaga going across the chest on ABC," says Cole. She pulled from specialty stores, but many of the pieces came from Barris' closet or calling in favors from friends.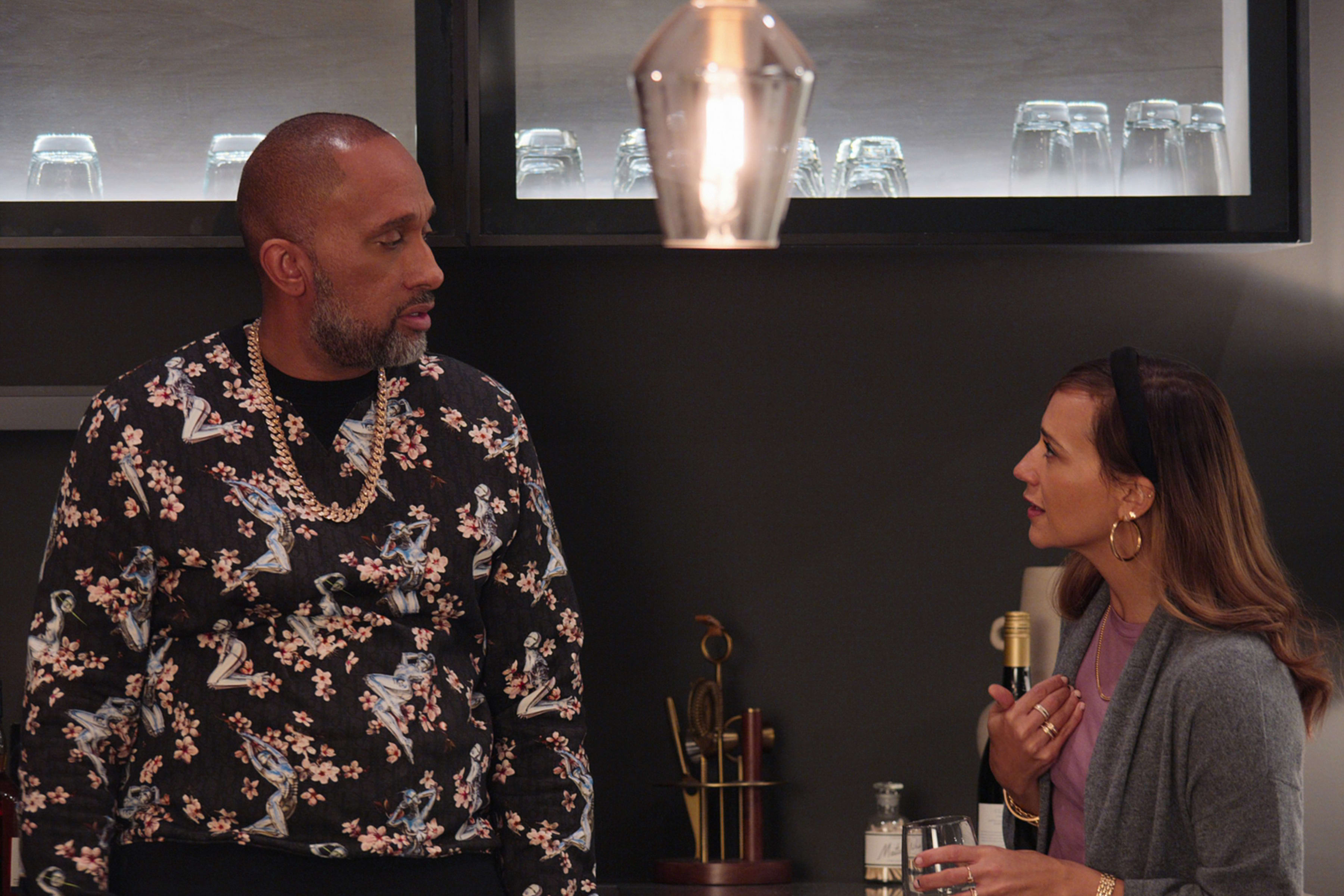 "Jerry [Lorenzo] is my boy. We came up together. Virgil [Abloh] is my people. I feel like in some aspects wearing these clothes is a shout out to my peers. From Cactus Plant to Virgil to Jerry to Jon Buscemi to Heron Preston, too. It's the people who I know and love and the stuff  I want to wear and that this character would actually wear." 
The show tells the story of what it's like to become rich while being black. In 2018 Barris signed a $100 million Netflix deal. In the first episode, titled "because of slavery," you understand how wardrobe has played a big part in that journey for Barris, and black people in general. In the episode Barris posits that because of slavery, "peacocking" or wearing your "Sunday's Best" is within black people's DNA. Outward presentation is a way to telegraph value when you don't have much—or in Barris' case, when you want people to know you do.
This peacocking is something Barris leans into within the show, but also questions because of what he calls the "white gaze." Barris believes that's judgement from rich, low key white people like Steve Levitan, the popular TV writer who appears in the first episode. They run into each other outside of the Four Seasons in Beverly Hills. The valet brings Levitan, who is wearing a nondescript outfit, his Prius. Barris is driving a bright orange sports car and wearing a Gucci monogram track jacket with multicolored chevron stripes, a gold rope chain, and the pink, green, and yellow Sacais.  
"I started off working in the music industry and then I worked for City Council and I used to wear suits from Men's Wearhouse and JoS A Bank. My goal in life was to never have to wear a suit to work. Being comfortable at work was a big part of me feeling like I had some form of success," says Barris, who added that the look he's going for is celebrated dope boy. "At the same time, there's a version of you that feels silly. I'm in a fucking parent-teacher conference with a diamond necklace on. I feel like an asshole. But I had to sort of lean in at certain times. I just think this is kind of who I am. So it's really kind of playing into the duality of that. The whole show's about that. You want to be the most authentic as fuck version of yourself."
Barris is clearly invested in clothes and buying them. In the first episode he makes the distinction between shopping on Bergdorf Goodman, Mr Porter, Matches, and if necessary, Farfetch, which he called the dark web. Barris says in real life sometimes he's gifted things, sometimes he asks for them, and a lot of the times he is actually shopping those sites he mentioned and making sure they are organized by price from high to low.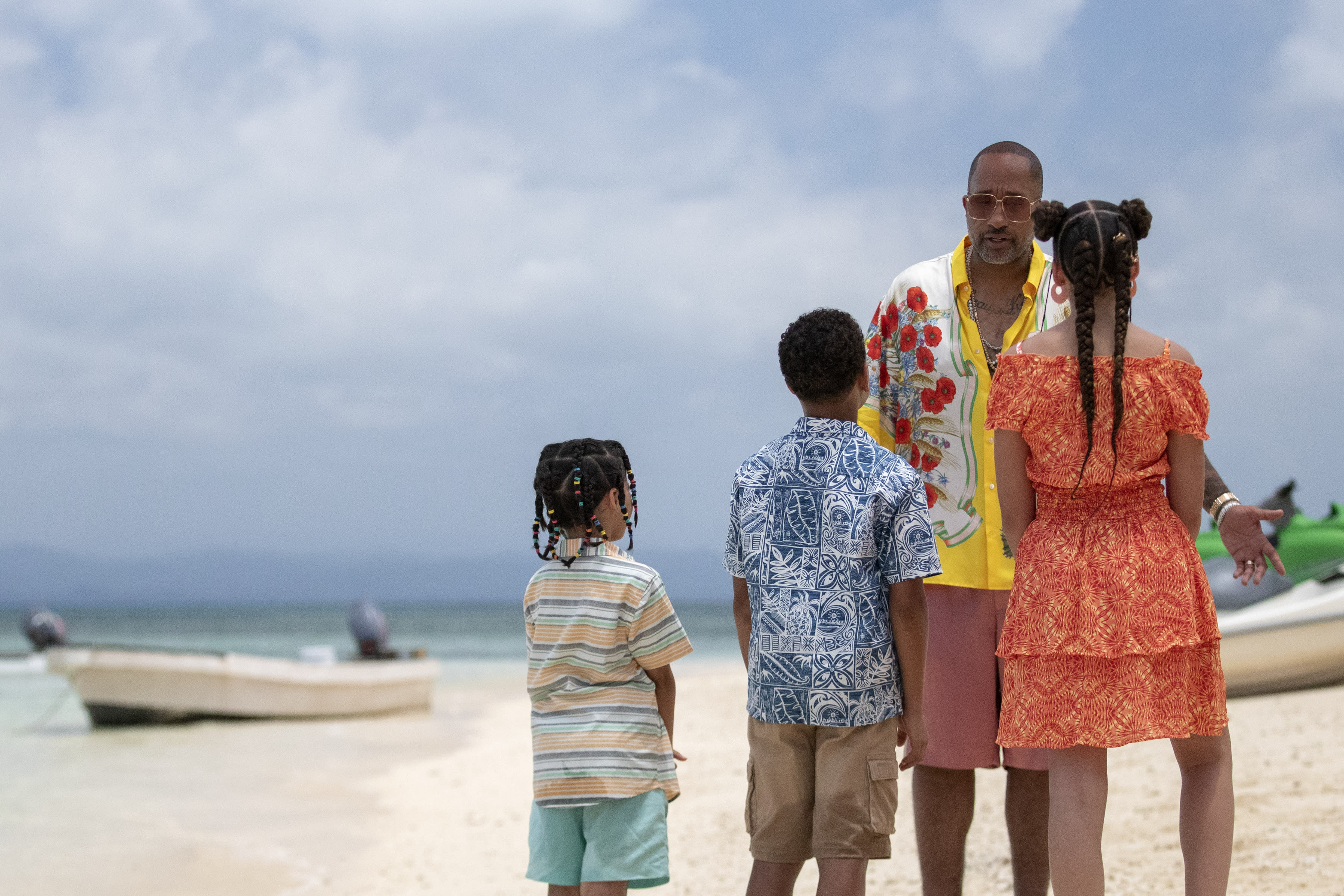 "I'm into the culture. This is our generation's baseball cards," says Barris. "But I miss the days of being in eBay battles with Japanese Shoe Buyer 334 and actually winning."
The show is also reflective of how streetwear has morphed into luxury. Cole says if she was dressing Barris 10 years ago, she'd probably put him in a lot of Nike and Adidas sportswear. She remembers dressing Bernie Mac and Cedric the Entertainer in linen suits. For Martin Lawrence, she says she spent a lot of time in Fox Hills Mall outside of LAX Airport, which is now called Westfield Culver City, or the Swap Meet. 
Having more black people in positions of power behind the scenes has also affected what characters wear on screen. Barris recalls how many messages he received when the youngest daughter, Diane Johnson, played by Marsai Martin, wore a headwrap to bed on Black-ish. 
"She wrapped her hair to go to sleep. And it was nothing. We had an all black hair and makeup department. I have all black kids. So it felt right to me when I saw it. I didn't question it," says Barris. "But the amount of press we got about that was like something I can't explain to you. And it was sad to me that people were like, 'I've never seen that.' That was beautiful to me." 
But if #blackAF comes back for a second season, don't expect any durags on screen.
"They've been overly done. It's become a crutch. Yeah, waves particularly are coming back, but it feels like a thing that people would do to sort of say, 'We're cool. We're hip. Look at our character wear a durag,'" says Barris. "And so I feel like there's a very fine line that I try to walk in not making it stereotypical to a pejorative."