Let's be real here, office dress codes suck. Just the thought of wearing a button up shirt with dark slacks, day-in and day-out, is enough to make anyone want to run for the hills.
What does business-casual mean anyway? While some may view this ambiguous demand as a curse, others seize the opportunity to dress up denim and balance comfort with class. No matter the look, Levi's has a style to match.
The Levi's 502 Regular Taper is the perfect fit for the office. This easy-to-wear style offers a revamped take on a straight cut jean. It does this by providing ample room for your thighs and a slight taper from knee to ankle. Like most jeans, the 502's are made with cotton, but what makes this particular pair so interesting is the stretch they afford. This secret weapon means they will look like jeans while offering the comfort of sweatpants, (because who doesn't dream about wearing sweat pants to the office).
But aren't jeans too casual for work? ... That depends on how you style them.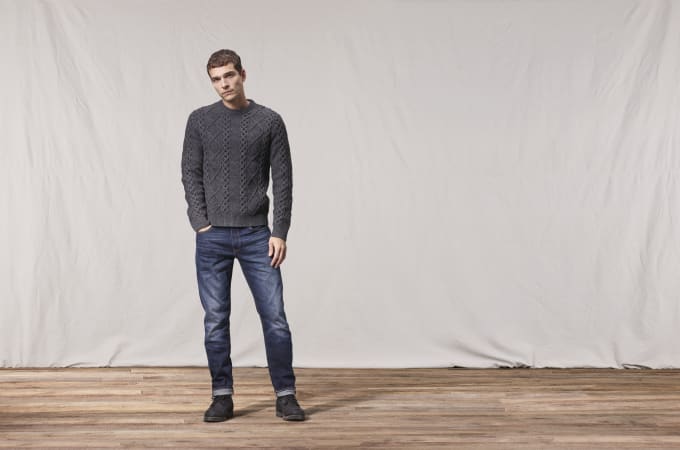 For a super-trendy summer look, pair the blue Geep Adapt wash, (which takes a classic blue jean and adds a gentle fade on the knee), with a simple, white oxford shirt under a blazer (navy, grey, and charcoal work best, but virtually any colour will do). As for shoes, a tan pair of monk straps will tie the business-casual look together, combining comfort with professional polish.
In the colder months, try the 502's Chain Rinse wash, which pairs a dark wash with a contrasting stitch. A light blue dress shirt under a navy cable-knit sweater will complete a stylish yet cozy look, especially when combined with chocolate brown chelsea boots.
The 502's are not only work-appropriate, they can also be dressed down for a super casual look. Try coupling the light blue Swaggu Warp wash with a plain white tee and a pair of white tennis sneakers.