Small business is synonymous with innovation, just as the entrepreneurial spirit is essential to the North American ethos. Levi Strauss and Nevada tailor Jacob Davis exemplified this spirit back in 1873, when on May 20th, they obtained a patent to put rivets on denim workpants, thus inventing the world's first blue jean. From a small business selling revolutionary attire, Levi's has grown to become the most well-known denim brand in the world.
Whether it be something you wear to work or out with friends, you're guaranteed style and comfort when wearing Levi's. With nearly 150 years of experience, Levi's continues to reinvent denim, and create fits for everyone to enjoy.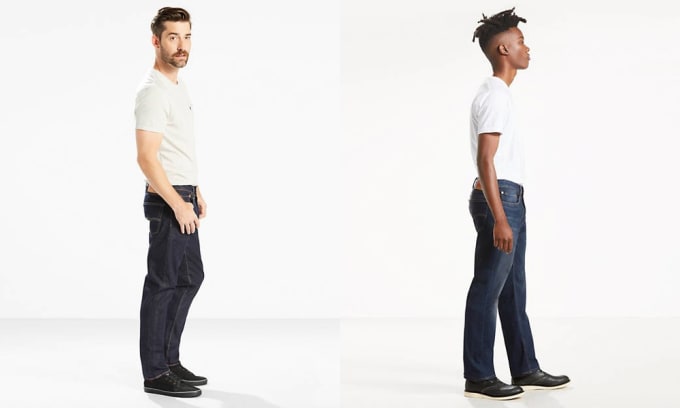 Take the 502 Regular Taper, for example, it offers a classic-yet-modern fit. The pant features a roomy thigh for comfort, yet tapers down from the knee for a cool appearance and contemporary silhouette.
Maybe the 'slim fit' isn't right for you. If so, try the 541 Athletic Taper, which offers an even roomier thigh and only a slight taper from knee to ankle. This fit allows athletically built men to look and feel stylish, without compromising comfort.
It must also be noted that both styles contain a subtle amount of stretch in their fabric, just enough to ensure overall comfort. Both styles also share similar versatility. Meaning, they can be worn both in and outside of the office.
Whether it's at the office or an after hours event, try slipping on a light denim shirt with a darker jean (Chain Rinse for 502's and Night Shine for 541's). For footwear, try pairing a chocolate brown desert boot to give a semi-casual, but on-trend look.
For an even more relaxed look, try pairing either fit with a graphic tee and a pair of sneakers. The luxury of such casual attire is that any wash of denim works well. In brisker climates, try sporting a hoodie to keep it super casual, or throwing on a cardigan to elevate the look.
Bring on fall!