Union's Chris Gibbs and John Elliott have developed a close relationship over the years. Elliott has been a longtime customer at Union's L.A. store. Now, his eponymous label is one of the biggest brands stocked at Union.
This weekend, at the second annual ComplexCon in Long Beach, California, Gibbs and Elliott are t releasing their first collaborative project, a four-piece capsule featuring the artwork of tattoo artist Dr. Woo.
"It is probably my favorite collaboration I have ever done," says Elliott. "It comes full circle for me going from exploring to working with [Union] who I really looked up to. It's a big deal."
The capsule consists of a T-shirt, a hoodie made with heavyweight French terry custom-knit, and selvedge denim jacket and pants. Each one will feature artwork by Dr. Woo, such as peacocks on hoodies, a giant snake wrapping around a rose on the back of the denim jacket, and small spiders coming off of distressed areas and pockets. "The pieces are something that is not represented in our collection, and it all goes back to the original vision that Chris sent over," says Elliott.
"We tried to narrow it down to what we know John Elliott does really well, but try to differentiate it and add our two cents in," adds Gibbs.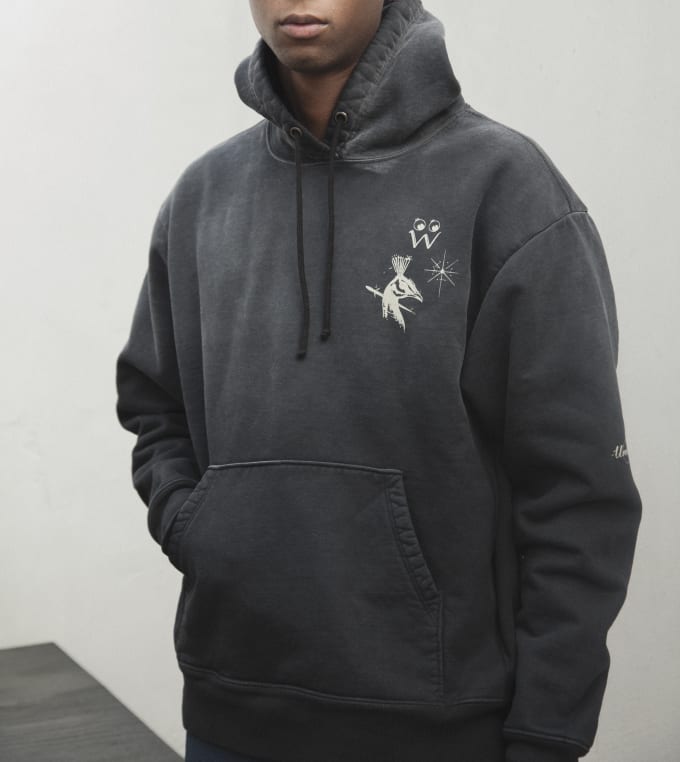 Both Gibbs and Elliott say they've wanted to collaborate with each other for years, and ComplexCon wound up being the perfect opportunity for them to finally create something special together. When it came to nailing down the final idea, they wanted to make sure that the collection was something they personally wanted to wear and, more importantly, that there was a meaning behind it. They didn't want to simply collaborate for the sake of working together.
"It didn't make sense to just take a John Elliott piece, and put 'Union' on it," says Gibbs. "We wanted to dig a little deeper than that."
All four pieces will all be available in limited runs at ComplexCon this weekend. Gibbs hopes the consumer can truly appreciate them for more than just their visual appeal. "I want the customer to know, and I know they will the minute the touch this shit, I want them to know that everything was considered, and a lot went into every single detail," he says.