Ryohei Morita and Naomi Yamamoto have a unique vision. As the co-founders and designers behind Japanese streetwear label SAYHELLO and SEE YOU SOON—a one-stop shop for their design work and "cool things" that happen to catch their eye—the pair have an aesthetic taste that attracts young artists and old artisans alike. In addition to their own products, Morita and Yamamoto sell other labels, art supplies, and many other curiosities that customers use to shape their homes. Located in the burgeoning cultural Tokyo neighborhood of Tomigaya, the shop doubles as a gallery space.    
Complex spoke with Morita about the origins of SAYHELLO and SEE YOU SOON, what makes Tomigaya such a special home for the brand, and what to expect next from the up-and-coming neighborhood.
The following interview has been edited for length and clarity.
Photography by Ryohei Anbo
How do you describe SEE YOU SOON and SAYHELLO's brand, shop, and aesthetic to people encountering them for the first time?
SAYHELLO was started by two designers in 2012 as a graphic label. We don't design the actual clothing, but the graphic prints/embroidery that goes on the clothing.
We started the SEE YOU SOON shop as a small hobby about three years ago. In the beginning, we started by selling our own apparel and some SEE YOU SOON shop merchandise that we made for fun, along with art supplies that we normally use.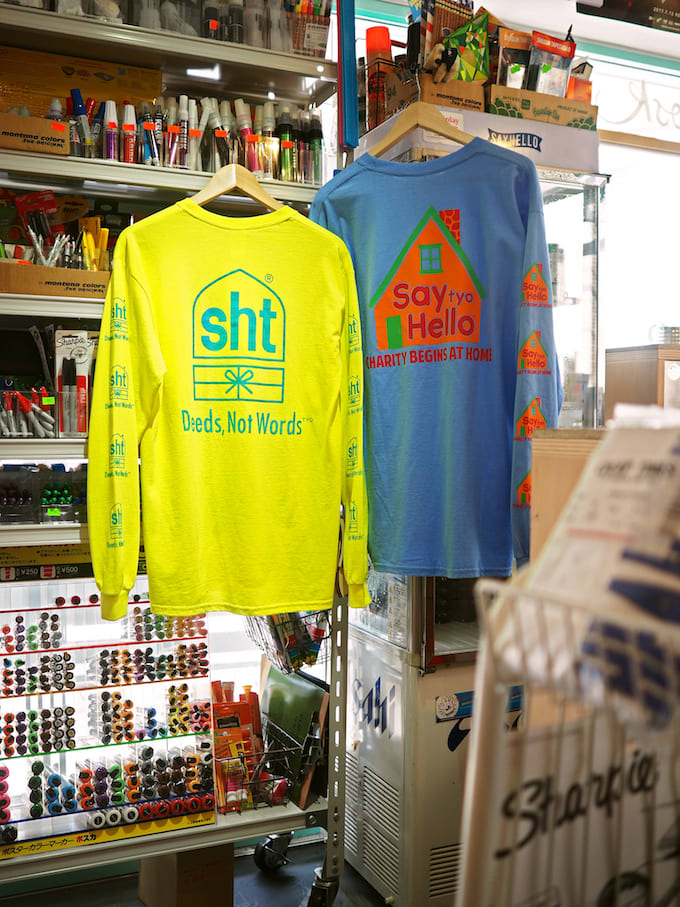 How long have you been based in Tomigaya, and what are your favorite things about the neighborhood?
We've been here for around four years. An interior designer that we know invited us to share a studio/work space here in Tomigaya, since the studio was a bit big for them alone. At the time, we were searching for an office so it was perfect timing, and a perfect match.
Why did you decide to open your shop in Tomigaya instead of somewhere else?
Our shop is just around the corner from our studio—less than a one-minute walk—so when we saw that the space was available, we took it. We originally didn't plan on opening a shop, but since the space and area were nice we decided to go for it.
What are the main differences between Tomigaya and other parts of Tokyo when it comes to culture and style?
Tomigaya is very close to the center of Shibuya—only five minutes by bicycle—but it's still quiet because it is mainly a residential area. There are a lot of older residents that have been living here for a long time, and they help the neighborhood feel relaxed. It's special since it's quiet and relaxed although so close to Shibuya and Harajuku.  
What are some of the most popular items that you sell in the store?
Our souvenir items with the shop's name are popular; such as T-shirts, tote bags, and coin cases.
What kinds of events do you host at your gallery space?
We do a lot of small exhibitions with friends who are artists. Also, we show our latest exhibitions before they are released for pre-orders about three times every year.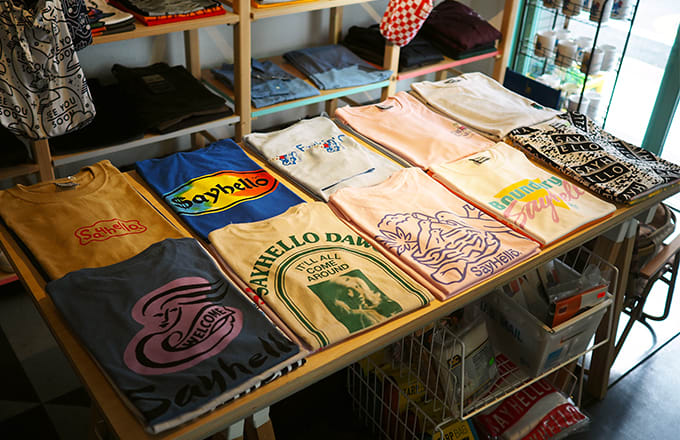 What are some of your favorite places to shop, eat, and hang out in Tomigaya, and why do you like them?
Yashima is a popular udon shop in Tomigaya. Udon is different depending on where you are in Japan, but this place serves the style found in western Japan. Also, they have a cool showcase of vintage toys which makes for a nice atmosphere. We love coffee, and there are many coffee shops in Tomigaya. For example, Fuglen Tokyo, ME ME ME, CAMELBACK, and Little Nap. It's great to be able to choose between different places, depending on what we feel like.
Backdoor is run by one of our friends, and they deal with a lot of zines from local and foreign artists. Also, they sell a bunch of different streetwear brands. We enjoy hanging out there on our days off.
The best place for chilling is our white bench in front of the store. Perfect on a sunny day.
What are the biggest changes to the neighborhood that are taking place in Tomigaya right now?
A lot of old shops are closing since the owners are getting too old. It's kind of sad, but hopefully, younger people can take over and do something good with the spaces. We hope that we will get a few new interesting stores so that this area will get a little bit more energy and more people will come here for shopping and restaurants.