Last night, Rihanna brought her Fenty Puma by Rihanna Spring 2018 collection back to New York (she showed her last two collections in Paris). The grand fashion show took place at the Park Avenue Armory, a historic building that fills an entire city block on Manhattan's Upper East Side neighborhood. Rihanna, who also launched her Fenty Beauty line last week, and her team completely transformed the venue. There were pink sand dunes. There were also two ramps at the center of the sandy set. The show opened with a trio of motocross stuntmen, who did backflips over the mountains of pink sand below. This was no ordinary runway show.
The collection itself was inspired by a cross between motocross and surf. Models like Adriana Lima, Joan Smalls, and Slick Woods sauntered in pieces inspired by a cross between motocross and surf. There were tracksuits with neon bungee cords, loose trousers, lace-up bathing suits, driving pants rendered with checkered flag graphics and sporty decals, oversized sweatshirts, and basketball and booty shorts in neon colors. Rihanna and her team also designed footwear and accessories, including a Creeper shoe made with neoprene materials, translucent stacked soles, and bungee cord laces, as well as thong-heeled sandals, ankle strap heels, new Fenty slides, chokers, a metallic puffy bag, visors, baseball caps, a giant fanny pack, and more. "It was a challenge to bring them together but it ended up being the perfect combination," Rihanna said about the collection's inspiration in a press release.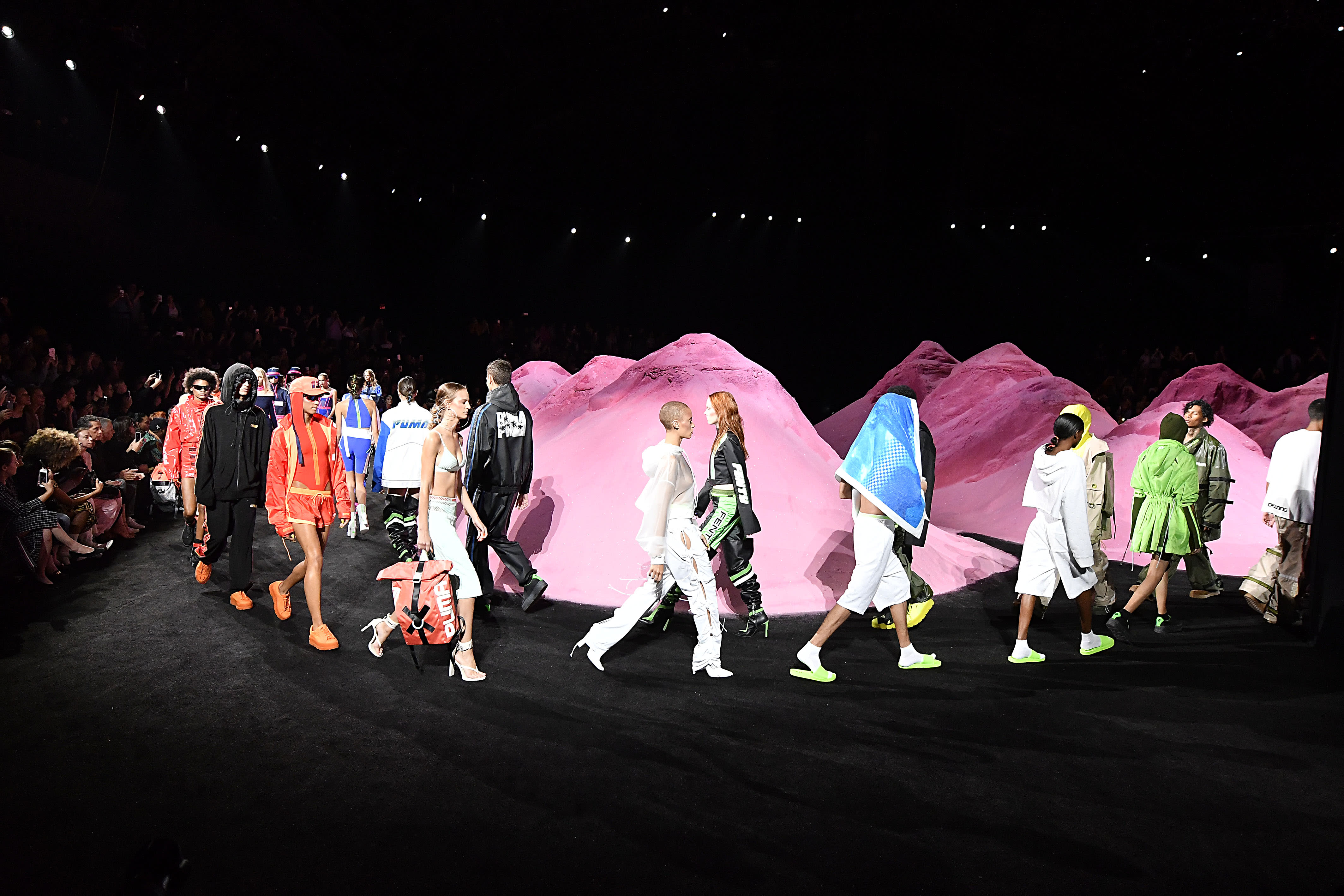 But perhaps the most impressive thing about last night's show was Rihanna's ability to make the presentation unique and entertaining. Since debuting her first Fenty Puma by Rihanna collection in New York last year, the singer has experimented with different ways of presenting her line. For Spring 2017, she hosted guests at the majestic Hôtel Salomon de Rothschild in Paris and sent models down the catwalk in designs inspired by what Marie Antoinette would've worn to the gym. For the school-inspired Fall 2017 collection, invites were mocked up as detention cards and the venue, the Bibliothèque Nationale de France, looked like something out of the Harry Potter series, with floor-to-ceiling bookshelves and rows of long study tables with green reading lamps in front of every seat, which later served as the models' catwalks.
Last night's show accomplished much of the same things: Impressive venue, daring designs, Rihanna's DNA all over the presentation, and a star-studded front row (Cardi B, Offset, Big Sean, Jhene Aiko, Ty Dolla Sign, Fabolous, Whoopi Goldberg, and more were all there last night). What made her Spring 2018 runway show different was the element of a performance. The motocross stuntmen replaced any real "performance" by Rihanna herself or a rapper/singer, but that was more than enough. It was thrilling, without it being over-the-top and unnecessary.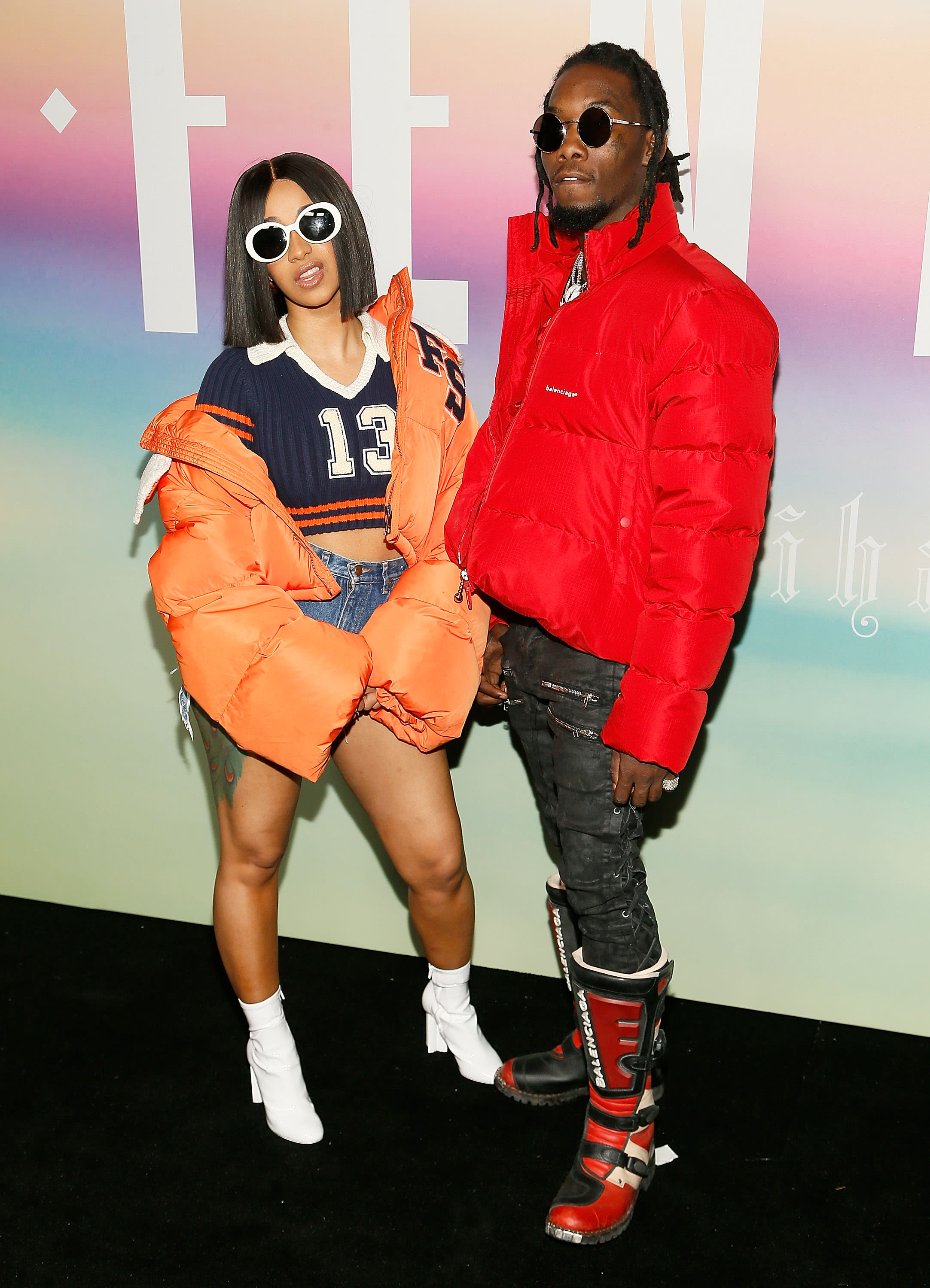 As The New York Times' Vanessa Friedman pointed out, several different brands have left New York Fashion Week for Paris. In July, Rodarte and Proenza Schouler jumped ship. Thom Browne, Joseph Altuzarra, and Lacoste have also followed suit. Even men's brands like John Elliott canceled its annual NYFW show for an appointment-only presentation in The City of Light this past January. And the brands that did show up mainly stuck to the traditional, tired fashion show format. At a time when labels are opting out of NYFW, Rihanna brought excitement back to New York.