Finally, Noah Syndergaard has begun throwing again. It was just a game of catch Tuesday with fellow Mets pitcher Matt Harvey, who's also been sidelined, but for Syndergaard, who's been out since late April with a torn lat muscle, it's a huge step towards finally re-taking the mound. Thor is almost ready to pick up his hammer.
Syndergaard managed just five starts this season before going down, and without him the Mets have been—if not a dumpster fire, a smoldering garbage can. At 41-50, they're fourth in the NL East, 15 games behind the first-place Washington Nationals. Jacob deGrom has performed capably as their de facto ace, but a healthy Syndergaard changes everything.
The 6'6" righty turns 25 later this summer, and, in his absence from the diamond has been doing what you'd expect of a 24-year-old superstar athlete in New York City. He's been building up his sneaker collection, saw Metallica at Nassau Coliseum (where he was shocked when lead singer James Hetfield asked to take a photo), and became the first-ever official endorsee of Cholula hot sauce as well as the founding member of The Order of Cholula—perfect for a Texas-born fireballer.
We sat down recently with Syndergaard to talk rehabbing, clubhouse music and, of course, hot sauce.
(This interview has been edited and condensed for clarity.)
As the founding member, have you considered setting initiation rites for the Order of Cholula?
Chugging an entire bottle of Cholula…hmm...
I'm guessing you haven't tried that.
I haven't tried that. I'm the founding member. I make the rules around here.
Have you always been a hot sauce guy?
With me being from Texas, I'm huge into hot sauce but I don't want a hot sauce that's gonna be overly spicy and take away the flavor from the food. There are five, now six different flavors of Cholula—I kinda get bored and it's always offering some kind of variety. Grilled chicken can only be so tasty after a while. And broccoli? No thanks, but yeah.
Are you on a chef-directed sort of diet?
Yeah, I've been working with a nutritionist for about three years now. And we'll experiment. We'll go on the road—last year, the food on the road was awful, like the clubhouses provided awful food so I would hire a personal chef in that city and they would just come in the morning and deliver all the food that we'd keep in a fridge in the hotel—Cholula always by my side.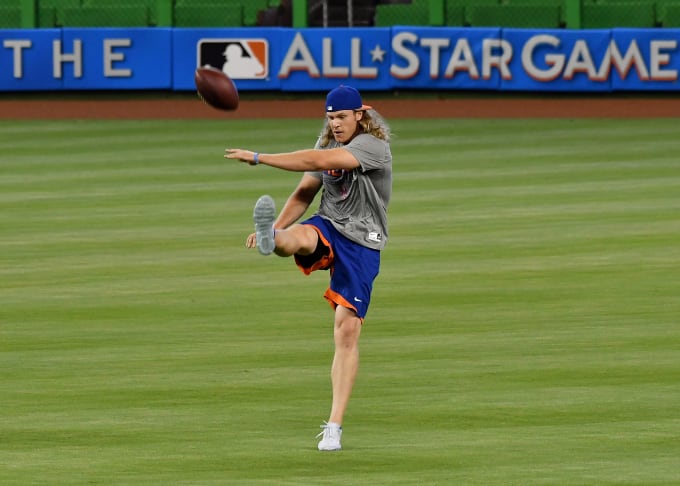 Were you a chili guy growing up?
I love chili. My mom has her own unique chili recipe but I just like the basic—meat, beans, jalapenos. I don't like anything else added to it. All the peppers and onions and that, I'm a very simple kind of guy. My mom was a great cook growing up. Got it from my grandmother. I never went hungry.
Have you gotten into cooking yourself at all?
It's kinda tough to cook in Manhattan especially when you have all these temptations because of all these great restaurants. You can't cook something that's rewarding enough to negate the fact that you have to do dishes afterwards. I'm thinking if I'm going to do the cooking then my girlfriend should do the dishes, am I right? But no.
Do you have a favorite restaurant in the city?
I like going to this place called American Cut in Tribeca, I think they have one in Midtown, too.  It's amazing They have a steak, it's a ribeye, they put pastrami spices on it so it tastes like a Katz's deli pastrami sandwich. It's outstanding.
Switching up to baseball, what have you been doing for rehab?   
I go up to HSS [Hospital for Special Surgery] and do my therapy up there. It's just a lot of mobility, stretching, and stuff. A lot of rotator cuff strengthening, lat stretching, working on other things because in the body everything is connected. Your lat is tight, I mean it's such a large muscle something else can be affected. So I'm working on other things in my body that could ultimately help loosen up everything else. It's weird stuff. The science nowadays behind things to help you train is crazy, it's way over my head but that's why we have such good strength and conditioning coaches.
"I'm starting to, as my girlfriend would say, get a little bit more trendy so I'm working on things. Living in New York City, you gotta look the part."
What's been more frustrating, actually doing the rehab stuff or only being able to watch the games?
That's a good question. Both really. Actually, watching the games because you want to go out there and compete and help as much as possible. This is my first time on the DL so I'm not really sure how to handle it, but I feel like I'm doing a pretty good job at staying positive. I look forward to going to therapy every day because it means I'm one step closer to getting back on the mound and competing. Rehab can be a little bit monotonous at times but I really do enjoy working with a therapist. He's a good guy and very knowledgeable. He'll have me back on the field in no time.
What's a game day like for you while you're out?
I wake up and get breakfast. I go to therapy at the hospital and then I'll go to the gym and do my weight training. I'm kinda limited in what I can do upper body but I can still train the crap out of my legs and I do it in a way where it's not going to affect my lat. I'll go to the ballpark from there and just kinda hang out and shoot the shit with the team. Just be present. Most of the time, they send you down to Florida in Port St. Lucie. There's nothing down there, it's the middle of nowhere. It's bad enough to have spring training down there, but when you're down there for rehab and you're the only one down there, it takes a huge toll on your mind and your mental side of things. I'm blessed to be able to stay in the clubhouse, be surrounded by the guys and still be able to share the experiences like the fans and be present.
Is it true still that the starting pitcher gets to choose the music in the clubhouse?
Yea, you can but I usually listen to something on headphones.
Is that what most people do now? Is there still a stereo?
We still have a sound system in there, but things get a little rowdy if [Jose] Reyes or [Yoenis] Cespedes were to get control of the speaker. You're going to want to leave the clubhouse for a while.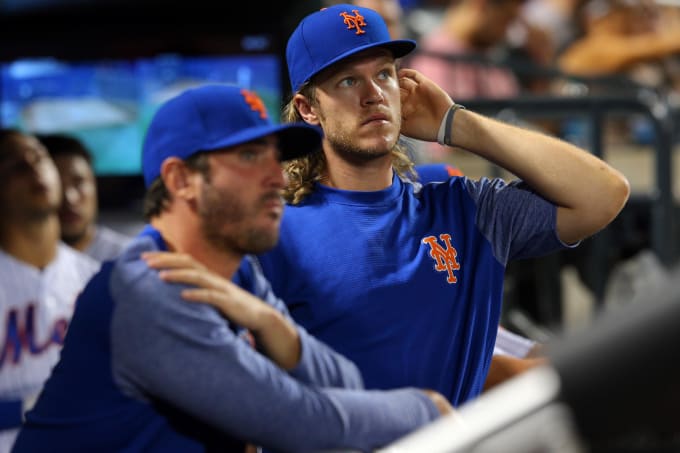 So what have you been listening to lately?
I listen to just about everything. Just whatever I'm in the mood for that day. Sometimes I'll get to a point where I'll listen to music on the way to the field and I'll get pumped up too early. Now, on the way to the field I'll listen to something real relaxing. I'll listen to Slightly Stoopid or, you ever heard of a band called Pepper? They're just kind of like a low-key, SoCal kind band. Then once I get to the field, I'll starting cranking things up to heavier rock. I just recently went to a Metallica concert at Nassau Coliseum and it was unbelievable. Those guys put on a hell of a performance. Melt your face. I listen to a lot of rap music too. Big into Kendrick Lamar right now. Great album.
I was gonna ask you if you were more of a Drake guy or a Kendrick guy.
I'm more of a Kendrick guy. He raps more about his story. He grew up in Compton and he wasn't a violent guy. He didn't get into the Bloods and Crips kinda thing. So I think that's really cool.
Did you get to meet up with the Metallica guys at that show?
Yeah, I met up with James Hetfield. I met him and I'm starstruck, I'm losing my mind. And then he's a Giants fan. He comes over to me and we're talking and shooting the shit and he asks to take a picture with me and I'm like holy…I almost fainted. I'm like what the heck? That's crazy. It's the lead singer of Metallica. Those guys are legendary.
So you're with Nike now, have you been building up your sneaker collection?
Yeah. You like going to Flight Club? Have you been there before?
Yeah.
I like going there because they have the real unique—I like the Pinnacle Collection, I have about almost every pair of those. I'm starting to, as my girlfriend would say, get a little bit more trendy so I'm working on things. Living in New York City, you gotta look the part.
You made a cameo on Game of Thrones—did George R.R. Martin give you any hints about what's coming this season?
He wasn't even around. I actually got to talk to D.B. Weiss quite a bit, one of the producers and he was saying George Martin kinda had it separated. Not really separated, but the shows have caught up to the books. I think it's going to be amazing.
You think you'll get another shot? You want a speaking role next time?
I'm not going to be picky, if I can come back into season 8, that would be amazing. We'll see.